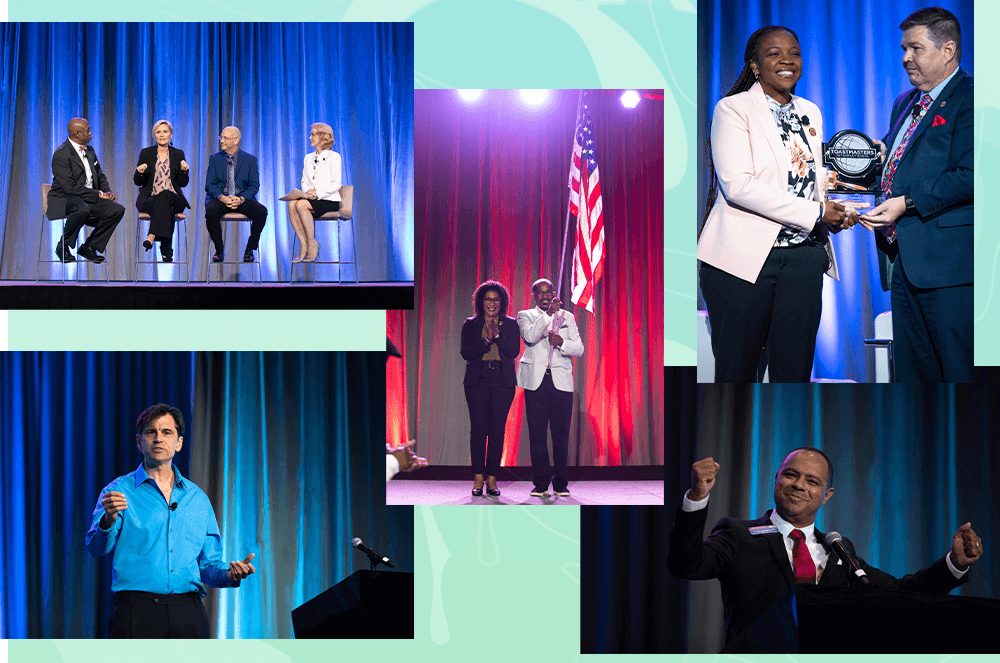 The 2023 International Convention was held August 16–19 in the tropical destination of Nassau, Bahamas, and online attendees participated in the celebration via a livestreamed experience. The second-ever hybrid convention had nearly 930 in-person attendees and 4,000 online registrants from 147 countries, with 727 people attending for their first time.
Relive your favorite moments or get a quick recap of the highlights from this year's convention below:
Opening Ceremonies
Bahamian festivity provided a vibrant backdrop to this year's Parade of Flags. Two high-spirited dancers in colorful cultural attire cheered on the procession of members—from Argentina to Zimbabwe—who walked onstage holding their country's flags.
Following the flag ceremony, the country's Prime Minister addressed the audience. Speaking onsite, Philip Davis said he knows well the positive impact of the Toastmasters program—because he is a Toastmaster himself. The country's top political leader is a longtime member who once served as District Governor and has earned the Distinguished Toastmaster award.
"Three words are at the heart of this organization: listen, think, speak," he told the audience. "This is the mantra I practiced time and time again throughout my time in Toastmasters. … It is a refrain that has stood me well across my legal and political careers. It's made me a better orator, a better representative, and a better leader."
The Bahamas Deputy Prime Minister, Chester Cooper, DTM, has also been a longtime Toastmaster.
Keynote speaker Lisa Nichols electrified the audience with her energy and passion. A resident of The Bahamas, she roused her listeners with her inspirational message about fully tapping into one's potential. Nichols, founder and CEO of Motivating the Masses, Inc., urged people not to settle for mediocrity—her presentation was titled "Jumpstart to Greatness" —and to shine your individual light in whatever you do. Learn more about Nichols in this Toastmaster profile.
The Golden Gavel
Toastmasters has honored an outstanding communicator with this prestigious award since 1959.
The 2023 recipient, Yolett McPhee-McCuin, affectionately known as 'Coach Yo,' is the head coach for the University of Mississippi women's basketball program, which was returned to national prominence under her leadership. She puts an emphasis on teaching, developing, and inspiring through character-building and leadership, as best displayed by her trademark motto #NoCeilings.
McPhee-McCuin spoke at the Golden Gavel Award Presentation during a Q&A with Immediate Past President Matt Kinsey. She shared her philosophy for achieving exceptional growth and leadership and discussed her mission to teach, develop, and inspire.
Toastmasters World Championship of Public Speaking
From an initial pool of 30,000 participants in 148 countries, 28 members competed in the hybrid International Speech Contest Semifinals at convention. Eight finalists—two from each of the four semifinal rounds—advanced to the World Championship of Public Speaking held Saturday, August 19, also in the hybrid format. For the second time in Toastmasters history, three women placed first, second, and third in the World Championship.
Jocelyn Tyson took first place with her speech titled "Have You Been There?" The Toastmaster from Mount Laurel, New Jersey, represented District 38, and her speech chronicled her triathlon race experience and the battle many people face between giving up and moving forward toward a goal.
Second place went to Nisha Shivram, DTM, (District 116) from Doha, Qatar, with her speech "Swipe."
Maryam Ganni (District 61) from Laval, Quebec, Canada, finished in third place with her speech "You Have No Idea."
The five other WCPS finalists were Pamela Rodney (District 8), Marc Williams (District 119), Silvia Davis (District 3), Anastarcia Palacious (District 47), and James Harris, Jr. (District 50).
Video Speech Contest (for undistricted clubs)
Congratulations to these video champions:
First Place: Srushti V., Virtual Professional Speakers, Ottawa, Ontario, Canada
Second Place: Anum Qadri, Karachi Toastmasters Club, Karachi, Pakistan
Third Place: Joe Roan, VIP Online Toastmasters, Palm Harbor, Florida, United States
Accredited Speaker Program
Congratulations to Stephanie Angelo; Dale Rees-Bevan, DTM; and Verity Price, DTM, for achieving the prestigious Accredited Speaker designation!
This elite title is reserved for those who combine expert knowledge in a particular subject with a mastery of public speaking during a competitive two-level selection process. For their Level 2 speeches, Angelo discussed merging ethics and culture in the workplace, Rees-Bevan presented on the behaviors of confident people, and Price (2021 World Champion of Public Speaking) spoke about designing your future and following your dreams.
Learn more about the Accredited Speaker Program and how to apply.
Hall of Fame
The annual Hall of Fame ceremony celebrated the successes of Distinguished Districts and individual members in the 2022–2023 program year.
During the ceremony, Districts 92, 94*, 125, 74, 113, and 107 were recognized as Smedley Distinguished, the highest level of recognition a District can achieve. Districts 116* 114, 106, and 33 were recognized as President's Distinguished, and District 98 was recognized as Select Distinguished. Districts 118*, 41, 34, 122 (Provisional District), 119, 103, and 68 were recognized as Distinguished.
In addition, Presidential Citations were given to 20 members for exemplary service and dedication at the club, District, or international level.
(The * denotes the Excellence in Leadership Award for achieving Distinguished District for three or more consecutive years.)
Annual Business Meeting
There were no proposals for 2023.
International Board of Directors
2023-2024 Executive Committee:
President: Morag Mathieson, DTM, Moehrendorf, Germany
President-Elect: Radhi Spear, DTM, Piscataway, New Jersey
First Vice President: Aletta Rochat, DTM, Cape Town, South Africa
Second Vice President: Stefano McGhee, DTM, Weymouth, Massachusetts
Immediate Past President: Matt Kinsey, DTM, Coral Springs, Florida
2023–2024 International Directors seated for two-year terms:
Sondra Nunez, DTM
Region 1
Violetta Rios, DTM
Region 3
Farzana Chohan, DTM
Region 5
Dana Richard, DTM
Region 7
Kimberly Dueck, DTM
Region 9
Frank Tsuro, DTM
Region 11
Pawas Chandra, DTM
Region 13
Education Sessions
Both in-person and online attendees engaged in nine education sessions, which covered topics like spontaneous speaking, humor, slide presentations, and more. These sessions also included two first-time events: a World Champion of Public Speaking roundtable, where three former World Champs shared their speaking insights, and Toast Talk Sessions, featuring three speakers who presented on Toastmasters-focused topics.
Featured Sessions:
World Champions of Public Speaking Roundtable
No Joke: Engaging Your Audience Like a Clown (Not the Creepy Kind)
Think Faster, Talk Smarter: Steps for Effective speaking in the Moment
Next Slide Please
Leadership Conflict Resolution: From Collision to Collaboration
Boosting Your Confidence and Interview Success Tips for Landing a Job in Today's Market
Toast Talk Sessions
Convention On Demand
The 2023 International Convention adventure lives on—through On Demand! If you purchased an in-person ticket or All-Access Pass, you can continue watching through October 25, 2023, by logging in here. Or you can enjoy unlimited access to sessions and highlights for 75 USD by purchasing On Demand.
---
Staff
The
Toastmaster
magazine staff is comprised of five editorial team members. Learn more about them on the Staff page.
---
---