In the business world, aspects of public relations are carried out by marketing and communication professionals, event planners, social media managers, speechwriters, content marketers and others. Their wide-ranging efforts all serve the same purpose: building relationships and generating goodwill. Professionals who handle public relations—directly or indirectly—protect an organization's reputation through thoughtful and careful communication.
Within Toastmasters, it works the same way: District public relations managers (PRMs) promote Toastmasters by "establishing and maintaining lines of communication between the district and its clubs, as well as between the district and the public," as explained in the Let the World Know publicity handbook. The responsibilities of PRMs encompass many duties, including training club vice presidents public relations to promote the organization at the club level.
PRMs work tirelessly to foster communication within their districts—to the community at large, the media, and among clubs and members. During their year in the role, PRMs will secure media coverage, social media engagement, branding compliance and attendance at district events, such as conferences and officer training—all of which support district growth.
By investigating what a successful tenure as PRM looks like, any Toastmaster might glean useful advice about promoting and protecting the Toastmasters brand. Here, five public relations managers who served in 2017–18 in different districts share their experience on talking up Toastmasters.
Meet the Five Standouts
Niteash Agarwaal, DTM, of Pune in Maharashtra, India, achieved great success promoting District 98, generating more than 30 media stories during his year as PRM. Juliana Jamal, DTM, organized a successful gala in Sydney to promote the launch of the Pathways learning experience in District 70. The event, attended by around 500 members and non-Toastmasters, contributed to the district's 10 percent membership growth in 2018.
Devina Chaturvedi, DTM, in Guatam Budh Nagar, Uttar Pradesh, India, managed a PR campaign focused on Toastmasters CEO Daniel Rex's visit to District 41 in late 2017; the publicity surrounding this campaign garnered more than a dozen media hits. Molly Ketcham, from Cleveland, Ohio, consistently pitched stories to the city's media representatives, resulting in publicity for District 10 and its members, especially district leaders and contest winners. Michelle Hanchey, DTM, from Atlanta, Georgia, successfully established relationships with the media in District 44, resulting in substantial publicity for the district's International Speech Contest semifinalist.
How were you successful in promoting Toastmasters events in your district?
Ketcham: Energy and enthusiasm go a long way. Just like a VPPR [vice president public relations] of a club, a PRM is a cheerleader and storyteller. People respond to energy and excitement, and you can positively influence members of the public and members of your district with that energy.
Hanchey: To be impactful in this role you need a team of dynamic, dedicated Toastmasters who are willing to use their PR skills as well as learn new ones. We started using great tools, such as CoSchedule and Constant Contact [online marketing software] to schedule social media posts and send email communication and newsletters. To make and promote better videos, we bought a tripod, lights and microphones, as well as portable equipment to record from cell phones using a stabilizer, lights and directional mic.
Chaturvedi: We organized visits from three Toastmasters World Champions of Public Speaking (Manoj Vasudevan, Mohammed Qahtani and Mark L. Brown) as well as our region advisor, Kumaran M. Pethi, DTM, and Toastmasters International CEO Daniel Rex. These events served as amazing opportunities for publicity efforts. As a result, we grew our presence across North and East India, Bangladesh and Nepal.
What advice can you offer club VPPRs?
Agarwaal: We emphasize the importance of branding and that clubs have to conduct activities that promote Toastmasters as a unified brand—rather than [promote] the club by having unique taglines and other materials specific to the club.
Hanchey: Do less—be more effective. One VPPR was spending hours developing and emailing a newsletter that only one or two members were reading. She stopped doing expansive newsletters and now texts members to reference their club Facebook page and links to the club's website. In addition, she found that most new members came via a current member's invitation. As a result, she ordered Toastmasters brochures for members to use to invite guests.
Chaturvedi: "First comes the brand" was the key phrase our team used to encourage VPPRs. The idea was—be it communication with the public, communication among members, recognition, publicity, planning events or something as routine as planning a meeting—the brand plays a part in everything. It gives all Toastmasters a unique identity and the opportunity to leverage it.
What's your time-management hack for handling your PRM duties?
Agarwaal: Prioritization and delegation help me manage my time well.
Ketcham: A district public relations calendar is very helpful [Sample calendar is available for download at www.toastmasters.org/Public-Relations]. Create a schedule of all district events, how the event will be publicized and when each task is due. I also suggest planning all the hours of your day. Decide when you are going to work on Toastmasters, spend time with family, exercise and socialize. Just like any job, you cannot do it well if you are not taking care of yourself.
Hanchey: Work with your district director, program quality director and club growth director on what they want to see throughout the year and then plan to be flexible. Have the right tools such as Canva for graphics, CoSchedule to organize social media and Constant Contact for e-newsletters and announcements.
"It's important to consistently post once per day. Posts should always include pictures or short videos."
—NITEASH ARGARWAAL
What is the best way to delegate PRM responsibilities?
Jamal: Trust your team and constantly over-communicate. We had monthly—and for some groups—weekly teleconference calls.
Ketcham: Sometimes you simply need help, so humbly ask someone for it, and express your sincere appreciation!
Chaturvedi: When it comes to choosing between talented and hard-working people, choose hard-working people for your team. Those are the ones who will be willing to learn more and, hence, serve better.
How do you manage the district's social media channels?
Agarwaal: It's important to consistently post once per day. Posts should always include pictures or short videos.
Jamal: Keep the message simple and have powerful visuals.
Ketcham: Find someone who is already active on each social site and ask them to help with promoting your district since they already know the ins and outs of that channel.
Hanchey: An effective social media hack is to re-post from Toastmasters International's social media sites.
What is your best advice about working with the media?
Hanchey: Establish a professional rapport with the media. They are working with a deadline—give them a complete story with up-to-date facts and statistics that they will not need to double-check. But keep in mind: It must be newsworthy.
Chaturvedi: I would urge PRMs to remember when to stop. Media personnel do not have a lot of time to spare. They are bound to say no sometimes. If they decline, remember to be courteous. Thank them for their time instead of pushing them to accept your request. In my experience, next time around, they are more willing to listen and accept.
What's your favorite tool for communicating internally?
Agarwaal: WhatsApp was the best. It was fast and cannot be missed, as Indians around the world now use WhatsApp as their tool to chat and get the job done.
Jamal: The telephone.
Ketcham: Using multiple channels is important. Not everyone checks their email, so the information needs to be posted on social media and communicated verbally. Important information that is passed down to the club level and shared by the president or VPPR is highly impactful; you create energy when discussing information and events in person.
Hanchey: We used Constant Contact and found that emails that focused on specific groups got the most reads. Example: Our monthly training email to VPPR would get about 38 percent open rate. Our "News You Can Use" email to all Toastmasters received around 28 percent open rate.
When Board members visited your district, how did you promote those visits?
Jamal: The International President at the time, Balraj Arunasalam, DTM, visited and we organized corporate visits to Westpac Club, Malaysian Investment Development Authority and The Tamil Chamber of Commerce, during his stay.
Ketcham: Past International Director Vera Johnson, DTM, was the keynote speaker at our fall conference. We used this opportunity to present American Greetings with a corporate recognition award for their support of Toastmasters and our district. In addition to my efforts, the company's own marketing department took photos and promoted the event.
Chaturvedi: We had a visit from Toastmasters International CEO Daniel Rex for our Mid-Year Conference. Apart from the conference, we were able to plan several corporate visits in four distinct parts of the district: North, East, Nepal and Bangladesh. We received tremendous support from the local media. Corporations were willing and able to leverage their media contacts for coverage of the sessions—we really had to do very little once we had their support.
Which resources from Toastmasters International have you relied on most?
Agarwaal: The Brand Portal section of the Toastmasters website had everything I needed. The Brand Manual and the Let the World Know manual were so helpful.
Ketcham: The Let the World Know manual was my go-to resource. I recommend it for VPPRs also because it provides ideas that perhaps no one has shared with them yet. My favorite resources, though, were the digital news release templates. I also appreciated when Toastmasters staff sent us special templates, such as templates for promoting the district speech contest winner or the Pathways program.
Hanchey: I used tons of resources from Toastmasters International. For example, when a member became a DTM we would send a sample news release and tutorial to both the recipient and their VPPR and ask that they submit it to their local paper, company newsletter and alumni association. When we did this, we had a 30 percent increase in having something published.
Chaturvedi: The Brand Portal and PRM Training Webinar recording for knowledge and the writings of Ralph C. Smedley for inspiration.
Whether you are a PRM this year, your club's VPPR or just a member who wants to help promote the organization, take these tactics, tips and techniques and talk up Toastmasters!
---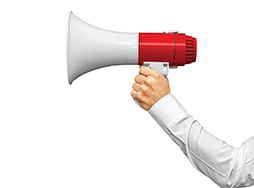 ---
---