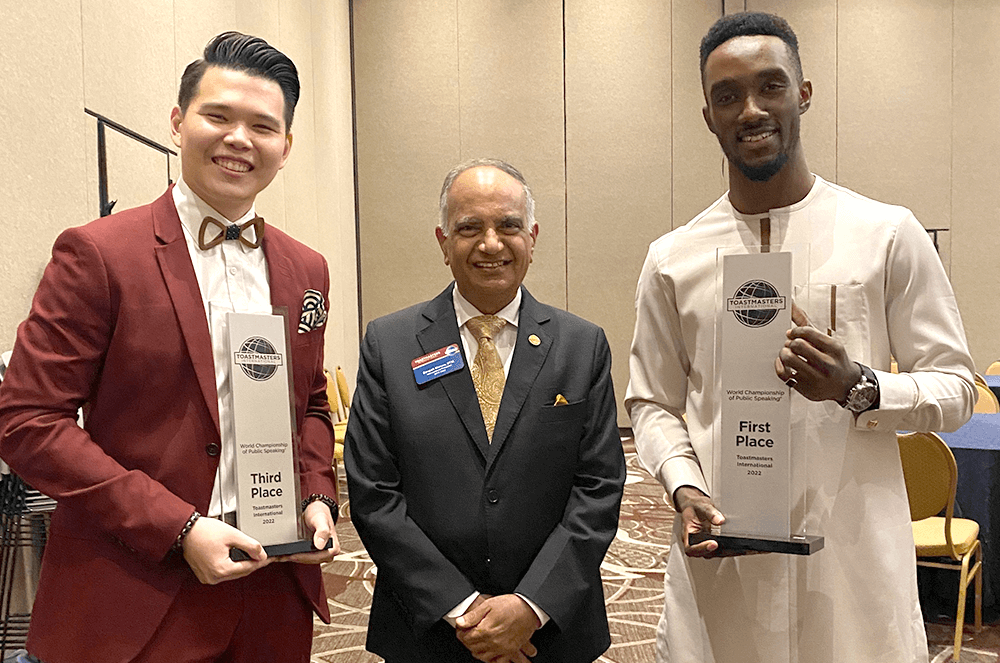 This year, Toastmasters International hosted a historic event—its first-ever hybrid convention—which took place in Nashville, Tennessee, and online! The Convention ran from August 17–20 and provided more than 700 in-person attendees and 9,000 online registrants from 171 countries with an array of education tracks, illustrious speakers, and global networking opportunities. A notable 60% of registrants were first-time attendees.
Keep reading to discover the highlights, including who won the World Championship of Public Speaking®, the newest Accredited Speaker, Hall of Fame awardees, and much more!
Opening Ceremonies
The Parade of Flags made an exciting return to the live stage after being virtual for two years, allowing attendees both onsite and online to watch members proudly feature their country's flags onstage. Following the procession, Immediate Past International President Richard E. Peck, DTM, and 2019-2020 International President Deepak Menon, DTM, engaged in humorous banter about what year it was and who was presenting. As Menon walked away, he was beckoned back by Peck so they could share the stage to officially kick off the 2022 International Convention together. An introduction of the candidates for the 2022–2023 Board of Directors followed.
As a nod to Nashville's musical roots, a band from Kidbilly Music performed a song they created about Toastmasters called "A Better You." The musicians incorporated a team-building exercise with the crowd, asking members to brainstorm additional song lyrics and bringing everyone together through music.
The Keynote address was given by Jim Cathcart, the 2001 Golden Gavel recipient. Cathcart, who is a lifelong professional speaker, author of 23 books, university professor, and entrepreneur, taught attendees how to become the person who will achieve results in his presentation titled "How to Be Attractive: Become a Magnet for What You Want."
The Golden Gavel
Toastmasters has honored an outstanding communicator with this prestigious award since 1959.
The 2022 recipient, Shirley Davis, Ph.D., is an award-winning global workforce expert with over 30 years of human resources and business experience. Dr. Davis spoke at the Golden Gavel Award Presentation, introducing Toastmasters to the topic of "Leadership 2030 and Beyond: New Skill Sets, Mindsets, and Competencies We Will Need." Learn more about Davis in this Toastmaster profile and make sure to listen to the accompanying podcast interview.
Toastmasters World Championship of Public Speaking
From an initial pool of 30,000 participants in 144 countries, 28 members competed in the hybrid International Speech Contest Semifinals at convention. Eight finalists—two from each of the four semifinal rounds—advanced to the World Championship of Public Speaking held Saturday, August 20, also in the hybrid format.
Cyril Junior Dim, a 24-year-old Zimbabwean software engineer living in Wroclaw, Poland, emerged as the world champion. Dim, representing District 108, won with a speech titled "Ndini," which means "This is me" in the Shona language of Zimbabwe. In his speech, Dim shared a stirring and deeply personal story of self-acceptance and celebrating differences.
Second place went to Alexandre Matte, DTM, (District 123) from Sudberry, Ontario, Canada, with his speech, "Missing Ingredient."
Mas Mahathir Bin Mohamad (District 51) from Subang Jaya, Selangor, Malaysia, finished in third place with his speech "Two Gifts."
The five other WCPS finalists were Molly Hamilton (District 21), Adeline Y. Ng (District 80), Nisha Shivram (District 116), Fursey Gotuaco (District 85), and Linda-Marie Miller, DTM, (District 117).
Video Speech Contest (for undistricted clubs)
Congratulations to these video champions:
First Place: Angela Heath, Advanced Online Presenters, College Park, Maryland, United States.
Second Place: Anum Qadri, Karachi Toastmasters Club, Karachi, Pakistan.
Third Place: Srushti Virdhe, Virtual Professional Speakers, Ottawa, Ontario, Canada.
Accredited Speaker Program
Congratulations to Kevin Snyder, DTM, Ph.D., on achieving the Accredited Speaker designation! This elite title is reserved for those who combine expert knowledge in a particular subject with a mastery of public speaking during a competitive two-level selection process. For his Level 2 speech, Snyder gave a rousing presentation on self-belief before a hybrid audience and panel of judges at the Nashville convention. He is the 90th recipient of the AS designation. Learn more about the Accredited Speaker Program.
Hall of Fame
The annual Hall of Fame ceremony celebrates the successes of Distinguished Districts and individual members in the 2021–2022 program year.
During the ceremony, Districts 94* and 118* were recognized as Smedley Distinguished, the highest level of recognition a District can achieve. Districts 74 and 75 were recognized as President's Distinguished, District 85 was recognized as Select Distinguished, and Districts 51*, 87, and 116* were recognized as Distinguished.
In addition, Presidential Citations were given to 16 members for exemplary service and dedication at the club, District, or international level.
(The * denotes Excellence in Leadership Award for achieving Distinguished District for three or more consecutive years.)
Annual Business Meeting
All proposed amendments to the Bylaws of Toastmasters International and the Club Constitution were approved by the voting delegates at the 2022 Annual Business Meeting held during the International Convention.
Twelve proposals (A–L) were passed in all. The amendments were crafted to modernize, clarify, and update the organization's governing documents. Learn more about the proposals on the Toastmasters website.
International Board of Directors
2022-2023 Executive Committee:
President: Matt Kinsey, DTM, Coral Springs, Florida
President-Elect: Morag Mathieson, DTM, Moehrendorf, Germany
First Vice President: Radhi Spear, DTM, Piscataway, New Jersey
Second Vice President: Aletta Rochat, DTM, Cape Town, South Africa
Immediate Past President: Richard E. Peck, DTM, Seymour, Connecticut
2022–2023 International Directors seated for two-year terms:
Region 2: Jesse Oakley III, DTM
Region 4: Kimberly Lynne Myers, DTM
Region 6: Dawn Frail, DTM
Region 8: Anwesha Banerjee, DTM
Region 10: Jean Gamester, DTM
Region 12: Benjamin James McCormick, DTM
Region 14: Helen He, DTM
Education Sessions
There were learning opportunities across four tracks, with a total of 16 education sessions on a variety of topics, including speechwriting, unconscious bias, impostor syndrome, storytelling, inclusive leadership, and more.
Tracks
• Public Speaking
• Professional Development
• Personal Growth
• Inclusive Excellence
Miss Something?
Registrants can continue to view or revisit portions of the event via Toastmasters On Demand through Oct. 26, 2022, at no extra cost. You can still purchase an on-demand, All-Access Pass for 60 USD. Certain sessions are free and available to anyone, including the Annual Business Meeting, the President's Inauguration, the Board of Directors Briefing, and the Hall of Fame.
Ready for next year? Make sure to mark your calendars for the 2023 Toastmasters International Convention, taking place in Nassau, Bahamas, from August 16-19!
---
Staff
The
Toastmaster
magazine staff is comprised of five editorial team members. Learn more about them on the Staff page.
---
---