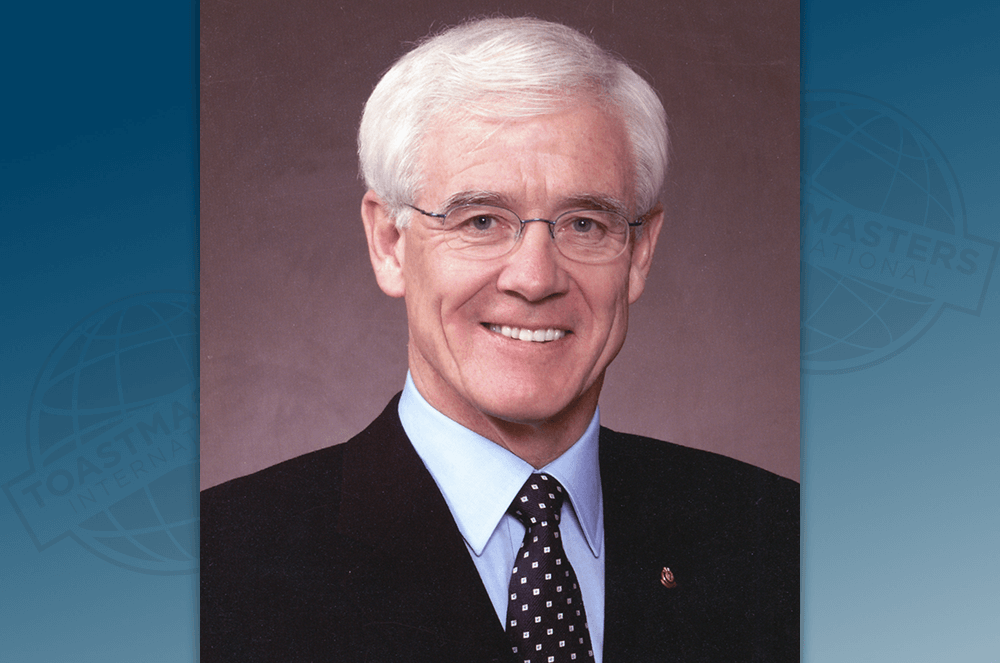 Chris Ford, DTM, a widely admired leader and mentor who served as Toastmasters International President in 2007–2008, passed away September 13 at his home in Casselman, Ontario, Canada, after bravely battling ALS the past two years.
Ford, a Toastmaster for 45 years, had a long and distinguished military career. He served for 35 years in the Canadian Forces, specifically in the Canadian Military Engineers, and retired as a Brigadier-General. He said many times that his Toastmasters training benefited him as a military leader.
Ford, 74 when he died, was also an expert in conflict resolution. After his retirement from the military, he served as Director General of Alternative Dispute Resolution for Canada's Department of National Defence. He once taught a class to Toastmasters officers called "Conflict is Inevitable—Combat is Optional."
Ford was a tireless advocate for Toastmasters, at all levels of the organization. Fellow members of the Manotick Toastmasters Club in Manotick, Ontario—a club he helped found 27 years ago—praised his generous spirit and devotion to the group. In a post on its Facebook page, member Cindy Little called him "one of the best mentors anybody could have."
"Chris was a mentor to many people in Toastmasters, and I benefited from his wisdom for 12 years at the Manotick Club," she wrote, adding that "he was one of the coolest and kindest gentlemen I've ever met."
He belonged to several different Toastmasters clubs in Canada over the years, including two at the time of his death: Manotick, and the Avancé Synergie Toastmasters, a French-English bilingual club that meets online. Both clubs, as well as his District (61), posted tributes on social media to the Past International President.
Ford enjoyed telling the story of his rather unconventional introduction to Toastmasters, back in 1978. He was stationed at a military base in Edmonton, Alberta, Canada, at the time. After losing in a poker game with fellow officers one night, he found himself owing money to a Captain Russ MacCauge. The captain told Ford he would first need to accompany him to "a meeting" the following week. Unbeknownst to Ford, that meeting at a local community center was for the Settlement on Sturgeon Toastmasters Club. He attended—and was hooked.
Fellow international leaders lauded his many contributions to the organization.
"Chris was brilliant, a skilled strategist, wise, bold, and courageous," says Gary Schmidt, DTM, International President 2009–2010, who served on the Board of Directors with Ford for four years. "He was also compassionate, cared deeply about people and the members of Toastmasters, and had a wonderful sense of humor."
"Every International President has challenging times and so did Chris during his term as President," adds Schmidt, a longtime member from Oregon. "During it all, he led with decisiveness and grace."
Johnny Uy, DTM, who directly preceded Ford as International President, echoed those sentiments. Though the Canadian was "a no-nonsense leader," his sense of humor brightened up many Board sessions, he remembers.
"We could be discussing a truly stressful matter and Chris would suddenly say something that would lighten the mood and make us smile," says Uy, a resident of Cebu City in the Philippines.
"Chris was brilliant, a skilled strategist, wise, bold, and courageous."
—Gary Schmidt, DTM, PIP
Ford had many interests and was a physical fitness devotee who liked to ski, skate, and jog. He once completed a marathon to raise funds for diabetes research. He was also a drummer in a military band.
Ford spoke often about the topic of leadership. He believed a leader must be a pragmatic problem-solver, adapting to what is needed most at the moment. But most important, he said, was showing integrity.
In an interview with Tim Keck, DTM, International President 1999–2000, for a Toastmasters oral history project, Ford said you can't waver when it comes to ethical decisions.
"It's a slippery slope, because you compromise integrity once, it becomes easier the next time, and the next time, and the next time," he told Keck. "And so I have always tried to conduct myself with the utmost of integrity. I hope I have succeeded."
Uy praised Ford's approach to dealing with obstacles, saying he tackled problems head-on. That same spirit extended to his battle with ALS. Friends said he remained positive and resolute in the face of the degenerative neurological disease.
Uy says Ford wrote an email to his fellow Past International Presidents—his last one to the group—shortly before the 2023 International Convention in The Bahamas. Explaining why he couldn't be there, Ford wrote that he was now "in the end stage of ALS." But he added that he was at peace, and, true to his character, wrote, "Please don't feel sorry for me."
"As he requested, I won't feel sorry for him," says Uy. "Instead, I offer a salute to him. I just know that up in that great Toastmasters Club in the sky, Chris would be making sure Ralph Smedley is shipshape."
---