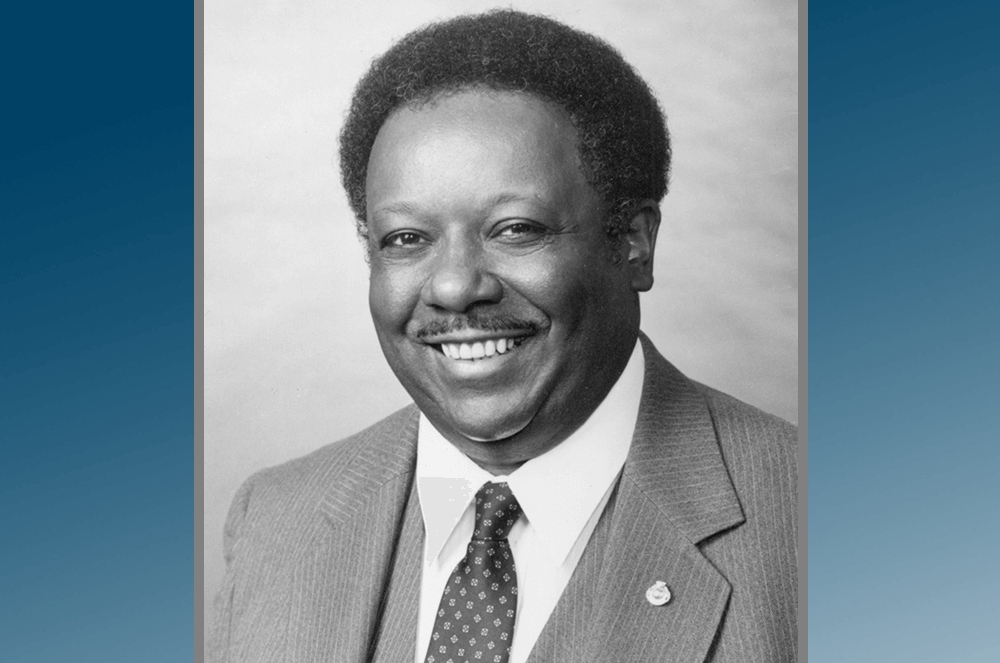 Past International President Ted Wood, DTM, liked to joke that he went to his first Toastmasters meeting to get a friend off his back. However, that friend was certainly on to something. Wood, who was Toastmasters International President in 1986–87, ended up being a member of Toastmasters for more than 40 years, from 1966 until his death in 2007. Savvy and influential, he made vital contributions to the organization.
Heralding from Maryland and District 18, Wood was International President at a pivotal time in Toastmasters history: He was the first Black International President; and he was preceded by Helen Blanchard, the first female International President; and succeeded by John Fauvel, the first non-North American International President (New Zealand).
At that time, Toastmasters was on the verge of crucial growth outside of North America and the British Commonwealth. And much of the credit goes to Wood, who began pushing the organization to think more globally and on a wider cultural spectrum.
"Ted and the group around him were at the beginning of some pretty phenomenal growth," says Tim Keck, DTM, International President 1999–2000, who counted Wood as a mentor and friend.
Keeping the Spirit Alive … for Everyone
Wood's presidential theme was "Keep the Spirit Alive," and he lived by that spirit, appreciating the enthusiasm and dedication of members and leaders. "Our organization is as successful as it is because of the spirit of the individual member," he noted.
Spreading the word was a big part of Ted's vision for his term. The 1980s was a period of growth and opportunity for Toastmasters, and Ted wanted to share how the organization can change and impact lives in meaningful ways.
In a profile for the Toastmaster magazine at the beginning of his term, he stated, "[We need to] meet the needs of current members … At the same time, we need to be planning what we are going to do in the future: Who will the members of the future be? What kinds of backgrounds will they have? What kinds of businesses and corporations will exist?"
He saw membership potential among senior citizens, as well as with police, fire, and paramedic forces. And he spoke to those groups frequently.
He also saw the need for growth in underrepresented minorities, and he particularly championed encouraging more Black people to join Toastmasters. "There were still a lot of people at the time who thought it should be white male only," Keck notes. "That all changed and Ted was in the forefront of that."
Wood was involved in what was called the Black Caucus, an informal group of Toastmasters who wanted to encourage and mentor more Black members to pursue leadership positions in the organization, notes Eddie Dunn, DTM, International President, 1983–84.
At the time, the Caucus was somewhat controversial and seen by some as being exclusive and singling people out for their race. But Wood recognized that many in the Black community were critical of the organization and didn't feel a part of it. "He was instrumental in persuading [those members] to pull back on the criticism and to become part of the organization by seeking and serving in leadership positions, not for self-glorification or because of their ethnicity, but because they earned it," explains Dunn.
Keck agrees, "Just as there have been advocates for the advancement of women, Ted was that for Black members."
Wood traveled extensively while he was in office, traveling approximately 16,600 miles altogether to visit Districts and talk to newspapers, city officials, and key business executives.
By the end of his tenure, membership had risen 6% to 131,129, with a new record of 6,072 clubs. Toastmasters was represented in 44 countries outside of the U.S. and Canada, with big growth in Australia, West Germany, Ireland, Japan, Mexico, Philippines, and South Africa.
The Value of Mentoring
One of Wood's passions was for mentoring, and he served as a mentor, both formally and informally, for many members.
Dilip Abayasekara, DTM, International President 2005–06, was one of the people who benefited greatly from Wood's mentorship. Their relationship began after the 1991 District finals of the International Speech Contest. Wood offered his help in getting Abayasekara to the next level, helping him achieve second place at the International Speech Contest the following year.
Wood then encouraged Abayasekara to think about leadership rather than try competing again. "He didn't mince words," says Abayasekara. "He spoke the truth as he saw it, but he always had the best interests of Toastmasters and the person he was mentoring."
The relationship continued, with Wood gently encouraging Abayasekara all the way to the role of International President. "Because of his influence, every time he spoke, I felt I should listen. If he thinks I'm ready, and he's confident in me, then I should declare." Over the years, each time Abayasekara hesitated with running at the next level, Wood was there to remind him of how much the organization needed strong leaders and how much confidence he had in him.
"He taught me so much about leadership and about mentoring," Abayasekara reflects. "A good mentor doesn't push his protege, he encourages and waits for the mentee to bring questions to the mentor."
He was also willing to tell hard truths, gently reminding Abayasekara if he ever overreached or didn't follow a protocol.
"Ted lived that code of conduct in his life. He was always truthful and always respectful."
Dunn, who served before Wood, watched him develop future leaders and saw the impact he made. "Ted's joy came from what he was able to give and to contribute, and never from the glory that being a president has to offer. He was certainly a desired role model for aspiring leaders in our organization."
"He was really important in guiding me, and encouraging me in my Toastmasters journey," notes Keck, who worked with Wood on the Board of Directors. "He was a really good friend, and I wouldn't have gotten where I did without his insight."
A Toastmaster for Life
One of the reasons Wood was so passionate about mentoring was that he understood the impact Toastmasters can have on peoples' lives.
He had a lifelong career with the U.S. Department of Defense, and emphasized, "I can state unequivocally that two of the positions I've held in my agency came as a direct result of my involvement and leadership experience in Toastmasters."
He was a longtime member of four clubs in Maryland. Before pursuing leadership in Toastmasters, his participated in speech contests, making it to the regional level of the 1969 International Speech Contest. He was named Toastmaster of the Year three times and received a Presidential Citation for his contributions to the organization.
"Ted's joy came from what he was able to give and to contribute, and never from the glory that being a president has to offer."
–Eddie Dunn, 1983-84 International President
In addition to his involvement in Toastmasters, he was also a member of the National Speakers Association, the Communications Analysis Association, and the Human Resources Management Association.
After his career retirement from the Department of Defense, Wood and wife, Inez, moved to Florida, where he started his own speaking business, Speak Up; founded Villa Toastmasters Club; and joined Winter Haven Toastmasters. Wood was also instrumental in helping The Bahamas regain Division status in 2000, after having lost it in 1998.
Wood died in 2007 after a long illness. His impact on Toastmasters, however, lives on.
"Ted Wood was and is the epitome of what one looks for in a great leader," says Dunn. "He typically talked the least and said the most when challenging issues were being discussed during Board or Executive Committee meetings."
---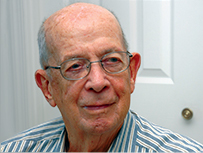 ---
---