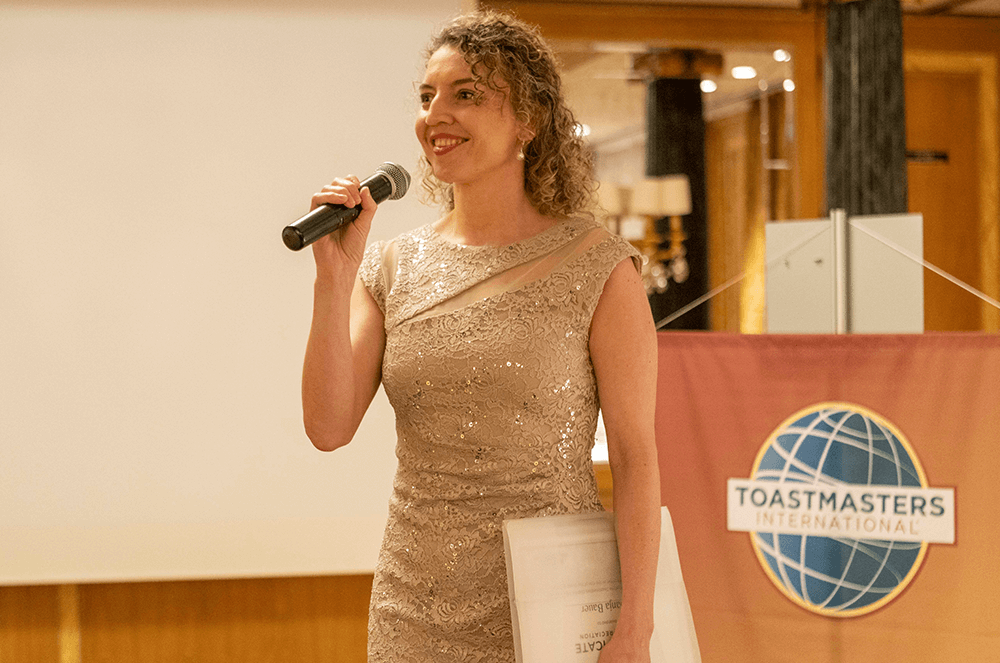 In 2017, I moved across Austria, from the state of Upper Austria to the western state of Tyrol, for an e-learning development internship at Swarovski. Although my team communicated in English, some instructions from human resources were in German, and I soon realized that knowing German would be crucial for building connections and settling in.
I had passed a language exam and was able to read and write some German; however, speaking posed a challenge.
Formulating thoughts felt endless and resulted in filler words and grammatically incorrect sentences. My strategy was to speak quickly so my conversation partners didn't have a chance to catch my mistakes. They always asked me to repeat myself, and I did, but this gave me extra time to reformulate my original answer and correct myself.
I knew I had to conquer this hurdle, so I turned to Toastmasters. I decided to visit a local club, Toastmasters Rhetorikclub Innsbruck. The elegant room in Innsbruck's Old Town was full of welcoming native speakers. I realized that Toastmasters could offer the speaking, listening, and role-modeling opportunities I needed to improve my language skills.
I joined the club and prepared my first speech on the foundations of learning. I sought feedback from my Austrian colleague, whom I spoke to in English, and my Toastmasters mentor Markus, who provided input in German. I then took the stage and delivered my speech to over 20 people. My voice and knees trembling, and speaking German even faster than usual, I endured an eternity of five minutes.
As expected, the feedback urged me to slow down, but surprisingly, people understood and appreciated my message, speech structure, and stage presence. A founding club member even praised my speech, having learned something new about the key elements of learning. Thrilled by the positive response, I volunteered for other meeting roles and signed up for more speeches.
I realized that Toastmasters could offer the speaking, listening, and role-modeling opportunities I needed to improve my language skills.
I began the Evaluation and Feedback project. My evaluation was far from perfect because I couldn't understand everything in the speaker's Tyrolean dialect. However, she appreciated learning about expressions that might challenge international audiences. Surprisingly, admitting confusion became valuable feedback, not an embarrassment.
As Table Topicsmaster, the Active Listening project in Level 3 requires you to listen to spontaneous answers and summarize them. If you have ever tried to communicate in a non-native language, you will know paraphrasing what you just heard is harder than speaking freely. But with encouragement from my club members, I somehow managed, and to my joy, the Ah-Counter revealed that I had already reduced my use of filler words.
Those experiences boosted my confidence, and after realizing that I wanted to work with people in person rather than creating online courses, I applied for a corporate trainer position. Despite my progress in public speaking, the team lead thought I lacked the skills to manage demanding groups. Determined to grow, I turned to Toastmasters' leadership roles.
Each year, I took on a new position, which provided me with fresh opportunities to improve my German speaking. As Vice President Membership (VPM), I collaborated with the team and connected with newcomers. As Vice President Education (VPE), I stopped worrying about speaking "perfect German" and instead focused on motivating and delegating. As Club President, I found myself able to communicate my vision, lead meetings, and resolve conflicts in German.
One specific day highlights my transformation: our club contest. As President, I moderated the key event alongside the VPE before a hybrid audience of around 100 native German speakers. The progress of our club and my personal growth filled me with pride. That day was a magical milestone in my development as a speaker and leader.
After the year ended, I became an Area Director, this time without self-doubt. Interestingly, in this role, I mainly used English instead of German, but I was delighted to now effortlessly switch between the two languages.
This ability has also boosted my career. I have changed jobs twice in the past few years and am now an e-learning developer at MED-EL, a global hearing implant company. Building relationships with both English and German speaking stakeholders is such an asset. Toastmasters has consistently shown me that I can overcome my fears and gain confidence in my abilities.
Are you interested in learning a new language? Watch speaker and entrepreneur Carol Bausor as she shares her tricks to learning a foreign language and promotes the benefits of international communication.
---
Marika Dubiel
designs online and offline learning experiences for professionals, and currently works as an e-learning developer at MED-EL. She holds a master's degree in organizational learning and development. Learn more on her YouTube channel,
Mastery Muse
.
---
---