It's not unusual for members to join a club to practice their English-speaking skills, but at California-based Laowai JiangZhongwen Toastmasters, English speakers join to practice their Mandarin. "We are a group of people who love Chinese language, love Chinese culture, and enjoy improving our skills and gaining knowledge," says Angela Efros, Club President and charter member.
The club's name translates to "Chinese-Speaking 'Laowai.'" The word "laowai" means foreigner, a term often used for expatriates living in China. Club members are primarily people who lived in China for work or school and learned Chinese through those experiences. Efros, who learned Mandarin while working in China, says, "We are all used to being called a 'laowai.'"
Mandarin can be used when referring to a particular group of languages, but more commonly it is known as the official and standard language of mainland China. Of the Chinese dialects, Mandarin is spoken most worldwide, and is often simply called Chinese. Nearly 70% of Chinese speakers across the world speak Mandarin, which makes it an ideal dialect for Laowai JiangZhongwen Toastmasters.
Though officially chartered in July 2021 as an online club based in Monterey Park, California, the group first met more than four years ago as an association for Chinese-speaking professionals. Efros started the group as an opportunity to practice her Mandarin and network with others who had an interest in Chinese culture. She and her fellow members decided to charter a club because they felt Toastmasters offered a more comprehensive platform to hone their speaking and presentation skills.
"I think it gives us a great road map," says Efros, a Toastmaster since 2019. "I had our association formed for several years, and we would meet often, but without any specific guide, we would always default to chatting in English—not exactly accomplishing our goals of practicing Chinese.
Guided by the Toastmasters meeting structure, members follow through with giving speeches, evaluations, and Table Topics® in Mandarin. "For me, the pressure to speak forces me to practice writing a speech, practice the pronunciation, and memorize the words," Efros explains. "It's amazing language practice."
Efros speaks Mandarin regularly in her work as a recruiter, but not all the members do, so the club has become an important place for them to maintain language skills and an appreciation for their culture. Many members are advanced Chinese speakers, and club meetings are conducted entirely in Mandarin.
"Speaking another language gives you a unique window into that culture and a way to communicate with a whole new group of people," says Efros. "I can't express the positive impact speaking Mandarin has had on my life."
The online club welcomes members from all over the world. Many live in California, but members also hail from other areas of the U.S., as well as China and Colombia.
Some members are motivated to perfect their Mandarin because they want to improve their professional use of the language for work presentations or serving as meeting leads, according to Efros. However, most are aiming to not forget the language.
Language practice and retention are key elements of meeting activities, which is why the club welcomes new Mandarin speakers to join, alongside fluent speakers. "We are definitely open to some Chinese beginners visiting the club to see if it would be beneficial for their language practice," Efros says.
But it's not just language practice for these laowais—it's a consistent connection to a culture.
Ready to practice another language while visiting a club? Listen to this podcast interview with experienced translator and Toastmaster Gwenyyd Jones to hear tips on how to make the most out of attending a bilingual club meeting.
---
---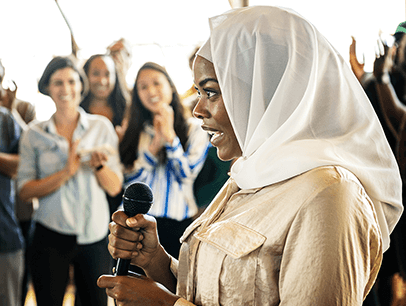 ---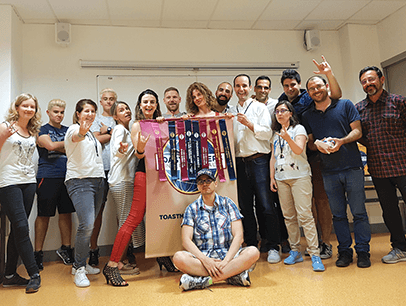 ---