Members of a Toastmasters club in Basque Country, Spain, are helping to breathe new life into an ancient language and make a contribution to a cultural revival. Toastmasters Bilbao, in Bilbao, Spain, is playing a part in reviving the Basque language Euskera through alternating trilingual meetings (English, Spanish, and Euskera).
Euskera is considered the oldest European language still in use, dating back as far as 200 B.C. Through the years the language has waned, due to migration, the influence of the Spanish and French languages, and being outright banned during General Francisco Franco's reign, from 1939 to 1975. Euskera is now experiencing a revitalization in Spain, and Bilbao club members are part of that effort.
Breathing Life into Spain's Basque Country
Toastmasters Bilbao chartered in January 2014, as an English language club and the first—and still only—Toastmasters club in Bilbao, a city in the northern part of Spain. After two years, many prospective members expressed interest in developing public speaking and leadership skills in Spanish, as they didn't feel as confident doing so in English. Club leaders recognized the opportunity to serve a community need, and the club became bilingual.
With the success of Spanish language meetings, members were inspired to include Euskera, the official Basque language, in their meetings. "We were excited about the idea of supporting this language," says club co-founder Fernando Urien, DTM. The members value skill development not just for themselves, but also for the Basque society. "We are trying to give something back to our community," Urien says.
The first Euskera meeting was held in November 2016, making the club trilingual. Toastmasters Bilbao meets weekly, alternating between Spanish and English. Once a month, it holds a separate meeting in Euskera.
Euskera is considered the oldest European language still in use, dating back as far as 200 B.C.
The club is now recognized as an association of culture by the Basque government. This formal status provides the club free access to public spaces, meeting rooms, and publicity for its activities through official government channels. It also provides the club credibility to apply for government funding and establish formal relationships with organizations. "Bilbao Toastmasters members are very committed to our society," says Amaia Agirre. "We participate in an altruistic way in social and cultural projects."
Leire Moro García del Valle recently joined the club and is inspired by "beautiful talks" from others. She wants to feel confident speaking in front of large audiences. "I think it's an essential resource for every job and for daily life," she says.
Fluent in Spanish, Euskera, and English, Moro appreciates the benefits of the trilingual club. In addition to honing her skills in all three languages, she learns new expressions. She also appreciates how the meetings motivate speakers who are learning English and Euskera. "It's a good way for everyone to feel part of the group," she says. "Each person's native language may be different, but we all have some sessions where we can feel the most comfortable."
The Mystery of the Basque Language
The success of the club is even more impressive given the mysterious and isolated origins of Euskera. It predates the time when the Romans conquered Spain, and is neither from the Romance nor Finno-Ugric linguistic families. In fact, it is considered an isolated language, with no relation to any other known languages today and a grammatical structure unique from any other European language.
Euskera survived the Vikings and the Roman invasions largely due to its isolated geography. General Francisco Franco, Spain's dictator during World War II, tried to ban the language, but individuals in small villages and towns worked to preserve it.
After decades of fighting for independence, Basque Country now comprises three historic territories, which have maintained their own government since 1980. Bilbao is the capital of one of the regions and known internationally for its cuisine, culture, and architecture, particularly the modern Guggenheim Museum.
Toastmasters Bilbao Today
Toastmasters Bilbao has received district awards recognizing the club's overall achievements and its individual members' leadership contributions, which range from the club to the international level. Each year for the past six years, the club has earned Select Distinguished Club status or higher, and President's Distinguished the past three years in Toastmasters' Distinguished Club Program.
Currently, Toastmasters Bilbao has 43 members, but only a small portion attend the meetings held in Euskera. To strengthen efforts to revitalize the language, club leaders are reaching out to other Basque communities. The club held a joint online Euskera meeting between Toastmasters Bilbao and people from Barcelona's Basque community. Bilbao club members hope to host a similar meeting with Basque groups in Argentina.
The club has led trainings for local groups ranging from youth to professional organizations. "We've also been invited to participate in TV shows and radio programs as a recognized expert organization in communication and leadership," says Cristina Giménez Elorriaga.
The club's activities don't stop there. In 2017, Toastmasters Bilbao started a monthly Spanish-language advanced meeting for members who have achieved Competent Communicator status or completed a third level in Pathways.
Innovation to Meet Community Needs
The members pride themselves on innovation and experimentation. Over the years, the club has hosted sessions that focus on special topics, like nonviolent communication and storytelling, or unique training methods, like neurocoaching using horses. A podcast series is in development. "We are thinking of sharing what we have learned," says Agirre. "We want to learn, to investigate, to innovate—to go the extra mile."
"I joined because of the public speaking, and I discovered the leadership."
—Fernando Urien, DTM
The club places a strong emphasis on teamwork. Urien describes the club's culture as one of learning, having fun, and getting to know people. "I joined because of the public speaking, and I discovered the leadership," he says. "I think the best lesson I learned was about motivation. You cannot use the same strategy because people are motivated by different drivers."
The club offers more than the educational programming to ensure it meets members' needs. "We connect members through extra education and leisure activities to share knowledge and abilities, enlarge the club, and practice leadership and communication skills," says M'Angel Manovell. Examples include a "ToastMountains" group for hiking, "ToastCooking" for sharing meals and cooking sessions, "ToastEscaping" for participating in escape rooms and developing teamwork skills, and a running group for exercising and competing. The club also participates in district-wide extracurricular activities, including the establishment of a band that has performed at division conferences.
Members join Toastmasters Bilbao to develop skills in multiple languages and quickly learn there's more to the club than expected. They stay for the personal and professional development, the opportunity to strengthen Basque society, and the satisfaction of working with each other.
"As often happens in life," says Elorriaga, "I found something much better than what I was looking for. I found a group of intelligent and fun people and a platform with a well-thought-out and studied method that develops speaking and leadership skills."
---
---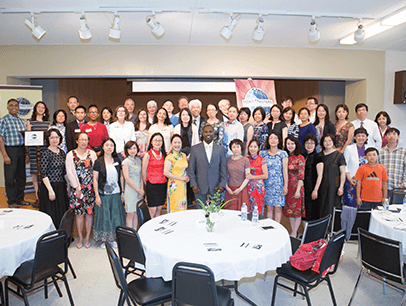 ---