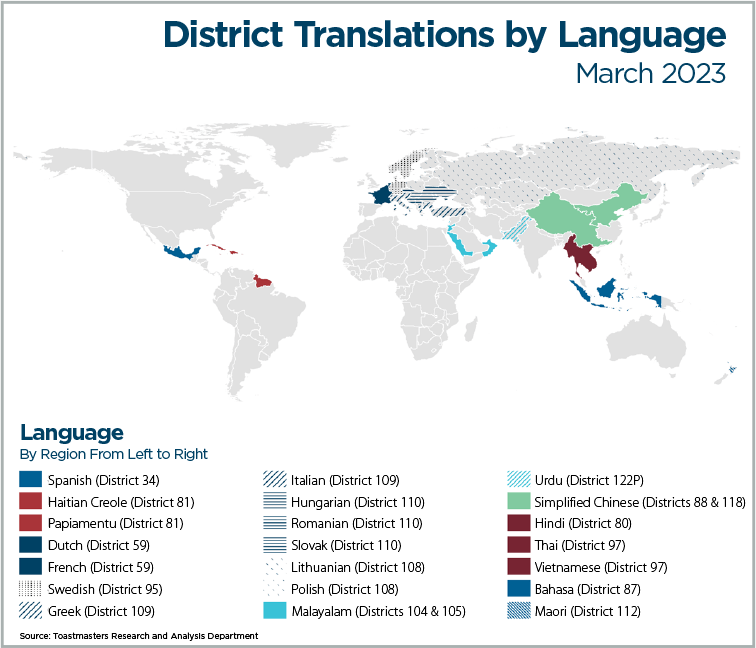 Over the years, Toastmasters International has received requests for translations of its materials into a variety of diverse languages, including French, Spanish, Arabic, Korean, and more.
For years, the organization was not able to act on these requests. That changed with the rollout of the Pathways learning experience, when the Board of Directors allocated funding to translate the new education program. Member teams volunteered their time to review Pathways and other professionally translated materials through the Translation Review Program.
That first foray into translations has led to a resounding response to a new initiative, the District Translation Program, which became official in 2022. Now, more than two dozen District teams around the world are translating a wide range of languages beyond the 11 original translations undertaken for Pathways.
Toastmasters World Headquarters administers the program while District teams do the actual translations work. The program has produced—and continues to produce—translations successes, allowing even more members to participate in Pathways in their native language.
In the past two years, 27 District language teams have started, continued, or completed translations in Romanian, Hindi, Hungarian, Italian, Swedish, and Polish. Work is now underway in Papiamentu (District 81), Lithuanian (District 108), Māori (District 112), Haitian Creole (District 81), and Urdu (District 122P). Most Districts are working on Pathways content, but other education pieces, such as the Youth Leadership Workbook, are being translated, too.
Base Camp—Pathways' learning management system—now houses 114 District-translated Pathways projects, with material in seven new languages. To see what is available, go to the Resource Library and select the language of your choice.
Districts are tackling translations with enthusiasm and endurance to spare. Kerstin Löfstedt, DTM, is Team Coordinator of the Swedish team translating the Youth Leadership Workbook. The group had some "aha" moments while translating English education concepts into Swedish. The challenges gave them all a "deeper understanding of both languages," Löfstedt says.
The District Translation Program allows even more Toastmasters to participate in Pathways in native languages.
Her team was also acutely aware of quality, noting the work had to be "right, not just good enough," to uphold the integrity of this and future translations. The team is now considering translating Pathways Level 1 projects into Swedish.
The experience of meticulously working on translating leads to its own rewards. Sachiko Morikawa, DTM, is the Chief Reviewer on the member team that helped with the original professional translation of Pathways into Japanese. She spent hours reviewing videos, modifying the translations, and meticulously adjusting word order, making it easier for "both bilingual and monolingual members to enjoy listening to English, while reading Japanese subtitles at the same time," she says.
The experience gave her such a confidence boost that she went on to serve as a club coach, an officer in three American clubs, and a member of a club led in English by native Japanese speakers.
Calin Gilea, DTM, Immediate Past District 110 Director, started thinking about a Romanian translation as soon as Pathways was announced in 2015. However, he waited, and later led his team on a two-year project to translate the entire Pathways program into Romanian via the District Translation Program. The challenge was beyond worth it.
"The smiles on the faces of members and colleagues when they see a Pathways project translated in their native language is priceless," he says.
Editor's Note:
For more information on the District Translation Program, contact districttranslations@toastmasters.org.
---
Stephanie Darling
is a former senior editor of and frequent contributor to the
Toastmaster
magazine.
---
---