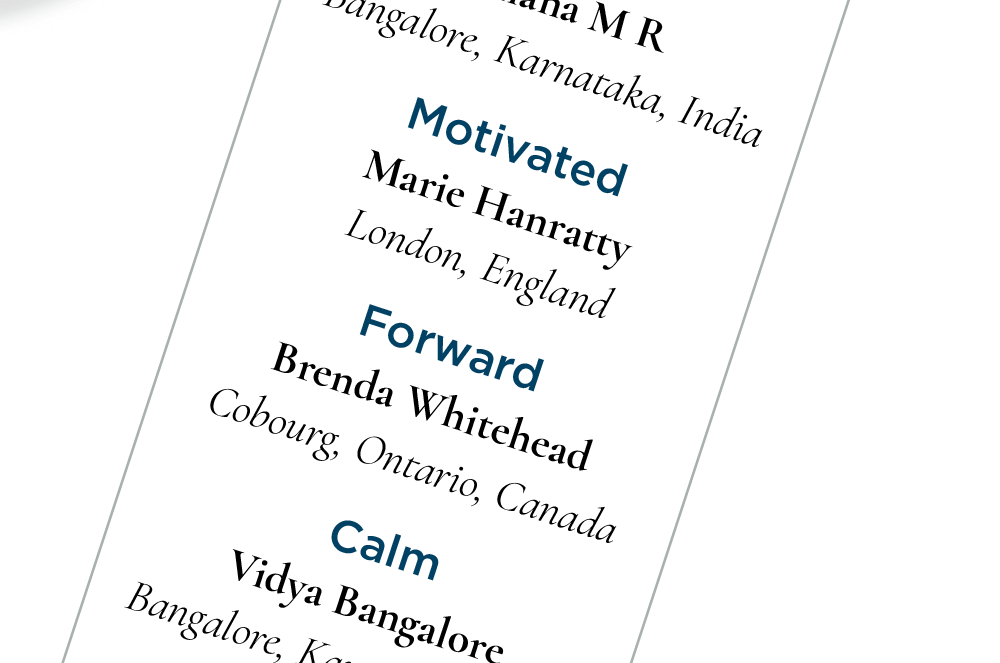 In the January 2023 issue of the Toastmaster, readers were encouraged to select a word that encompassed the theme for their year ahead. While it's now almost halfway through the calendar year, there's still time to pick your one-word theme. Find inspiration from the members below—you may even discover your club's next Word of the Day!
Assiduous
Nayomi Kuruvilla
Bangalore, Karnataka, India
Power
Kelmikis Mitchell
Union City, Georgia
Blossoming
Nitya Kannan
Chennai, Tamil Nadu, India
Perseverance
Rahul Bharadwaj
Bangalore, Karnataka, India
Joy
Sally Bosch
Hillcrest, South Africa
Ecstatic
Sahana M R
Bangalore, Karnataka, India
Motivated
Marie Hanratty
London, England
Forward
Brenda Whitehead
Cobourg, Ontario, Canada
Calm
Vidya Bangalore
Bangalore, Karnataka, India
Intentional
Theresa Baughman
Algonquin, Illinois
Curious
Johnson Bruno D'Souza
Bangalore, Karnataka, India
Believe
Maggie Holley
Cape Charles, Virginia
---
Staff
The
Toastmaster
magazine staff is comprised of five editorial team members. Learn more about them on the Staff page.
---