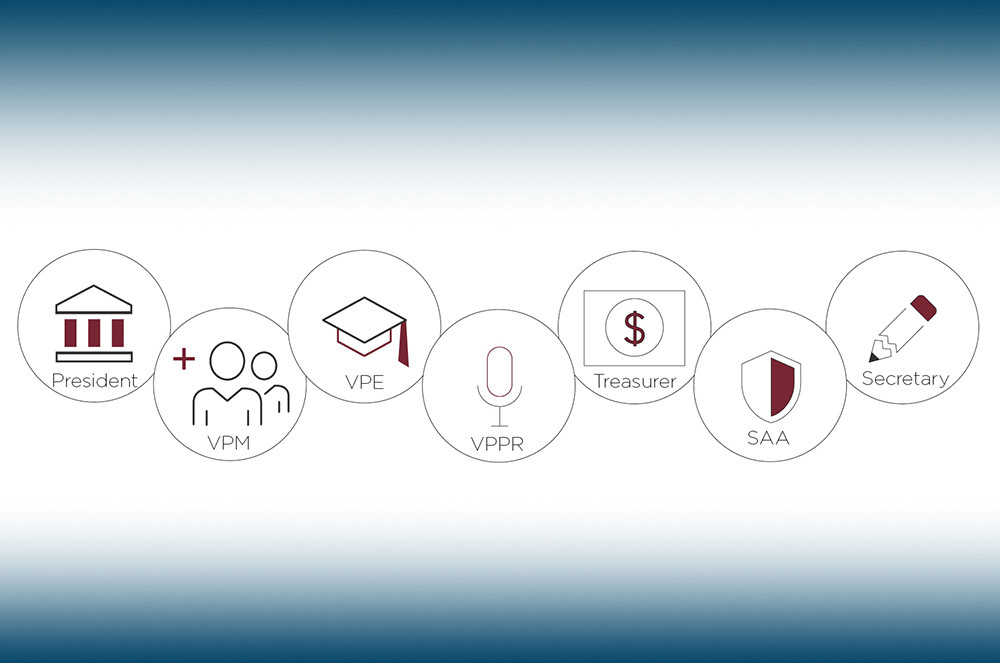 It's an often-overlooked part of every club officer's list of responsibilities: Prepare your successor for office.
If your club barely managed to get enough officers to serve this year, thinking about who will come after them may seem as pointless as planning how to spend next year's lottery winnings. But putting off succession planning could be one of the reasons you're struggling to fill officer roles each year. And a club that has a plan in place can end up feeling like it did win the lottery.
Now is the time to create a transition plan for your incoming club officers and those who will replace them.
Time to Transition
Let's start with the short term: 2022–2023 club officers helping 2023–2024 ones. There is plenty of time to assist with this officer transition since there could be a full month or two between the time new officers are elected and the time they start their term, on July 1. (Or January 1 for clubs that elect officers every six months.)
New officers will be able to attend club officer training at the start of their term, but working one-on-one with their predecessor is a great supplement to the group training. Each officer can outline their role for their successor, offer helpful tips, provide useful materials, and answer questions.
Succession planning "is so important that I believe clubs should make the transition process an organized part of the Club Success Plan."
—Lance Webster, DTM
"There's no better training than having someone in the role tell you what to do and what are the responsibilities," says Sherri Raftery, DTM, a member of six clubs, including Island Foghorns in Middletown, Rhode Island.
Helping new officers is vital, but in the long run, such efforts should also extend to potential club officers—members who haven't been elected yet but hopefully will be at some point. "Succession planning ensures that club members are mentally prepared for a potential role instead of being suddenly and unexpectedly nominated and voted in at the elections meeting," says Deb Walker, a member of three clubs, including FCC Stubble Jumpers in Regina, Saskatchewan, Canada.
Lance Webster, DTM, a Past District Director of District 52 in Los Angeles, California, says succession planning is so important that he believes clubs "should make the transition process an organized part of the Club Success Plan, including deadlines for the transition process."
Current officers themselves benefit from working with incoming ones. "You never learn as well or as much as when you have to teach," Webster notes.
The Long View
The work should begin long before elections, as current officers look for likely candidates to replace them—and even for candidates to follow those officers. The second wave can be positioned as assistants to the formally elected officer, giving them a year of training and mentoring to help them get comfortable with the lead position (subject to club election).
Raftery, a longtime Toastmaster who has served as a club officer many times, says officers should always be cognizant of other club members who would make good future leaders. "That's one of your responsibilities," she says. "If you look at it, [your responsibility] is always to find your successor."
The succession process should begin with each officer listing best practices for their role and noting any associated events, such as membership renewal dates for the Treasurer, for example, or speech contests for the Vice President Education. Many officers even keep a journal of their activities for the year to give their successor an accurate picture of the job.
Beware of TMI
That's "too much information," not "Toastmasters International."
"Well, that's the thing," Raftery says. "You don't want to overload them. It can be too much. In fact, it can take a good six months to learn your role, and once you've mastered it, your term is over, so it's the next person's time.
"That's what's good about Toastmasters—it's an opportunity for everyone to learn the roles, and then the next one gets to learn."
For Walker, the member in Saskatchewan, creating a succession plan means reflecting on your role and how you will perform it. What will you leave behind for others to follow?
"It's like a wood carving," she says. "What am I going to do with this role for the next year? What is my wood carving going to look like? How am I going to chip away at it, and what is my masterpiece going to be by the end? What's your legacy?"
---
Kate McClare, DTM
is a professional copywriter and President of Miami Advanced Toastmasters Club in Miami, Florida. She gave her first Ice Breaker in 2011, shortly after joining Toastmasters.
---
---