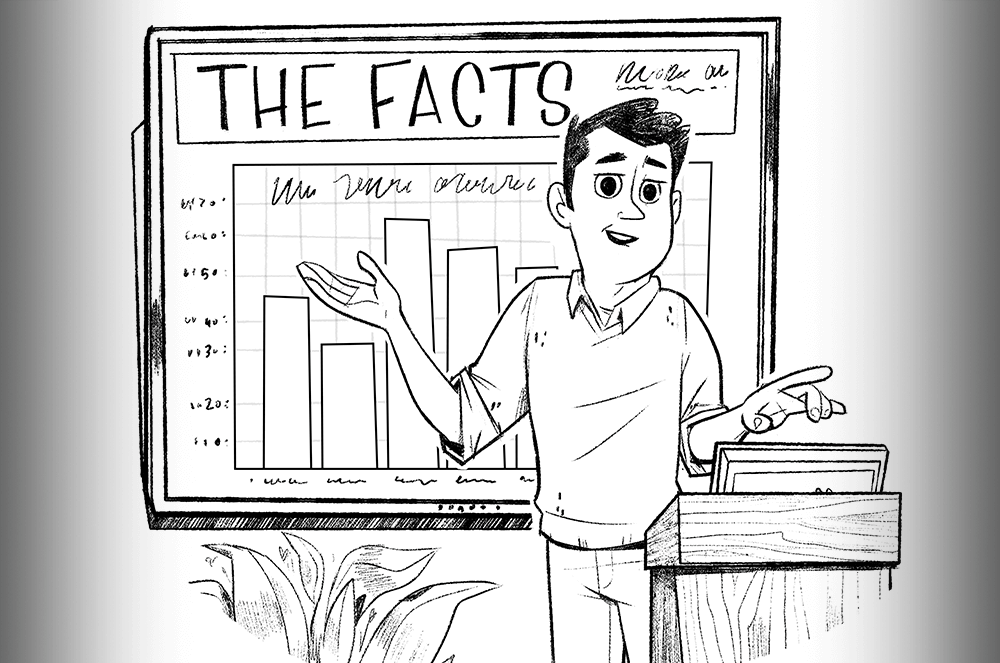 PowerPoints, flip charts, props, a lectern, and even the stage itself serve as valuable visual aids for speakers. But how do you ensure you use these aids to enhance your speech and not distract from it? Here are some tips from experts on how to smoothly incorporate your visual aids.
1
Prepare your presentation first.
Decide what information you want to share and how you want to say it before anything else. Once you home in on your message and key takeaways for your audience, then you can write your speech. After that, choose the appropriate visual tools—but remember that you shouldn't need to rely on the aids, such as a PowerPoint, to recall your presentation. It's easy to inadvertently begin reading your slides, causing you to turn your back to the audience. Knowing your presentation before you incorporate visual aids helps you avoid this.
2
Structure your material.
You have your key points and the message you want to convey. Now it's time to put it all together, and your visual aids can help you with your structure! For example, if you are presenting to a work group, you may want to emphasize your message with data and statistics. A handout or chart may work best in this scenario. You'll just need to determine if it's best to share the information on your visual aid at the beginning of your presentation or a little further into it.
Using the stage as a prop can also assist in how you structure and even remember your material. Toastmaster Toolbox columnist Bill Brown, DTM, says, "The lesson I have learned is that a visual presentation of your message greatly enhances the audience members' understanding and retention of it. And the stage is frequently the best way to achieve that."
You can even incorporate body language. For example, if you're explaining a scale or continuum, start on one side of the speaking area and move across it as you advance through your presentation.
3
Reinforce your message.
Once you have your speech written, you can begin incorporating your visual aids. If you're using PowerPoint slides, build them out with minimal text on each slide. Use images to emphasize a description.
Visual aids should enhance your message to make it really stick, not distract from it.
If you're using props, keep them simple, and don't add too many. Visual aids should enhance your message to make it really stick, not distract from it. You want your audience to remember your point, not just the prop itself. "Your interaction with the prop, even just holding up a picture, makes your presentation more concrete, and can add emotion, drama, and meaning to your words," explains Diane Windingland, DTM.
4
Consider your audience and environment.
Different presentations require different visual aids. While a presentation to colleagues may require handouts or a chart, especially if you're in a conference room with limited space, a Toastmasters club speech could be less formal. You know audience members are there to support you, so experiment with fun props and even how you use the stage. It doesn't have to be complicated: During one District speech contest, a participant brought a suitcase when speaking about traveling and put on a pilot's cap at the end of the speech.
5
Add humor.
If humor is appropriate in your message and for your audience, props are a simple and effective way to incorporate some laughs. Beverly Wise, DTM, once dressed in scuba gear for a presentation about scuba diving trips. She had a fellow member wear six T-shirts with maps of the dive sites. As Wise progressed through her presentation, she would say "Next slide, please" as the man peeled off a shirt and she pointed with a snorkel at the new map.
Of course, you don't need to incorporate this many aids or humor points, but maybe your main point has a prop that can be added. Give it a try!
You are your most prominent visual aid and required for any presentation. Be sure to put your best foot forward with your appearance and attire.
Resources:
---
Staff
The
Toastmaster
magazine staff is comprised of five editorial team members. Learn more about them on the Staff page.
---
---