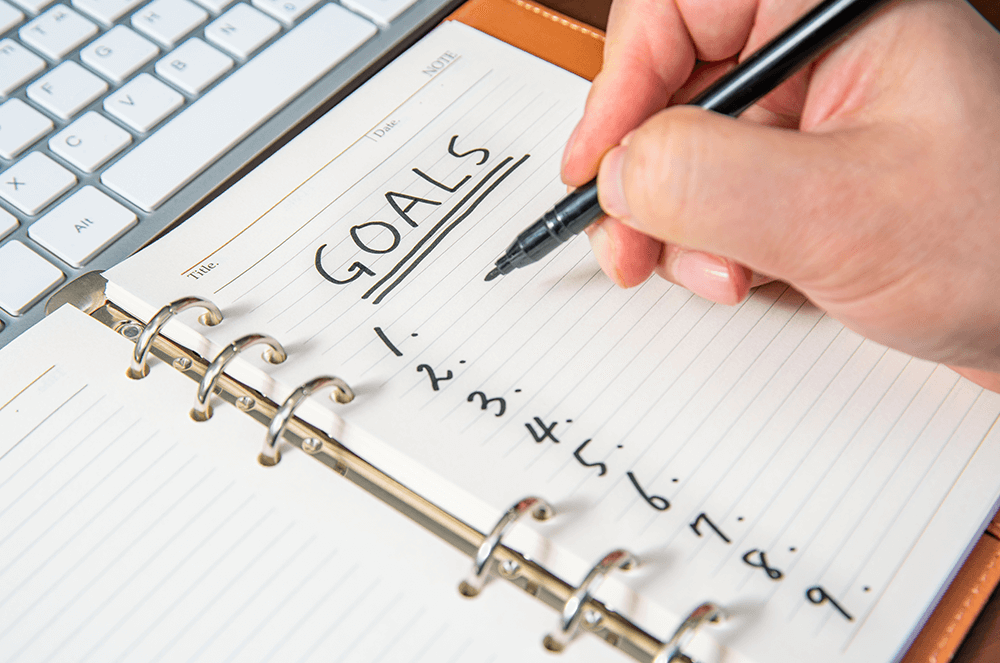 It's the start of a new Toastmasters program year. If you're feeling a bit lost, don't worry. You are not alone. This time of year can often be a little overwhelming.
We all have different levels of motivation and purpose as we travel along on our Toastmasters journey. For some, this might prove challenging at times. How do we manage Toastmasters with everything else going on in our busy lives? How do we keep the passion and desire to truly achieve all that we can? The good news is there are techniques to help us.
A widely used productivity strategy that many people find helpful is goal setting. For example, Kairsty Ashworth, a member of Livingston Speakers in the United Kingdom, is a regular goal setter. "I set a goal of taking on a role at every meeting and ensuring I contribute to each meeting," she says. "Last year, I set my target at finishing Level 3 in Visionary Communication, which is my second path. This year my target is to complete the path."
Ashworth also sets goals for speeches and meeting assignments. This allows her to contribute to her self-development and to her club, by actively participating in each meeting.
While there are a variety of goal-setting methods, many people find that SMART goals (Specific, Measurable, Achievable, Realistic, Time-Bound) provide a memorable tool to stay inspired and achieve objectives. Let's take a look at this popular technique and see how you can apply it to Toastmasters.
Specific
This is important, as specificity helps our subconscious focus on and visualize the goal. Say your goal is "to get better at public speaking." That's a worthy aim; however, it's too general. See how it compares to the specific goal below:
Complete Level 2 of Innovation Planning by June 15, 2023, to improve my public speaking skills when presenting to an unfamiliar audience, which is something I'm often assigned to do.
Measurable
We need to measure our efforts and successes. Fortunately, the Toastmasters program and Pathways make it easy to do this. Completing a path, taking meeting roles, or competing in a speech contest—all are easy to track and measure. Your Vice President Education (VPE) can do this in Base Camp. There is also a Pathways Achievement Tracker, a handy visual tool to see your progress.
Achievable
Can you actually achieve your goal? This is usually not a problem within Toastmasters, as most goals include reaching pre-determined milestones. However, what if your goal requires prerequisites? If it does, set a new goal to address those—such as completing path Levels 1 and 2 in order to compete in the International Speech Contest. The club VPE is an excellent resource to help you identify and plan for prerequisites.
Realistic
Is your goal realistic? If not, it may become a ­demotivator rather than an inspiration. For example, getting your DTM in one year may not be realistic. However, completing a path probably is. Perhaps achieving a level each year is the most realistic scenario for you.
Think about how much time you can realistically devote to Toastmasters given all your commitments and responsibilities. Strive to find a balance that will allow you to achieve your Toastmasters goals and everything else you need and want to do in your life. A realistic goal will motivate you to achieve it.
Time-Bound
Set a specific completion date. For example: Set a date for your big project (complete Level 2 by June 31, 2023), then create a set of subgoals for each project. Setting a specific date helps you focus and hold yourself accountable.
Set a SMART Plan
Once you have outlined your SMART goals for the year, develop an action plan to achieve them. This is vital, as without a plan, your goals are merely wishful thinking.
Break your main goal into smaller goals. This makes the "big" goal seem less daunting and allows you to set dates to accomplish each smaller goal. For example, let's say your goal is to complete Level 2 of the Presentation Mastery path by February 28, 2023. There are three assignments in this level, so you will need to prepare, practice, and deliver three speeches.
We all have different levels of motivation and purpose as we travel along on our Toastmasters journey.
Decide on a realistic timeframe; for example, a speech every two months. Commit to actual dates. Then share your plan with the VPE and secure a speaking role in the meetings on those dates.
Each speech you complete is a little victory and little victories add up! Your motivation increases and you start looking forward to that next speech or meeting role. And knowing well in advance when you will be delivering each speech makes it easier to schedule time to work on preparing and practicing.
Regardless of how you plan, remember that goals are a means to an end. As the noted motivational speaker Zig Ziglar said, "What you get by achieving your goals is not as important as what you become by achieving your goals." Remember your reasons for joining Toastmasters, as these reasons reflect who you want to become.
Need proof that SMART goals work? Like so many of us, Lori Lococo, DTM, joined Toastmasters to improve her public speaking skills. However, she soon developed a passion for leadership and set new goals surrounding this newly discovered interest. Over the next 15 years she set progressively higher SMART goals, culminating in her election to the position of Toastmasters International Director (2012–2014).
That led to her desire to "give back." She went on to leverage Toastmaster leadership skills and was elected as a city councilor in her hometown of Niagara Falls, Ontario, Canada.
It works to be SMART. So use this strategy and make this your best Toastmasters year ever!
---
Greg Lewis, DTM
is a retired business professional who strives to inspire and encourage his fellow Toastmasters. He and his family live in Fonthill, Ontario, Canada.
---
---