A powerful photo can tell a story just as an eloquent orator does when delivering a speech.
To that end, the magazine launched a photo contest with the theme: What Does Toastmasters Mean to You? Photos had to be taken by the entrants and shot within the one-month timeframe of February 1–28, 2021.
All entries were judged by the Magazine Team at World Headquarters, with Toastmasters International President Richard E. Peck, DTM, being the final judge.
Peck has been a photography enthusiast and amateur photographer since his early teens. He was a sports photographer for his high school, and has had two photos published in Best of College Photography. These days he takes photographs for personal enjoyment and for "the solitude that it often affords me, for the ability to look at things a little differently, and to hold on to the memories of those moments in time."
Here are the winners: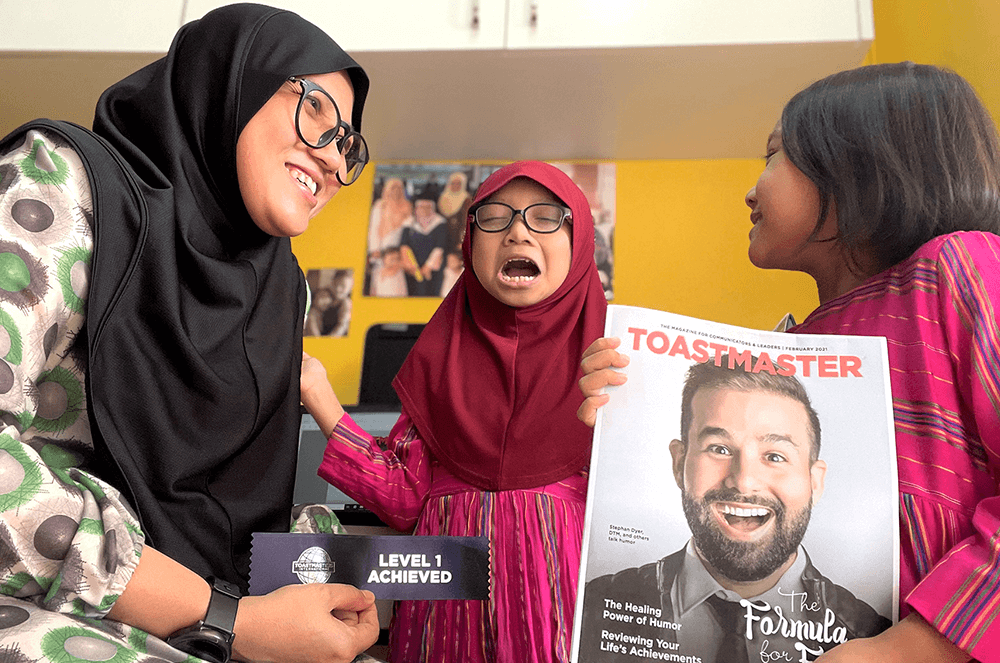 First Place Winner
Nor Diana Md Ashar • Kuala Lumpur, Malaysia
Entrant: The one thing that has been constant during this tough time has been my Toastmasters journey. With the support from my team, I managed to complete my Level 1 and Level 2 while working from home! My kids were also caught up in my Toastmasters fever and demanded an opportunity to deliver a one-minute speech to dear Mommy.
Richard Peck: This photo captures the importance of support beyond the club level, which is something we often speak about. There is a dichotomy: the laughing image on the Toastmaster magazine and the young child in the background who appears to be speaking dramatically while her sister enjoys the show. The Level 1 ribbon ties in nicely with the magazine article "Reviewing Your Life's Achievements" [headlined on the magazine cover].
From a technical standpoint the focus and depth of field is great. The background is blurred just enough to keep it from being distracting while still allowing the viewer to draw a story from it. The subtle lighting variant creates a nice contrast between the mother and daughters, with the mother (the Toastmaster) being highlighted. The colors are also vibrant and well balanced.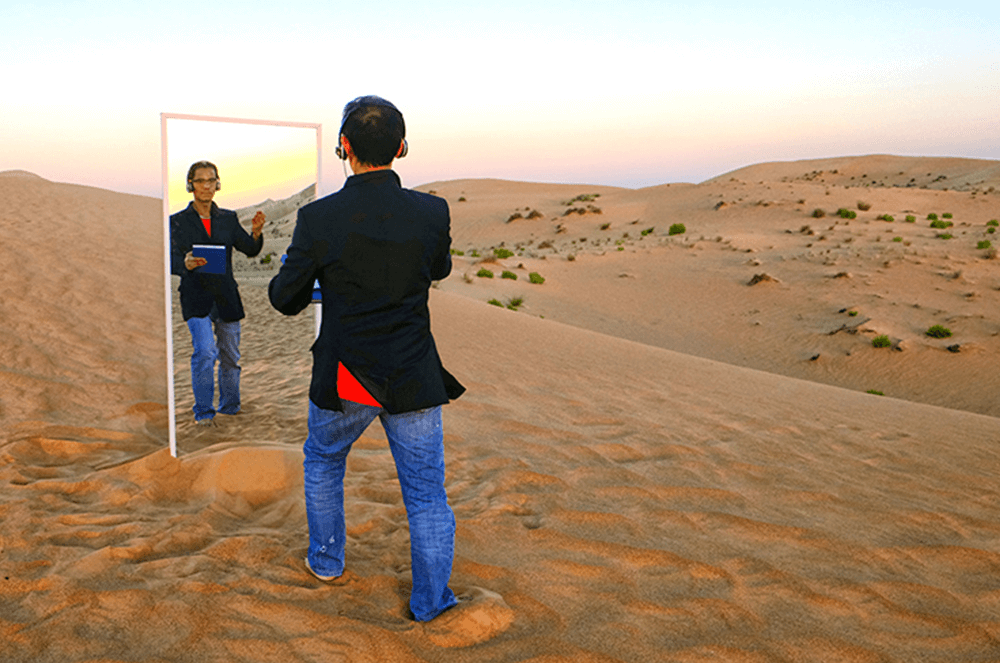 Most Creative
Jerry Damian • Abu Dhabi, United Arab Emirates
Entrant: This self-portrait was taken in Al Ain desert near Abu Dhabi, United Arab Emirates, while practicing hard for a prepared speech.
Richard Peck: This photograph represents both the isolation that we are feeling during these times, as well as this time for reflecting on who we are and where we are. There is the vastness of the world around us and occasionally we don't see anybody but ourselves.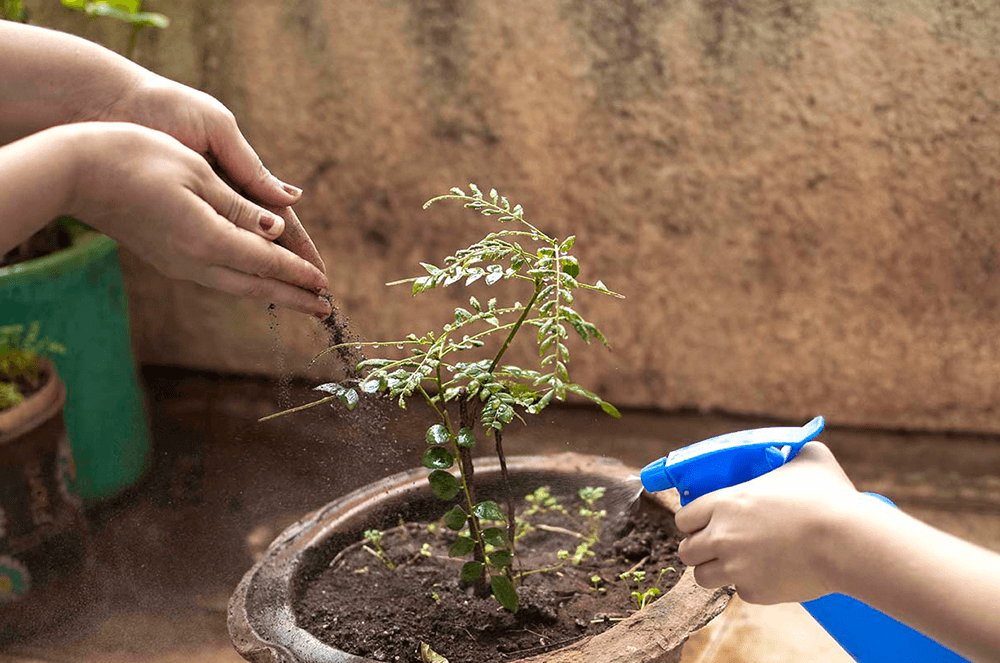 Most Inspirational
Nilesh Arun Patankar • Pune, Maharashtra, India
Entrant: Toastmasters to me is nurturing, caring, and the biggest support for growth.
Richard Peck: This image represents the nurturing aspect of Toastmasters. Just as a plant can't grow on its own, as individuals and Toastmasters we need the support from others to help us grow.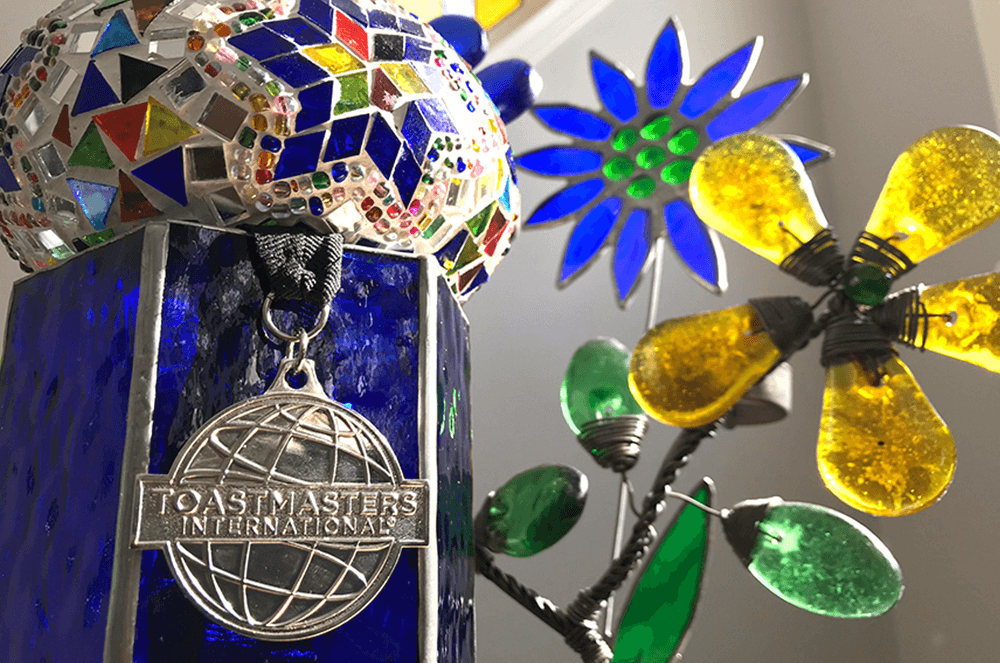 Best Use of Branding
Martha Sojka • Joliet, Illinois
Entrant: Toastmasters is a safe space for personal growth and an opportunity to let my inner light shine. Just as stained glass is a collection of unique pieces of various colorful shades, shapes, and sizes, Toastmasters is equally diverse and inclusive of all.
Richard Peck: I really like the Toastmasters logo on the deep blue (Loyal Blue!) background. We can also see hints of the maroon, gray, and yellow from our branding palette.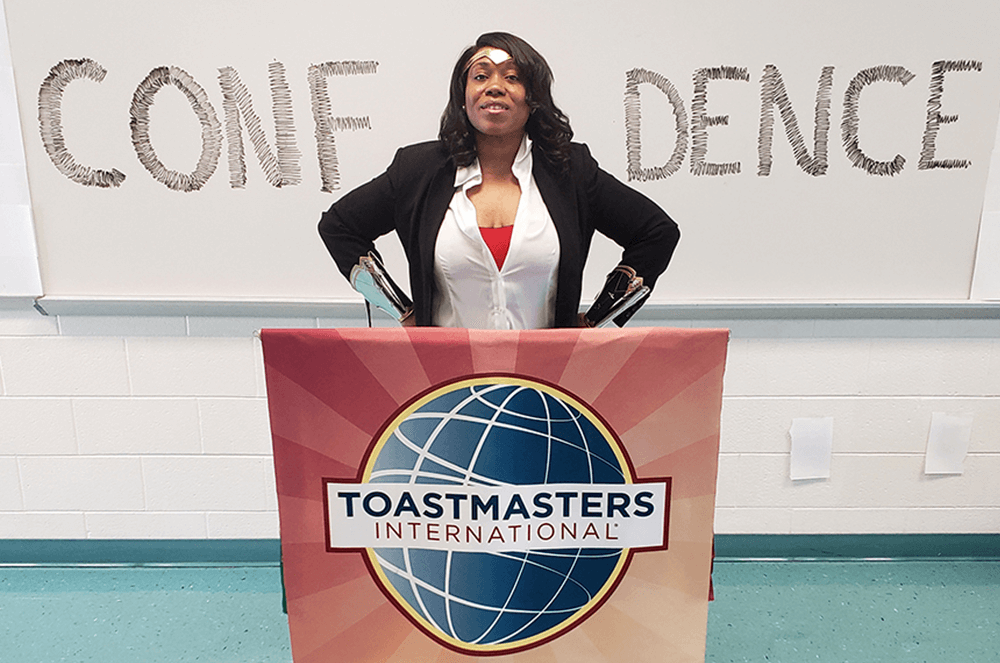 Most Original
Michelle Carter • Waldorf, Maryland
Entrant: Toastmasters brings out the "I" in CONFIDENCE. Since joining Toastmasters, I have not only gained more confidence in my public speaking, but in myself. I have been given the opportunity to reinvent myself and I am loving the path I am on. I can stand out as a leader and stand in confidence of my abilities.
Richard Peck: The Wonder Woman accessories and CONFIDENCE sign are clever and highlight the power that many of us feel upon reaching our Toastmasters goals. She also did a nice job incorporating our logo and branding.
Honorable Mentions
There were so many creative photo submissions, we had to give a shout out to these additional members who sent us their best shot!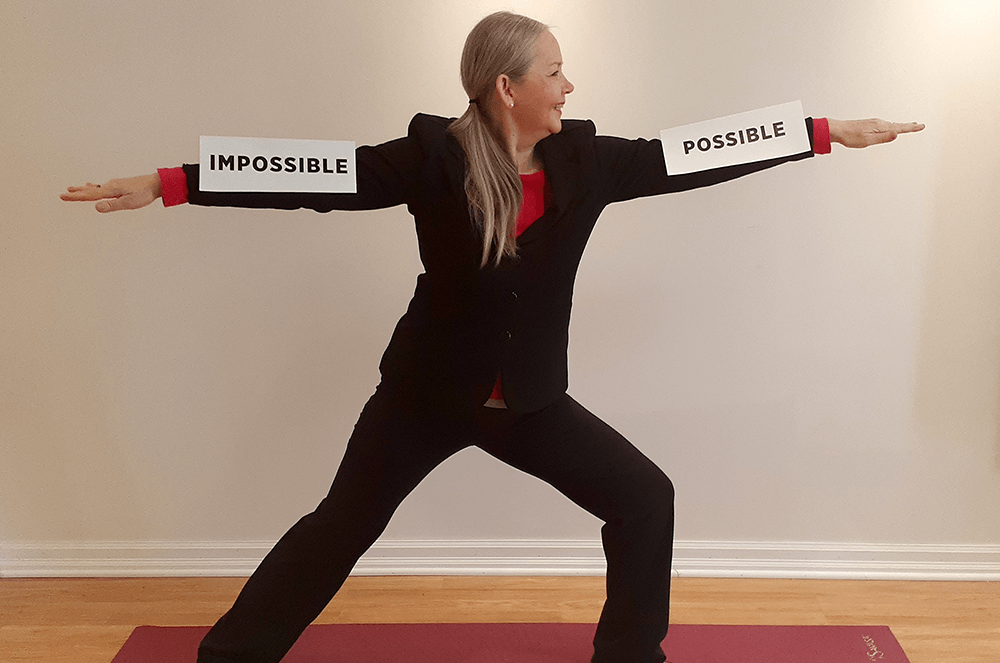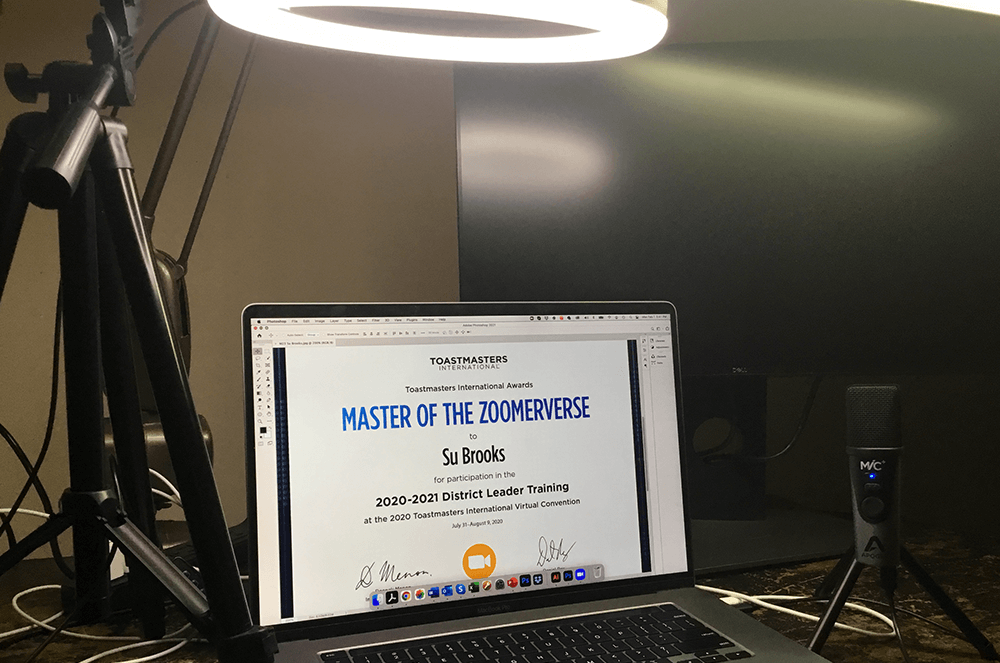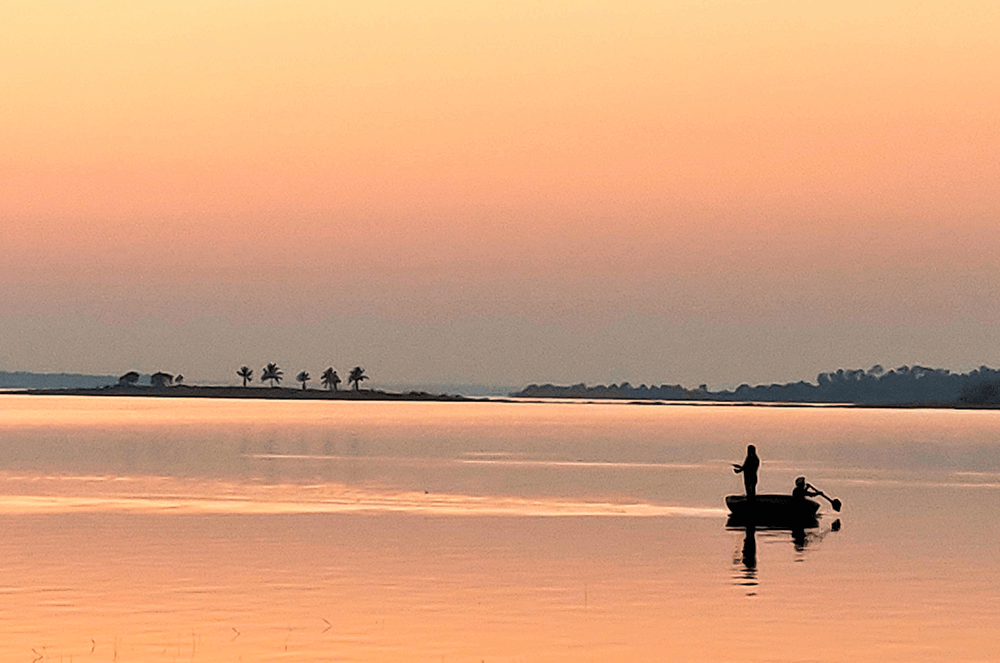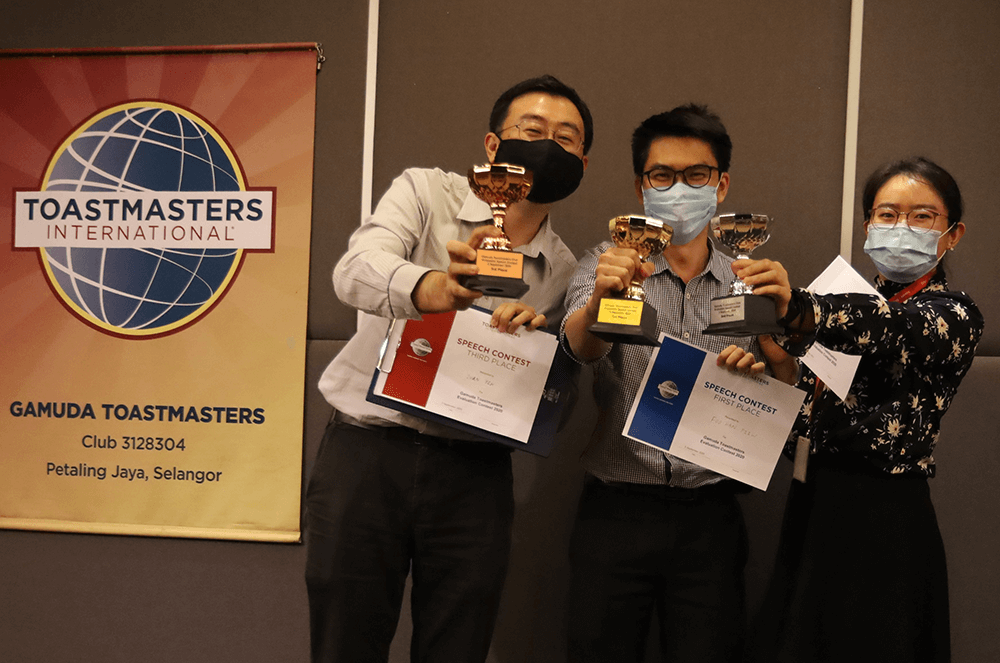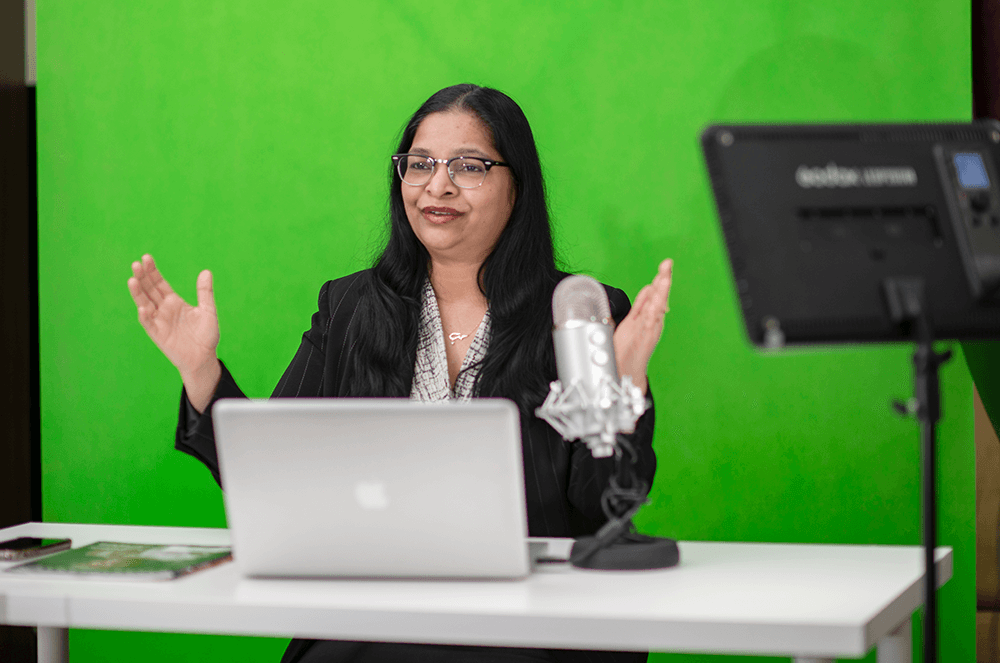 ---
---
---