Click the play button to hear an exclusive interview with Mohamed Ali Shukri and the hosts of The Toastmasters Podcast.
Mohamed Ali Shukri, DTM, Toastmasters' newest Accredited Speaker (AS), has this advice for those who might want to follow in his professional oratorical path: "If you love to speak, speak. Speak because you know your message will benefit others."
Shukri, who received the prestigious AS designation at the 2020 International Convention last August, is a member of Vision Advanced Toastmasters and Y-Access Toastmasters clubs in Manama, in the Kingdom of Bahrain. He is CEO and founder of Y Access Training Solutions and an expert in the field of occupational health and safety management.
"I considered going through my speaking career without this accolade but then I heard other designees talk about it as a life-changing experience," Shukri says of the AS designation. "When I achieved it, I felt gratitude as a person and pride as a Toastmaster that our organization provides a world-class level of accreditation that people can look up to."
Described as an "ardent achiever" by admirers, Shukri is no stranger to the highest levels of competitive speaking: He advanced to the World Championship of Public Speaking® in 2006 and was an International Speech Contest semifinalist in 2007.
Shukri, who studied electrical engineering at the University of Bahrain, united his love of public speaking with what has become a decades-long crusade for workplace safety. As a former industrial superintendent, he was moved to advocacy by seeing on-the-job accidents—the kind that kill or injure millions of workers around the world each year. He was determined to motivate industries and employees to change their safety behaviors and attitudes.
Wearing a hard hat and safety goggles for part of his speech, "A Safe Shortcut to Safety Culture," Shukri demonstrated his expertise and eloquence—yet the virtual stage was a challenge. He wasn't sure his presentation measured up.
"I'm not a virtual presenter—I'm a live, physical trainer and speaker. I'm grateful the judges were able to detect the energy, message, structure, and content that I bring to live audiences."
Shukri admits to being an unabashed "go-to speaker" from an early age. He was regularly tapped to speak at large family and community events, a role traditionally filled by fathers or other leaders. He was so engaging that less willing speakers gladly relinquished the role to him.
"This is when my family wants me, when they are challenged," he jokes. Yet becoming a highly respected and sought-after speaker only deepened his love of language and expression, which were sharpened through Toastmasters. "Speaking is not about the mechanics, it's about the story, the emotion, the heart," he says. However, he notes, good speakers employ tangible Toastmasters techniques to pursue the "intangible joy" of speaking.
Shukri urges Toastmasters to proactively accept speaking opportunities outside their club and within their professions. The ability to impart occupational expertise and motivate peer audiences allows a talented speaker to stand out in a niche industry, he explains. Toastmasters, he adds, "must serve the world outside with our voices.
"If you are a Toastmaster and a professional, please do not disconnect the two," he advises. "You have no idea the benefits you'll receive and how outstanding you'll become by speaking in your field. With the help of Toastmasters, I was able to become a catalyst for safety changes in my company. I wasn't alone in doing this but I was instrumental in helping spread the word."
Shukri also says that any Toastmaster can benefit from emulating the AS program's rigors. "Take the kind of measures this program requires. Adopt those habits of hard work and excellence and apply them to whatever speaking level you want to attain. It will sharpen your skills and add a unique pressure you don't normally face—use that to excel in your performance."
Toastmasters Accredited Speaker Program
The Accredited Speaker Program is designed for professional speakers and signifies the highest level of subject matter expertise and public speaking mastery recognized by Toastmasters International. In order to pass Level 1, candidates are required to submit an application, references, and a video of their professional presentation before at least 25 non-Toastmasters audiences. Successful candidates advance to Level 2, a live presentation at the Toastmasters International Convention.
The program is demanding; only 88 speakers have earned the designation since the program began in 1981. However, the designation can help you attain status, visibility, and credibility as a speaker.
Toastmasters invites you to review the application process.
---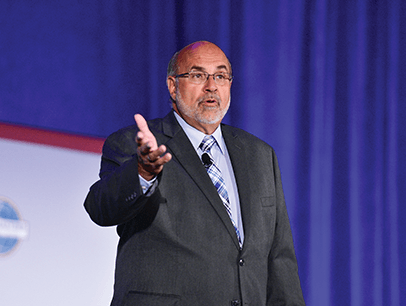 ---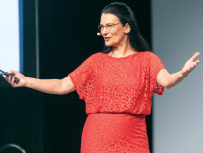 ---