The Accredited Speaker Program showcases some of the most accomplished Toastmasters. It is designed for professional speakers and signifies the highest level of subject expertise and public speaking mastery recognized by Toastmasters International.
To be considered, candidates must demonstrate that they have given at least 25 speaking engagements to non-Toastmasters and submit a speech video to be reviewed by a panel of judges for Level 1. Successful speakers advance to Level 2—a live presentation at the Toastmasters International Convention.
Not all applicants earn the prestigious designation; in fact, only 87 candidates have received it since the program began in 1981. However, in 2019, in a unique turn of events, all six Level 2 applicants received the accreditation.
Meet the six new Accredited Speakers:
Paul Artale, DTM
As a motivational speaker, Paul Artale, Ph.D., helps people and organizations overcome challenges so they can break through barriers and perform at their peak. It's a practice that Artale, who was born with a physical challenge, has long followed. Despite being born with short forearms and missing fingers on both hands, Artale achieved his dream of playing American football in college.
Originally from Toronto, Ontario, Canada, Artale moved to America to earn a doctorate in higher education and joined Toastmasters. "I joined to refine material for my motivational speeches and simplify complicated research topics," he explains. "The more immersed I became in my Ph.D., the more I spoke." He realized he wanted to empower others through professional speaking, which set him on his path toward a new dream.
In 2009, Artale amassed all the speaking engagements required by the Accredited Speaker Program but didn't apply. In 2018, he passed Level 1 but deferred Level 2 as he was a semifinalist in the International Speech Contest at the convention. Then in 2019, he moved forward and earned the designation. "If I look at the number of paid engagements and the increase in my business from 2018 to 2019, it is significant," he says. "I credit the Accredited Speaker Program for helping me find the discipline to launch myself forward."
>Yelena Balabanova, DTM
Yelena Balabanova, Ph.D., began playing piano at age 4 in Kharkov, Ukraine, and discovered her passion for music at 12. She went on to become an award-winning Steinway Artist and an inspirational speaker and earned a doctorate of musical arts degree. Balabanova has performed recitals and presented workshops on peak performance, artistry, and creativity internationally. She also founded the International Conservatory Studio in 2001, now located in Seattle, Washington, where pianists of all ages and experience levels receive personalized instruction and coaching.
Balabanova knows overnight success is unlikely. When she first heard about the Accredited Speaker Program, she never imagined she could accomplish the feat. "My biggest challenge is that English is my second language," she explains. "I had to work extra hard to turn my accent from an obstacle to an asset." Balabanova became receptive to the critiques from her mentors and followed much of the advice she received—two of the most important things she feels other speakers should do.
She hopes to share messages of unlocking creative potential in teams and individuals, training for peak performance, effective techniques for overcoming the fear of failure, and practice skills for improvement in any activity. "Those skills lead to lifetime success for every person."
Michael Bayer
Shortly after becoming a finalist in the 1998 World Championship of Public Speaking, Michael Bayer of Winnipeg, Manitoba, Canada, was downsized from his job and began considering new career opportunities. "After my experience as a finalist, I wondered if I was good enough to do [public speaking] for a living," he says. "With the support of my wife and family, I started my professional speaking career."
Drawing on his 31 years of experience in change-management leadership, his three college degrees, and LEAN Black Belt certification, Bayer turned his expertise into a successful business speaking career. Ultimately, he became a LEAN management consultant, focusing on health care. "LEAN focuses on eliminating waste from processes," Bayer explains. "It creates a culture of continuous improvement that results in improved customer satisfactions and improved profitability."
The best piece of advice he has for anyone interested in pursuing the designation? Read the rules, follow them to a letter, and find an Accredited Speaker Program mentor to review everything you submit.
Sima Dahl, DTM
Chicago, Illinois native Sima Dahl is an international keynote speaker and consultant who teaches people how to increase what she calls Sway Factor™—the degree to which a person's abilities are in demand, a concept she developed during her years as an award-winning marketer. She speaks to audiences on leadership skills, personal branding, and social selling.
"To forge a strong personal brand, decide how you want to be known," she says. "Otherwise, people will decide for you. If you want to be known as a speaker—full-time, part-time, or just for fun—it's your job to let people know." Now that Dahl has earned the Accredited Speaker designation, she is working on her first Sway Factor book and digital courses. Ultimately, Dahl wants to teach as many people as she can how to stand out, stay relevant, and generate demand for who they are and what they do.
Thomas Iland, DTM
When Thomas Iland of Valencia, California, was diagnosed with autism at age 13, it dramatically changed the way he saw himself and his life. He better understood his actions and began to speak up for himself and set personal goals.
He studied accounting in college and earned his certified public accountant license. But after seven years of corporate accounting, he grew unhappy. Knowing he wanted to make an impact in the world and share his story of growing up with autism, he resigned to pursue a public speaking career.
Since then, Iland has spoken on the TEDx stage and at the United Nations on World Autism Day. He is an author and emerging leader in the autism community. He first applied for the Accredited Speaker designation in 2018 and didn't pass, but he used the judges' feedback to improve. In 2019, he resubmitted his application and achieved the accreditation. "I'm big on breaking barriers, disproving stereotypes, and realizing my full and true potential," Iland explains. "I wanted to show that someone with a social-communication disorder could master the art of public speaking, which is essentially socializing and communicating!"
Iland's new goal is to put a dent in the high unemployment rate of people with autism. He plans to consult for corporate clients to discuss the benefits and manage the perceived risks of hiring more people with autism and other disabilities.
Greg Van Borssum
By 2014, Greg Van Borssum of Killcare Beach, New South Wales, Australia, knew 12 people who died by suicide and was struggling with his own depression. He had been working as the principal fight choreographer and weapons advisor on the movie Mad Max: Fury Road. Film production stopped, and Van Borssum took a construction job to continue to bring in an income. After a coworker took his own life at the construction site, Van Borssum knew he needed to speak out to help others battling the struggles he was also facing. He decided to make a difference and joined Toastmasters to become a speaker and hopefully save and change lives. Van Borssum became an ambassador for Lifeline and Suicide Prevention Australia and spoke at national conventions, charities, and community events.
Eventually, Mad Max was back on track, but when filming ended, Van Borssum left his Hollywood career to speak internationally about suicide prevention, mental health, and leadership. He wrote two books and started a company called GVB Mind Warriors, which focuses on inspiring others and sharing steps to help people better their lives.
He knew the Accredited Speaker designation would elevate his existing credibility and capabilities. "I wanted to be taken seriously and this seemed a true pathway to become recognized in professional circles as someone who has worked hard to master the craft," he says, adding, "Any life saved is another family who can continue to smile."
---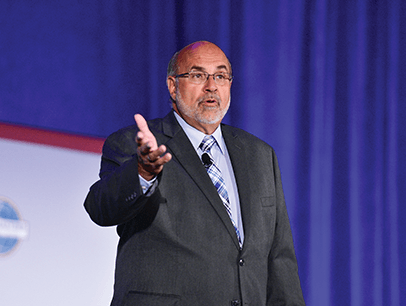 ---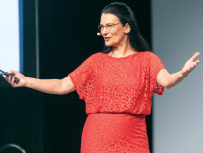 ---