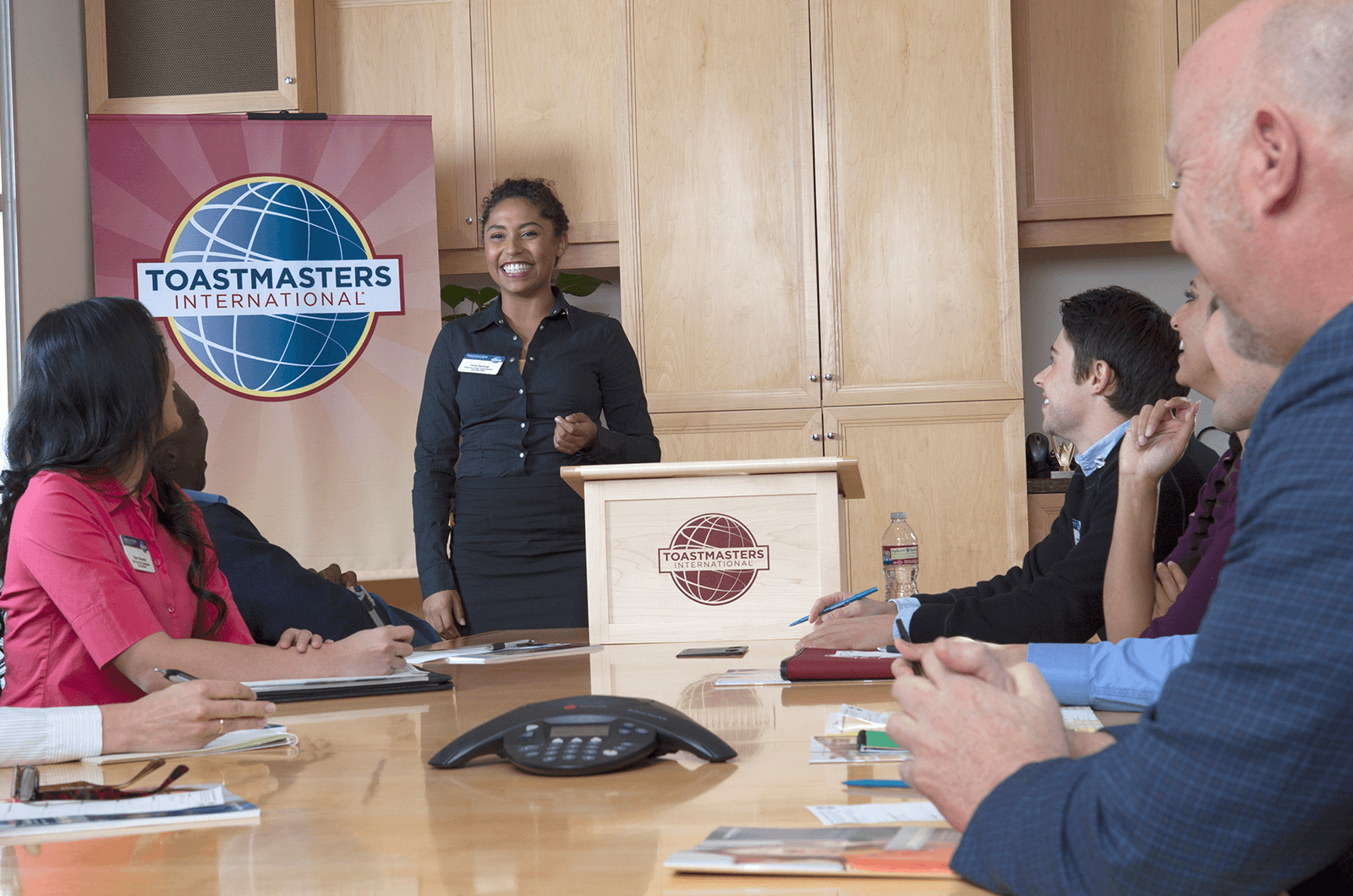 Taking a leap of faith in your own abilities is not only a hallmark of the Toastmasters learning experience, it's a scientifically proven method of boosting confidence. Confidence is born in our brains—it's the sum of thoughts and actions that lead us to believe we'll succeed.
Self-belief is the great enabler in getting you to where you want to go, research shows. Quell your internal doubts, and you eliminate your biggest self-imposed barrier to success.
This is a well-traveled mindset for Toastmasters, the majority of whom join to boost communication skills and conquer an underlying lack of confidence that may prevent them from reaching goals.
Katty Kay and Claire Shipman, authors of The Confidence Code, suggest a trifecta of steps to cultivate confidence: leave your comfort zone, fail fast, and nurture a growth mindset. Fortunately for Toastmasters, we practice one or all three of these steps every time we start a new Pathways project, give a club speech, take on a meeting role, or agree to run for office.
Here's how these confidence cultivation steps dovetail with Toastmasters experiences.
Take a Chance
From natural herbs and hypnotism to seminars and self-help books, Susanna Smith had tried almost everything to combat her anxiety around public speaking in order to progress in her career. It turns out all she needed to do was stand up.
"I'm an expert in communication and language," says Smith, a children's speech and language pathologist and educator in Essex, England. "But getting up in front of people to talk about it is, like, no, it's not happening. Not until Toastmasters."
At her first meeting of the Romford Speakers, a club outside London, audience members were asked to introduce themselves to the room. "Even though I was trembling, I did. If I hadn't, I would have kicked myself. And I may not have felt the need to come back," she says. The experience of pushing past her fear was so profound that she joined the club that same night.
Through Toastmasters, Smith found a supportive group of formerly fearful communicators aiming to face risk and grow from it.
"Toastmasters reminded me that I've got what it takes to conquer my world."
—Ayotola Olanrewaju
She took further action by volunteering for club meeting roles. At her fourth meeting, she delivered her Ice Breaker—conquering the task was her "exposure therapy" to public speaking.
Smith has since incorporated Toastmasters practices into her professional training seminars too. Instead of presenting a dry laundry list of patient symptoms, she employs storytelling—walking the audience through sharable client experiences and conclusions. Smith has noticed her students have come to appreciate the approach and often follow her storytelling lead in their own interactions.
"I never would have thought I would be saying public speaking is my new passion," Smith says. "To me, it's turned everything around, and I'm totally grateful."
Fail Fast
Historically, tech industry startups embrace the concept of failing fast; they view mistakes as lessons. The faster you learn, the closer you are to developing that all-new product or service. "Failing fast allows for constant adjustment, testing, and then quick movement toward what will actually work," authors Kay and Shipman write.
Toastmasters set up an experience akin to fast failure through meeting activities like Table Topics®. Lessons come quickly. Frequent challenges also exercise your self-compassion—you more readily accept you won't always succeed, and you learn that failing doesn't feel nearly as bad as you envisioned.
Ayotola Olanrewaju, an aspiring actress and motivational speaker in Lagos, Nigeria, was a natural talker and loved the attention of being on camera and onstage. She felt at home the first time she visited Lighthouse Prestige Toastmasters in Lagos.
Participating in Table Topics, she took note of evaluators' suggestions to improve, whether it was delivering a better punch line or sticking to a few main points. Based on her club colleagues' feedback, she discovered that she was her own harshest critic.
She began delivering speeches and felt so good that she competed in the 2020 International Speech Contest at the club level. And she won. She went on to place second at the District level.
"Toastmasters reminded me that I've got what it takes to conquer my world," she says now.
Mind Over Matter
The third component of confidence is the growth mindset. Those who believe they can learn new skills are the most likely to do so and gain confidence in the process. The growth mindset is at the core of the Toastmasters Pathways learning experience, which features more than 300 competencies to help members master increasingly complex capabilities in communication and leadership.
Riyas A.F., a two-time Division speech champion and member of Calicut Toastmasters in Calicut, Kerala, India, has been a Toastmaster for six years, but says he grew the most in the six-month period leading up to the 2020 contest season. Through feedback from others, he learned that his stage presence was strong, but he needed to sharpen his speechwriting. Working closely with his mentor, Arjun Sundar Raj, DTM, he focused on writing for the ears rather than the eyes and on presenting a global message rather than a local one. He made it to the District finals in 2020.
Quell your internal doubts, and eliminate your biggest self-imposed barrier to success.
A.F. is a long way from the nervous MBA student whose first Toastmasters speech was in front of 200 people attending a demonstration meeting for a new club. He joined Toastmasters thinking it would help get him a job. How right he was. In 2016, the self-professed "serial entrepreneur" and two other Toastmasters started Samathva Center for Excellence, a corporate training company that teaches employees at various companies how to improve business communication. He also trains groups on the art of confidence.
"I was a pathetic speaker when I started the journey," he says. "Now I'm getting invitations from different companies, corporations, colleges, and institutes. I never thought that would happen."
Want to learn how to boost your confidence to help with networking and job interviews? Watch the video below for tips from a panel of experts.
---
Emily Sachs
is a freelance writer in Brooklyn, New York. She is President of Kidney Stories Toastmasters, a virtual club for the transplant community, and a member of Brooklyn Toastmasters. She is also the Administration Manager for District 119, and a frequent contributor to the
Toastmaster
magazine.
---
---