Click the play button to hear an interview with International President Deepak Menon and the hosts of the Toastmasters Podcast.
When I was installed as International President in August 2019, I promised the audience that my term would be a year of limited change, of stability, and of resurgence. Little did I know that only a few months later, our organization would experience more turmoil and change than at any other time in our near-96-year history.
The COVID-19 pandemic brought the entire world to a standstill. In-person club meetings were abruptly put on hold due to the physical distancing and lockdowns prescribed by almost every country.
The Board of Directors and World Headquarters moved quickly to allow online club meetings. With a sense of relief, first tentatively and then wholeheartedly, members flocked to virtual meetings. Club leaders and members mastered new skills and honed existing ones to adapt the traditional meeting format into an innovative new experience.
The unexpected benefit is that we are no longer limited by physical boundaries; we can access club meetings and District events anywhere in the world.
For example, in May, I served as General Evaluator for District 66's "One Country-One World" meeting. Members representing 70 countries attended—it was almost a mini-International Convention.
Examples abound of the enthusiasm with which members are embracing online engagement. District 120 has created a video of greetings from members representing 120 nationalities to welcome the new District to the Toastmasters fold.
Today, we have a more profound understanding of the culture, habits, and traits of our global Toastmasters community. We are learning best practices from our peers and practicing innovation. We have truly become one in pursuit of our mission to "empower individuals to become more effective communicators and leaders."
The words in "One But Many," a poem by American writer Suzy Kassem, ring true more than ever today:
One God, many faces.
One family, many races.
One truth, many paths.
One heart, many complexions.
One light, many reflections.
One world, many imperfections.
ONE.
We are all one,
But many.
As I bid you adieu, I want to express my gratitude to you for coming together and staying together to weather the storm that we are facing. We are stronger today than ever before.
Deepak Menon, DTM
International President
---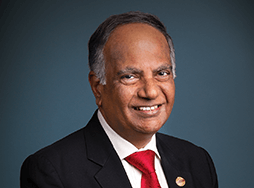 ---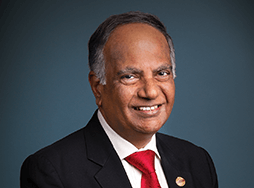 ---