"People love feedback, and providing thoughtful questions or praise is a skill we as Toastmasters practice often."
—Blake Hendrickson
Autism Insights Appreciated
After reading Jolene Stockman's My Turn story in the Toastmaster magazine [July 2019], I watched her TEDx Talk with my son, who has Asperger syndrome. We were impressed by her ability to explain such a complex disorder with clarity, candor, and humor. Many thanks to Ms. Stockman for sharing her gifts with Toastmasters and the world.
Lori Sizemore
Sierra Vista, Arizona
Cochise Toastmasters
Turning Strangers into Connections
I am often amazed by the quality of articles in the Toastmaster magazine. "Building Meaningful Connections" by Maureen Zappala, DTM [June 2019] was especially valuable for people who attend conferences. These events can be great for learning and building connections; they can also be discouraging if you become isolated in a room full of strangers. I recently attended an annual conference with nearly 2,000 peers and had the opportunity to give a presentation. It was a success, and I was able to demonstrate my public speaking abilities to colleagues and my boss!
The bigger challenge for me was when I was not a speaker. However, all the PowerPoint presentations, impromptu questions, moderators, and time restrictions reminded me of our Toastmasters meetings, and I found comfort in taking the same familiar approach. As I engaged speakers, we deepened our shared interests, exchanged information, and even built on initial connections after hours.
People love feedback, and providing thoughtful questions or praise is a skill we as Toastmasters practice often. Conferences are presentation marathons, and we can thrive when attending them.
Blake Hendrickson
Lincoln, Nebraska
Capitol Voices
Toastmaster Treasures
Every issue of the Toastmaster makes for great reading. And every month, I think of writing to thank you for this or that article. But I never felt a compelling reason to do so until I reread the April 2019 issue and realized it was a treasure trove of ideas, information, and inspiration. I was especially inspired by Past International President Mohammed Murad's "Is Leadership for Me?" not only because of the "Five H's" (which I love!) but more so because Mohammed himself personifies these five leadership traits.
"In Public Relations, Persistence Pays" by Tess Iandiorio and "Need to Make an Impact? Get Loud" by Joel Schwartzberg were also excellent! I could go on and on but will stop with one final comment. It's good to see a photo of the magazine team (and the finance team a few issues back). Please feature other teams in future issues. Thanks again!
Michelle Alba-Lim, DTM
Sutherline, Oregon
Global Trainers Online
Compelled by CX Resources
Just wanted to say I greatly appreciated the article written by Craig Harrison, DTM, "Give Members and Guests a Compelling CX" [May 2019]. This article inspired me and provided many useful tips that can be applied not just at a Toastmasters meeting but at other meetings.
Thank you for providing wonderful resources such as this.
Cheryl Dillon
St. Catharines, Ontario, Canada
Garden City Toastmasters of St. Catharines
Remembering the Basics
Returning to the basics can prove beneficial in any setting. In March, I attended a three-week leadership training that leveraged the leadership and communication skills I have been cultivating in my home club for the last three years.
During the second week of training, I didn't do well on a presentation, but the January 2019 issue of the Toastmaster magazine gave me inspiration. After reading "Consider Questions: A Speaker's Best Tool" by Matt Abrahams and "Who Are You Targeting?" by Dan Strum, I realized my failure was caused by not leveraging the skills I'd learned while working through the Competent Communication manual.
Mr. Strum reminded me, "If we don't connect with our audience, the other elements of our speech … all fall by the wayside." Mr. Abrahams offered, "The next time you are preparing and delivering a presentation, consider using the do-it-all communication tool: the question."
For our final group presentation, I used these tips to craft an introduction that connected with the audience! Going back to the basics helped me make our group's Capstone Project a success.
Rhonda Barnes
Clinton, North Carolina
Soaring Eagles Toastmasters
---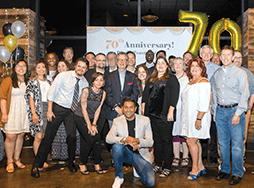 ---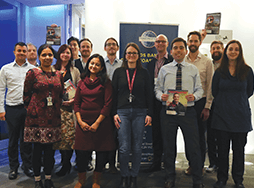 ---