Responsible for conducting and documenting 50 to 60 research projects a year, the Business Research and Analysis team helps Toastmasters International identify and meet the needs of members and clubs worldwide.
Business Research Manager John Lurquin describes his staff as "conscientious, critical, and curious." These traits help the team incorporate language, culture, geography, club size, and other variables to capture the diverse, changing nature of members and clubs. Through data analytics, surveys, interviews, focus groups, predictive analysis, program evaluation, and various scientific tools, the team provides key findings to the Board of Directors, various Board committees, and World Headquarters departments.
For example, the team tracks member participation in the Pathways learning experience—such as the percentage of engagement by clubs worldwide—and member feedback that has led to Pathways improvements. Some of the topics explored in the team's recent surveys include member satisfaction and readership preferences for the Toastmaster magazine.
Lurquin explained that in interacting with members, the research team collects only details specific to the project. The team may query a scientific sample of a certain group, such as all club presidents, but response is voluntary.
He adds that his team members, with their diverse backgrounds and broad skills, may not always agree on methodology or purpose at first, and they aren't averse to challenging each other in the search for answers. But that means they bring thorough inquiry to projects.
Meet the Team
Holly Keily, senior research analyst, has a doctorate in linguistics and additional degrees in French and international business/marketing. Given her strong business background, her work is often market focused. For example, she conducted a parity analysis to demonstrate the real cost of membership in different parts of the world. Fluent in French, Keily has also studied S'gaw Karen, Zarma Songhai, Proto-Indo-European, Hungarian, and Japanese.
Eric Reinhold, research analyst, has a bachelor's degree in psychology. His interests include statistics, data engineering, and programming. He works across projects, most recently focusing on analyzing club data, and enjoys the team's lively, productive meetings.
Andrea Palmer, research project coordinator, is pursuing a bachelor's degree in data analytics. She discovered her fascination with numbers while processing paperwork and chartering new clubs on the Member Engagement and Support team. Palmer enjoys project variety. "We could be answering a question from the Board, analyzing data in a way we haven't tried before, or improving on a routine project to find new information," she notes.
Shoua Lee, research analyst, is the newest member of the team. His expertise involves developing study methodologies, meticulously analyzing project data, and creating detailed reports on study findings. He is a former risk analyst and holds a master's degree in economics/econometrics from the University of Wisconsin.
Lurquin has a doctorate in cognitive psychology. Prior to joining Toastmasters, his research included studying why people persist—or give up—on difficult tasks. His interest in what makes people tick is a perfect fit with Toastmasters International's commitment to member value and growth. "I appreciate that every research project is aimed at understanding our members and how we might better meet their needs," he says.
---
Read some of the research department's member-related ­findings under the Statistics and Data Hub.
---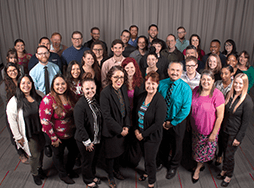 ---
---