While Toastmasters officers all over the world are busy running their clubs and districts, employees in the Finance department at World Headquarters are hard at work supporting those clubs and districts with a range of financial services.
With approximately 700,000 dues renewals to process each year, as well as 240 district bank accounts to manage and more than 16,000 clubs throughout the world to support, this group of financial experts is busy year-round. In addition to main­taining the organization's 501(c)(3) nonprofit status and ­focusing on lowering operating costs, the department addresses issues related to three subgroups—financial reporting, district ­accounting and tax and regulation.
Led by chief financial officer John Bond, CPA (Vermont), the Finance department is made up of 12 team members who have accounting and other financial related experience. Bond says, "Members join Toastmasters to become better communicators and leaders, not to become accountants. Our job is to help make their financial processing and reporting easier." The department supports the operations of Toastmasters International in areas such as financial policy interpretation, accounts payable and receivable and vendor relations. It also assists with dues-renewal payments, supply orders, tax filing for U.S.-based clubs, and setting up club bank accounts in countries where this proves challenging. Using a multi-currency, cloud-based accounting system, the Finance team supports district leaders and treasurers with managing district funds and distributing reimbursements.
The Finance team faces a unique set of challenges, working with differing regulations for worldwide bank accounts, along with various state and international tax laws. To maximize efficiency, employees work with third-party lawyers and ­accountants to provide the most up-to-date research and ­support to members.
The team's busiest months follow financial deadlines of the Toastmasters year. The month of June is hectic for the District Accounting team when they train new treasurers in district finances and ease them into the role they will play in the new year. "We provide continuity for districts because we have a ­history of previous-year transactions where the new district leaders may not," says Bond.
The Finance team helps club and district officers maintain better financial records so Toastmasters can focus on the bigger picture: improving leadership and communication skills.
To contact the Finance department, call +1-720-439-5050, ­Monday through Friday, between 8 a.m. and 5 p.m. (Mountain Time). Visit the Toastmasters website for information for district officers.
Editor's note: This article is one in a recurring series about the ­various departments at Toastmasters World Headquarters.
---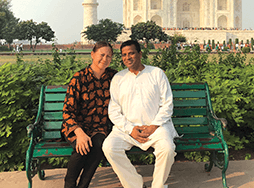 ---
---