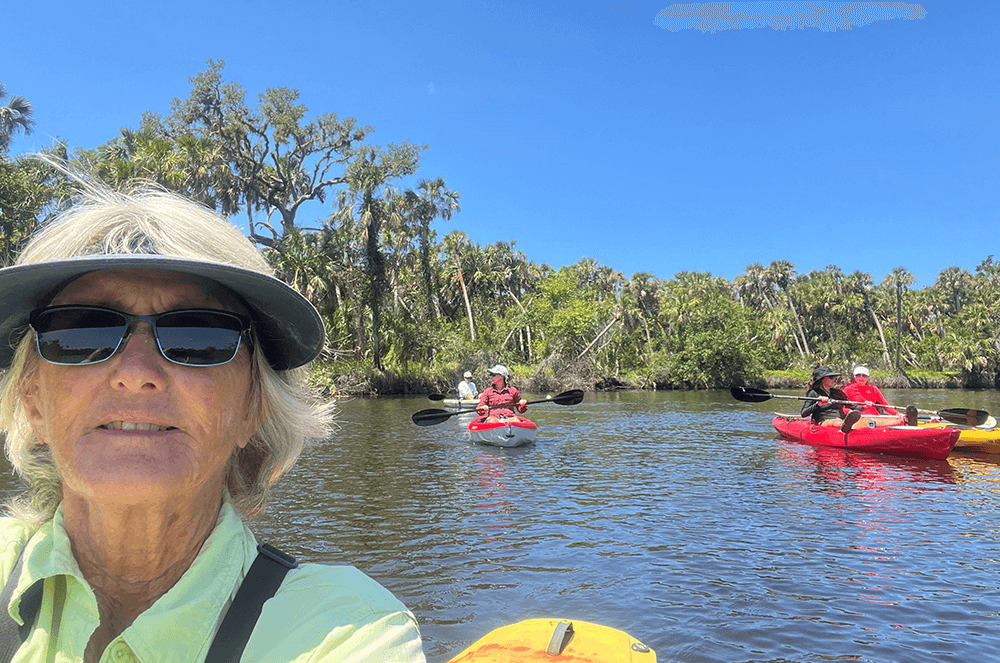 While attending a recent presentation, I barely looked at the speaker. Good as she was, what drew my primary focus was even better. It was a Picasso masterpiece. The presenter was a docent in an art museum.
Docents and other tour guides walk a fascinating tightrope between being seen and heard like any other speaker and helping people experience something else—a work of art, or an architectural or natural wonder. One way they meet this challenge is by bearing in mind that most tourists seek a compelling, entertaining activity, as opposed to a serious learning experience.
It's a perfect occasion for storytelling.
Communicating With Clients
Toastmasters skills provide an excellent foundation for tour guides. For instance, making the most of their voice—tone, volume, and rate of speech—allows guides to communicate effectively with clients. So do their words. That doesn't just mean content, but also form.
Tour operator Pankaj Pradhananga, DTM, helped start the Tourism Toastmasters Club in Kathmandu, Nepal, in 2017. He says that although what you know is important, how you tell people what you know is even more important. To determine that, he says, it's essential to know something about the group you'll be talking to.
Pradhananga, director of Four Season Travel & Tours, identifies the background of his clients in advance, especially in terms of cultural do's and don'ts. "What's funny for French travelers," he says, "may not appeal to a Japanese group." In addition, you may want to learn about certain disabilities, such as visual, physical, or auditory impairment.
Understanding a bit about the audience is useful for more than just preventing mishaps. Glenn Tomlinson, who oversees docents at the Norton Museum of Art in West Palm Beach, Florida, draws an example from one of the Norton Museum docents. The docent was guiding a group of students through a section of the museum covering a particular historical period. Knowing that the students had recently studied that era, the docent adjusted her comments to refer to and expand upon what the students had learned.
"It sparked the students, letting them know that this older person whom they had just met cared about them and what they were learning," Tomlinson says. "When people feel acknowledged and valued, they're more comfortable sharing their observations and engaging in dialogue."
This sort of back-and-forth can make for dynamic encounters.
Interaction is great, says Tomlinson, the Norton Museum's William Randolph Hearst chief officer of learning and community engagement. "It allows guests to share insights and pose questions that may lead in unanticipated directions. As a tour guide, allowing yourself to let go and follow the flow of the discussion can be challenging, but it may make the guest feel heard and validated."
Tour guides ask their own questions. South Florida guide Brucie Cummings speaks to up to 50 business tourists at a time, many of whom select the day's activity without having much idea of what they're in for.
"Whether I'm leading people on a bus or by bicycle," says Cummings, who works for Dragonfly Expeditions, "my biggest challenge is keeping the group interested. While I can't expect that everyone will like the same thing, I ask probing questions to keep them engaged."
Daniel Ginensky, a tour guide in Jerusalem for the Western Wall Heritage Foundation, asks questions, too. "I pose a question/dilemma/contradiction at the beginning of the talk," he says, "and I try to resolve the tension by the end."
Tick, Tick, Tick
Questions bring us to a special issue for all speakers: timing. Ginensky tries to keep his talks short. "If someone wants more information," he says, "they can ask. I'm always extremely pleasant, but I can be ruthless about moving on."
Toastmasters certainly know a thing or two about timing. To keep on track, Barnaby Davies, co-founder of the Dutch tour company EastguidesWest, makes logistical announcements on the bus. Flexibility helps as well. As with any good speech, memorizing a text from start to finish can be problematic if you're running behind.
"A tour guide is constantly improvising," says Davies, a Hastings, England, resident and until last year a Toastmaster since 2013. "Once I was giving logistical information to a group in London. We were due to travel to Paris the next day. One of the guests raised a hand and said, 'Will we still be going inside Notre Dame tomorrow? I'm looking at the news, and it's on fire.'" Time for Plan B!
Connect With Your Audience
Above all, says museum executive Tomlinson, is the question of relevance. "What about a given discussion is relevant to a particular audience?" he asks. "What can we share that will excite them about an object that seems culturally remote? What's the human connection?"
A great way to foster relevance and connection is storytelling. For Davies, storytelling is a requirement for guides. "It makes all the difference in the world for helping travelers understand their destination," he says. "And never forget: Adults on vacation are just big kids! Make it fun."
He notes, "When we pass the original Hard Rock Cafe in London, I tell the story of Eric Clapton putting up one of his guitars as a plaque—and then Pete Townshend from the Who saying, 'Mine's just as good as his.' It's a great story and marks the journey from one guitar to over 86,000 pieces of rock 'n' roll memorabilia worldwide."
Ginensky, meanwhile, uses storytelling to capture his guests' imagination through a sweep of history.
"Stories challenge the listener to understand the connection between a place and an idea," says the Jerusalem guide. "This is usually a very satisfying 'aha' experience. For example, I use stories when guiding in the Jerusalem Western Wall Tunnels to relate the antiquities from 2,000 years ago to the modern state of Israel."
Pradhananga, the tour operator in Nepal, maintains that a guide's stories should be simple, short, and relatable. "Too much historical data may make guests lose interest," he says. "They want to know more about contemporary society, people, and food."
"Adults on vacation are just big kids! Make it fun."
—Barnaby Davies
No matter how you choose to capture your guests' attention, storytelling can add humor, get a guide out of a sticky situation, or both. When Davies got a question he couldn't answer on his very first tour, he used a pinch of story. Unable to identify the trees outside the bus, he summoned his best Table Topics® skills.
"These trees on the left are wooden ones," he said. "They're rather special trees, actually; we plant them on the left-hand side of the road here in England. But let's talk about trees in a few minutes, because there's a stretch of Roman wall coming up on your right with a legend attached to it ..."
Stories to Avoid
While it's important to connect with the group, guides must pick and choose their material. I once took a tour during which the docent meticulously described his background in an unrelated field. Important? Not so much. Memorable? Not in a good way.
"The one type of story I never tell is one that reveals personal information about myself," says Ginensky. "That's not what I'm there for."
Other guides may feel that divulging a little about themselves through story at the outset of a tour, such as their experience as a guide, establishes credibility and connection. They may wish to avoid or edit stories that may upset certain group members, including children. To be on the safe side, try to steer clear of the Big Three: sex, religion, and politics.
The poet Maya Angelou once wrote, "People will forget what you said, people will forget what you did, but people will never forget how you made them feel." When guides combine storytelling with other Toastmasters skills, they help tourists remember all three. And that's a souvenir they will treasure for years to come.
---
Caren S. Neile, Ph.D.
teaches storytelling studies at Florida Atlantic University and has presented at three Toastmasters International conventions. Visit her at
carenneile.com
.
---
---