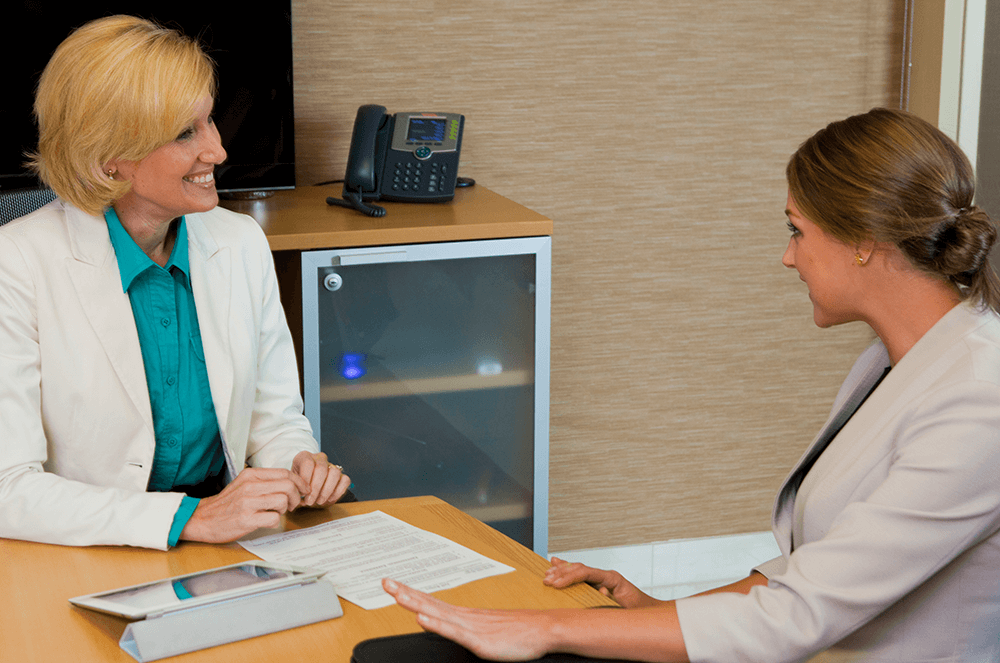 Before you read this article, take a deep breath. That's it. Inhale. Exhale.
Just the word "interview," no doubt, conjures up feelings of anxiety, nervousness, and possibly even dread—especially if you're still in college, trying to get a highly coveted internship, or you've just graduated and you're trying to land your first job. But it doesn't have to be that way.
The five tips in this article will help you overcome some common interview missteps and, perhaps, even get you excited about your job search and who you will meet along the way.
Tip #1 – Use Your Nerves to Your Advantage
If you're young and just starting your job search and nervous about the interview, you're not alone. According to a Columbia State Community College study, public speaking anxiety is very common, not just among college students but the rest of the population as well. An easy way to calm your nerves before an interview is to take a few deep breaths. This helps slow down your sympathetic nervous system, responsible for your flight or fight response, which increases stress and anxiety.
Most important, remember that during the interview, pausing is better than using a crutch word such as "uh" or "um" to fill in the time while you're thinking of a response. Kathy Thibault, associate artistic professor of public relations, advertising, and entertainment marketing at Chapman University, advises her students: "When you're put on the spot, if you're not sure and truly stumped, it's okay to take a minute to think about it. Or it's okay to say: 'That's a great question, let me think about it and then circle back to that question.'"
She adds, "A lot of times we look at interviews as a place where we're supposed to know all the answers. Truth is, there's a myriad of answers. Answer in a way that shows your thought process and not just your perfect rehearsed answer. It's also important to practice, but don't sound rehearsed."
As a professor myself, the best advice I give my students before they make a presentation in class is to remember that everyone is rooting for you. The same applies to your interviewer. They come into the interview just as hopeful as you do that you will be the right fit. Having that mindset going in can give you an added boost of confidence.
Tip # 2 – Strike a Power Pose
In one of the most-watched TED Talks, with over 69 million views and counting, Amy Cuddy's Your Body Language May Shape Who You Are describes "power posing." This is a technique where you stand in a posture of confidence, even when you're not feeling confident.
Other examples of power poses include "The Salutation," where you stretch your arms out and face the sun, "The Loomer," where you lean slightly forward, often onto a desk or a chair back, or "The Vanna White," where you gesture with open arms. One of the easiest power poses is simply to smile. When you smile, your body signals to your brain that you are feeling happy, which can make you feel more relaxed and confident. Even better if you can "smize," meaning you smile with your eyes throughout the interview. This can help you maintain your energy.
Tip #3 – Know the Answer to "Tell Me About Yourself"
Perhaps the most dreaded question of any interview is, "Tell me about yourself …" Typically, this will be the first question you're asked. Why? Because the interviewer wants to get to know your personality and see if you'll be a good fit for their company and culture.
Margaret Walker Scavo, president of MWS Executive Coaching, who has helped place hundreds of job seekers, including college grads, wants to hear stories about who they are.
"I don't want bullet points of I can do this, I can do that. I want to know about their story. If their story sells me, I can teach them the other things," she says. "I want to hear the good, the bad, and the ugly. If you've had a rough go and you are willing to share your vulnerability, that tells me about who you are and how you got here. It's not necessary for you to be all buttoned up."
Tip #4 – Learn How to Think on Your Feet
As many Toastmasters already know, impromptu speaking is when someone gives a speech about a topic without preparation. In Toastmasters clubs, this part of the meeting is known as Table Topics®. Developing your impromptu speaking skills will help you gain more confidence at networking events, handle curveball questions in interviews, make new friends, and even land first dates!
In one of my recent "Pitching and Presenting" workshops at Chapman's Dodge College of Film and Media Arts, students were asked to present a two-minute speech about a movie they had recently seen. Jadon Sand, a freshman in screenwriting, said, "Not only did I learn some new techniques and get a little practice, but I feel more prepared to talk about topics I am unprepared to talk about!" One of the best ways for young people or seasoned professionals to get some practice is to join a Toastmasters club on your college campus or to find a club that's near you.
Tip #5 – Develop Your Soft Skills Through Passion
Soft skills in the workplace can be difficult to master, especially if you haven't had much practice due to the social distancing during the pandemic the last few years. According to an article from Indeed, these skills include self-awareness, communication, emotional intelligence, and empathy. So, is there a crash course to get you up to speed? The short answer: Yes. And no. But there are a few ways to help you develop them, keeping in mind that they are even more important to interviewers than your actual experience.
First, make sure that you've done your research and that the company who has selected you for an internship or an interview aligns with your passions. Chris Deninno, creative director at Innocean USA, a global marketing communications company, says, "It starts with having this passion or this drive to do something that is going to be rewarding for you personally and not chasing for financial reward. Liking something a lot makes soft skills easier to master." Walker Scavo agrees, stating, "I can teach everything. But I can't teach soft skills."
Perhaps the group of people hit hardest during the pandemic are soon-to-be college grads and recent college grads who, according to a Yahoo Finance article, are lacking in soft skills after the lockdown and need to be trained in proper workplace etiquette. Deninno observes, "Passionate optimism seems to be lacking these days. A lot of people are hesitant to speak up or stand out and be engaged. It's not just about the effort you put into it, it's the desire to do it."
Deninno believes that the key to mastering soft skills starts with the kind of student you are. He advises: "Be involved and eager and engaged while you're in class. Be the one who asks questions. Talk to the professors after class. Those are the ones who succeed. You only have one shot at graduating. Make it the best."
And once you've aced the interview and landed the internship or job, Walker Scavo says, "Don't just stay in your cubicle and not venture out. Show that you're playful and interested and want to grow with the organization."
---
Eva Finn
is an assistant artistic professor at Chapman University's Dodge College of Film and Media Arts. She is also a freelance copywriter and fiction writer. To learn more, visit
evafinn.com
.
---
---