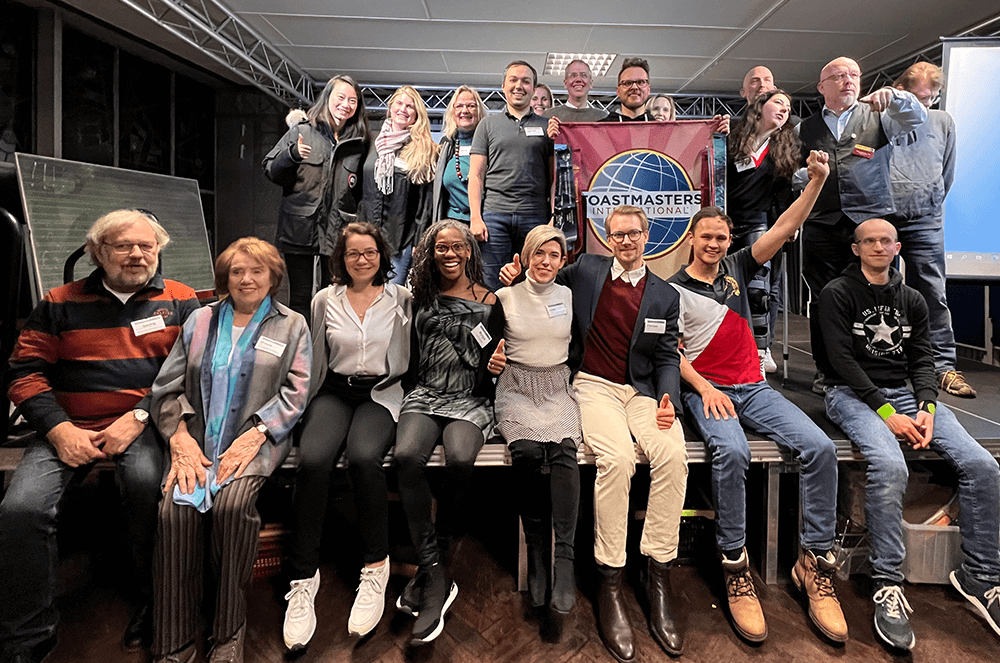 The first time you hear that Cologne Toastmasters welcomed 54 new members during the 2022–2023 program year, you might think your ears were playing a trick on you. The same might happen when you hear that during that same period, the club hosted 240 guests, with the highest number of visitors for one meeting topping out at 19.
And while these numbers are extremely impressive they're not a priority for the club, says Past Club President Peter Ratko. "These are people—new colleagues—behind the numbers. What's key for our club is to motivate and help them achieve along their journey. We're all learning together."
How did this bilingual, hybrid club in Cologne, Germany, reach—and engage—so many new members? They used the same touchpoints as other clubs do—websites, open houses, personal discussions—but with the keen awareness that each technique offers only about five seconds to spark the attention of a prospect, making quick, compelling impressions extremely important.
"That first touchpoint with the club is the first moment of truth," says Ratko. "Especially in the digital setting; if you don't interest them quickly, they're gone."
The club is dedicated to fostering a warm, inviting, newcomer-friendly culture. Visitors need only bring "openness and a good mood," the website notes. At the same time, the club has worked hard to back that sentiment with a thoroughly thought-out, strategic approach to member recruitment and retention.
"In 2021, we [club leaders] asked ourselves, 'How can someone find us without knowing Toastmasters, or our club, exists?'" explains Olaf Langenbeck, DTM, Club Secretary. Leaders then created a "communication concept" aimed at finding and reaching the club's target group—everyone from age 18 to 60.
Ratko, a professional website designer and Google analytics expert, studied what people were searching for online that matched what Toastmasters and the Cologne club offered. Three top key phrases emerged: improve speaking skills, give presentations, and overcome stage fright. Ratko and a team of journalists and writers in the club revamped the website. Those phrases—and similar variations—are now at the top of the club's homepage and are repeated throughout the site. "The ranking of the website is getting better and better the more matches/matched searches performed," Ratko explained.
To properly orient and educate new members, the club created a customer journey that covers five phases: awareness, interest, desire, action, and post-action.
Here are some of the specifics aiding in the journey.
Easy contact:
Visitors can sign up to attend meetings straight from the website. These, and all inquiries, are answered personally by the Vice President Membership the same day, or even instantly, Ratko says.
Guest manager:
This new role is rotated among club members. The guest manager welcomes all online and in-person visitors and is available before and after the meeting to answer questions.
"We have a very open atmosphere at our meetings," Ratko says. "Every member is open to communicate with new people in the room, whether they are guests or new members."
Onboarding:
The club holds an onboarding session every two to four weeks, depending on need. New members and guests learn about the club and how it functions, including Pathways, easy-Speak, and the structure of Toastmasters. Questions are welcomed, and attendees receive a flier about Toastmasters and the club.
Mentoring program:
The club is sharply attuned to this effort, after learning that many mentees weren't comfortable finding a mentor on their own. The club Mentorship Manager finds members to serve as mentors. The club website includes a mentoring section, including a mini profile of several existing mentors and their areas of expertise. Anyone searching the pages can easily see how the program works and the broad range of skills-building advice that's offered.
Programs:
Planning for the program year begins by listening to member interests and needs, Ratko says. Based on feedback, new club meeting formats have included a month on the topic of quality mentorship, meeting outside the club's regular space, and workshops on Table Topics® or humor.
Visit the club's website to learn more.
---
Stephanie Darling
is a former senior editor of and frequent contributor to the
Toastmaster
magazine.
---
---