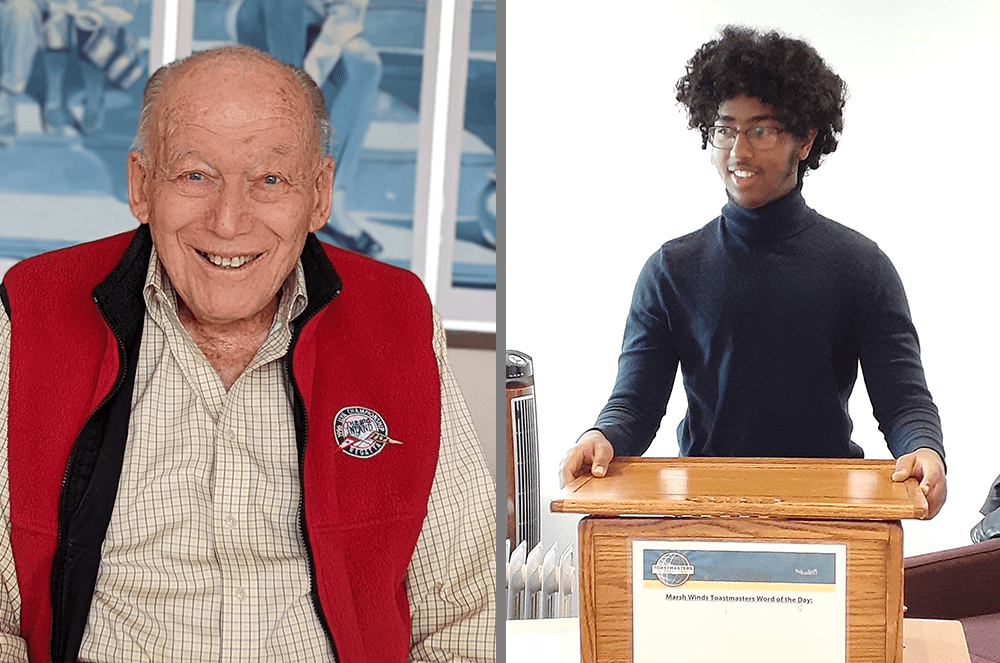 When Kingston Fletcher and Manny Megerssa joined Marsh Winds Toastmasters Club in Minnetonka, Minnesota, they shared determination and a common goal: to improve their public speaking skills. Yet in another way, they couldn't have been more different: Fletcher, a retired business executive, is 96 years old. Megerssa? He's 18 and soon to be a high school graduate.
That's a huge gap. Yet the example of these two members in this club reflects how Toastmasters can help and hold purpose for people at all stages in life.
Each had a different motivation for joining Marsh Winds. Megerssa wanted to tame his speaking nerves and nail his senior graduation speech. Fletcher wanted to stay active and not let the skills he had polished over a 34-year career as a marketing executive with Procter & Gamble get rusty. Staying active in the club, which he joined in 2017, at a mere 91, would help "keep him off the streets in retirement," he jokes.
His cheeky remark belies his earnest approach toward self-improvement. Despite years of traveling on international business and interacting with colleagues around the world, Fletcher joined Toastmasters because he felt he still had something to learn about public speaking. "I learned different speaking techniques, sharpened my ability to converse and speak publicly, and made it a point not to use filler words," he says about his experience in the club, which he stepped away from at the onset of COVID.
Fletcher's initial forays into prepared speeches included regaling fellow members with stories about his extensive travel for work. His many speeches explored what he learned while working for Procter & Gamble and living in Venezuela, Germany, Mexico, Canada, England, Italy, and Japan.
Another tangible way he found to use his public speaking skills was at the biannual alumni meetings of his secondary school alma mater, a college-preparatory academy in Minneapolis, Minnesota. After school administrators talked, they invited audience questions. Fletcher, wanting to highlight the school and drive interest, often stepped up with thought-provoking questions to engage the audience.
"Toastmasters helped me bring out facts [about the school] I'm interested in, and then asking questions I thought would be of interest to others," he says.
Those thoughts, along with many other lifetime experiences, have gone into his recently published book, Divergent Paths: A Life Reimagined. Here he applies his storytelling skills to print—detailing career lessons, philanthropic and literary endeavors, enthusiastic participation in Toastmasters speech contests, and even a competitive racing career on Minnesota's Lake Minnetonka, where he captained a one-design racing sailboat until he was 89.
With so many adventures to recount, Fletcher's book is a nod to time-honored Toastmasters advice: Tap into the past and tell stories.
Like Fletcher, Manny Megerssa is well traveled. Born in Ethiopia, he emigrated to the United States around the age of 12, with his mother and younger brother. He did not speak a word of English when he arrived. Yet he has an ear for language and within a few years, his speech became indiscernible from that of his peers.
With his senior speech on the horizon, Megerssa knew he needed a place to learn and practice confident speechmaking. "I discovered Toastmasters in my junior year of high school," he explains. "I figured out the more you practice, the better you get. I wanted to join a speaking class in school, but they didn't have that, so I searched online and found Toastmasters."
He noticed that when he visited clubs, the members were usually much older than he was, "but that didn't stop me," he says. "Finding a club can be challenging. It can be scary. When people are older, that means they know more."
He visited seven clubs, narrowed it down to three, then picked Marsh Winds. But he still worried they might not accept him.
However, Megerssa, who is younger than the grandchildren of many Marsh Winds Toastmasters, intuitively found a way to capitalize on one of the club's prime attributes—its seasoned members. Interacting with them allowed Megerssa to tap into another Toastmasters hallmark: gaining experience and confidence in a safe, encouraging environment.
"The people there engaged me, they were well organized, they provided helpful feedback, and they started on time," he says.
He didn't realize how much he would benefit just from talking to club members, and by listening to their Table Topics® impromptu stories and prepared speeches. The club experience has even given him a glimpse into what his own professional future might look like, he says.
Megerssa stepped away from the club due to senior-year school demands, but he has continued to work on his graduation speech by practicing it with other members. As a fellow club member, I've heard his presentation and especially like this line, "If you want to be something you've never been, you have to do something you've never done."
I believe Megerssa and Fletcher both took that advice to heart during their Toastmasters journeys. They never hesitated to try and learn from new experiences—never shied away from giving speeches and seeking constructive feedback.
Megerssa says even after he finishes college, his life is likely to include Toastmasters. "Public speaking is like going to the gym. You have to be consistent; you have to train for it every day."
---
Susan Budig
has been a member of Marsh Winds Toastmasters in Minnetonka, Minnesota, since 2006. Since then, she has held every club officer role, chaired club speech contests, and served as Area Director. She writes for
Mshale,
a Minnesota newspaper serving African immigrants since 2003.
---