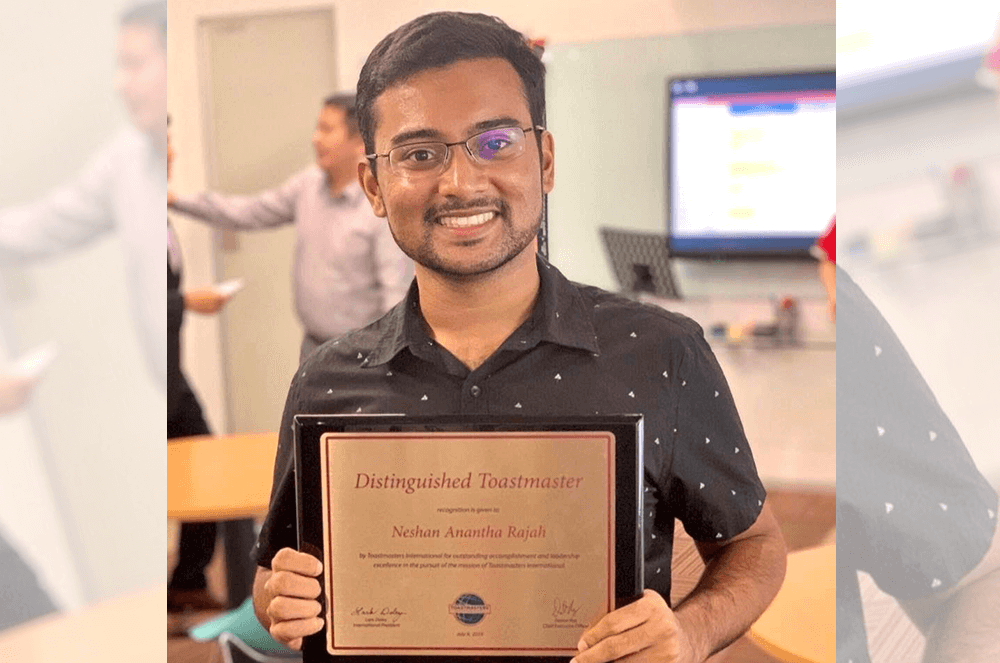 When I was 13, I was bullied mercilessly by my classmates after a friend revealed a secret I had told him. The other students made fun of me for an entire year, including cyberbullying me on social media. I was both a racial and cultural minority and had come from a different primary school.
For three years I felt alone; I couldn't fit in anywhere and it affected me academically. I eventually left school, lost out on all my scholarships, and continued suffering from social anxiety following the death of my mother. But after seven years of therapy, I made a great deal of progress, and at the recommendation of my therapist I joined Monash University Toastmasters Club on my college campus, in Selangor, Malaysia. That was in 2016, and since then Toastmasters has opened up a new world for me.
At the club meetings I learned how to express my thoughts and feelings openly in a supportive community. The positive feedback and evaluations also helped me build back my confidence, and I soon began to participate in International Speech and Evaluation contests. I even advanced to the District level on my first try in both of those contests, thanks to my mentors, Aerina and Ronald, who inspired me.
Then, when the leaders of the club graduated, I became President and restructured the entire club. Within 12 weeks of my being at the helm, membership participation and retention doubled, intercultural sharing increased, and we received the President's Distinguished Club award for two consecutive years.
I eventually joined my mentors' Toastmasters clubs to learn from them and develop connections. I was helped by many friends from the Malaysian Toastmasters community, and I kept up with my past clubmates to pass on what I learned from my mentors.
Bullying inspired me to become an advocate, as the healing process requires accepting our pain and transforming it into something else—to grow from our experiences and not be hampered by them.
Feeling more confident in myself, I wanted to start giving back and helping others who might be going through the same things I did. With my Toastmasters training in hand, I began traveling to schools to talk about mental health. I started anti-bullying workshops and programs for kids to speak up about the issues in their lives. Then, in 2019, I started a program at Monash University Malaysia that provides long-term peer support. The Fireplace project helps students facilitate group support sessions and develop skills in communicative empathy. For my contributions in supporting diversity and fostering inclusion at Monash and beyond, I won the Vice-Chancellor's Diversity and Inclusion Award in October 2019. I enjoyed participating in these programs and figured out how to delegate work based on what I learned as a committee member in my Toastmasters clubs. I started a mental health support group as a speech project and later won awards for the impact it had on other communities.
Now I'm 26, and as an aspiring clinical psychologist I can see gaps in mental health advocacy in Malaysia, and I believe my personal experiences can add value to those encountering the same types of struggles I did. Bullying inspired me to become an advocate, as the healing process requires accepting our pain and transforming it into something else—to grow from our experiences and not be hampered by them. It's a choice anyone can make to empower themselves and others at the same time. Rather than letting it control you, you control your own journey and give meaning to your story.
I love Toastmasters for the community and fellowship, and the lifelong friends and corporate connections I made before graduating university. It has helped me see beyond myself in order to help those in need, and I learned how to use my voice to raise awareness. I would like to thank Toastmasters for the opportunities to grow. I became a Distinguished Toastmaster at a young age, and I'm proud of it! I want others to know it's never too early to start.
---