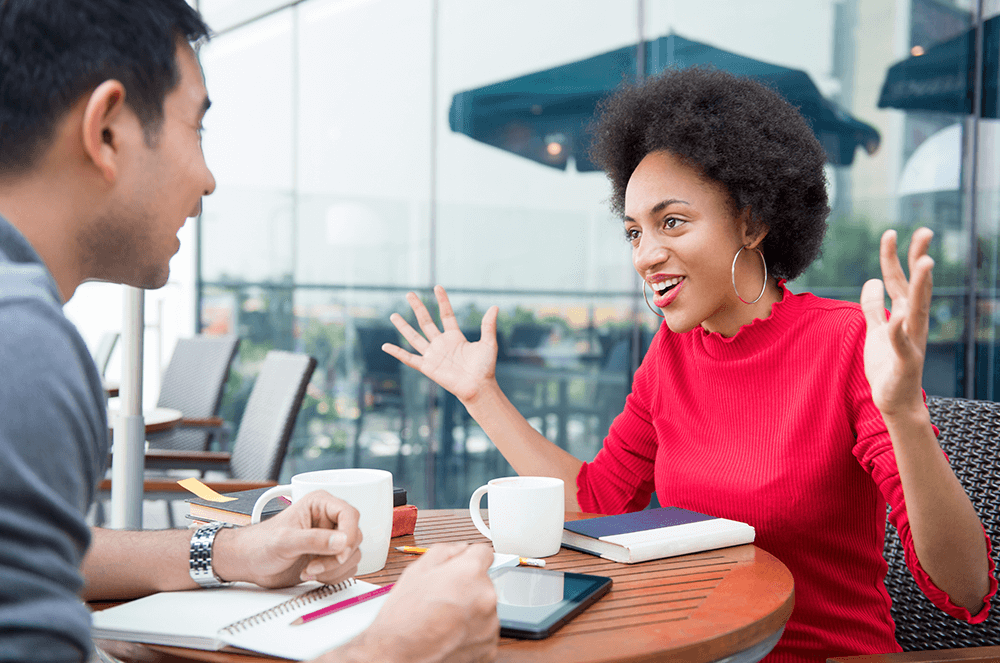 Whether you love or hate networking, you can turn it into an opportunity that benefits you and others, even when it initially feels uncomfortable. If you want to take the next step in networking with new contacts, how do you start the conversation? How can you demonstrate sincerity without sounding salesy or as if you're only asking for a favor? Here are some ideas.
Do your research.
LinkedIn and Google provide a wealth of information about people you have just met. These two resources usually show the career endeavors of your contacts, their interests, volunteer work, affiliations with professional organizations, and who you know in common.
If your contact is sharing a lot of these details online, they are serious about networking. These details provide a springboard for broader talking points, help you discover mutual interests, and determine if someone is a good fit for networking.
Click play to hear an exclusive podcast interview with Victoria Salem and the hosts of The Toastmasters Podcast. In this episode, Salem discusses the tangible benefits of networking online and how to build valuable relationships through social media.
Find your flow in the follow-up.
After meeting a new contact, get to know them better through an informal catch-up, such as coffee or lunch. If you've met online, continue the chat or jump on a short phone call. Be respectful, even if your interests and career paths differ. You don't need to have the same goals or similar careers to be in each other's network, but you do need a basis for trust. This trust will help them feel confident to refer you to their network when the opportunity arises.
If someone you follow up with doesn't welcome your invitation (or simply doesn't have the time), don't be disappointed. Even if it's a "no" for now, nothing is stopping you from rekindling the relationship in the future.
Lead with a passion, not a pitch.
People are happy to help if they can, and they will do so if compelled by your story. You don't necessarily need to be on a Nobel Prize-winning quest to get people on board, but a keen passion goes a long way.
People are eager to refer you if they believe your passion is genuine and can help everyone flourish. Most people like to meet other professionals with diverse backgrounds and learn about innovative ideas and insights, so think more about the story you tell them rather than the title on your business card.
What if you're approached?
People will reach out to add you to their network as well, and the more senior roles you grow into, the more often this will likely happen. Generally, it's a good idea to accept the invite and see where this opportunity may take you. If you're not sure whether you should invest time in getting to know someone better, or it starts to look like a sales pitch you're not interested in, simply ask if there is anything you can help them with. It's not a rude question. It's also acceptable to say you can't help them now, which leaves the door open to rekindle the relationship later.
Consider the favor on the table.
Once you build rapport, trust, and respect, you may want to come forward with a favor, a request for an introduction, or even a potential business deal. Frame your request with your relationship in mind and avoid sounding too transactional. It feels much more approachable if you say:
"I would like to find people who might be interested in X. Is that something you could help me with?"
Instead of:
"I need to find people interested in buying X. Could you introduce me?"
In the first request, the contact would be keener to act because they feel they could help you, instead of helping you tick a box. If they genuinely can't help you, the first phrasing means they have more room to explain the reason. In this way, the new relationship between the two of you is not on the line. You always want to keep the relationship positive; you never know what the future will bring.
Get to your goal.
If someone is keen to refer you or even buy from you, they will likely start the process behind the scenes, and this new contact will be working on closing the sale already. Success!
However, if you haven't heard back, it is okay to follow up in a few days. Be enthusiastic but not pushy. If you don't hear back within a week, it's still okay to check back in and ask if they're still interested in connecting with you.
If the silence continues, or the other person doesn't want to proceed, just accept it. Don't let it stand in the way of your positive relationship. Check in with them in a few months, as things may have changed.
---
Victor David
is Immediate Past President of the City Tattersalls Toastmasters Club in Sydney, Australia, where he works for the government as a senior communications advisor. He is founder of aixplainer.com, a platform that helps people to understand AI better. Contact him at victor@aixplainer.com.
---
---