Renew Your Dues –
To ensure your club is in good standing and receives credit for the Distinguished Club Program, log in to Club Central and process member dues on or before October 1. According to Policy 2.0: Club and Membership Eligibility, the minimum renewal requirement is eight paid members—at least three of whom were members of the club during the previous renewal period. Don't forget: Unpaid officers lose access to Club Central 30 days after their membership expires.
For questions, please contact the Club and Member Support Team at renewals@toastmasters.org or call +1 720-439-5050 between 8 a.m. and 5 p.m. Mountain Time, Monday through Friday.
Rotary/Toastmasters Alliance Update–
The Rotary/Toastmasters alliance was formed in May 2019 and a lot has happened since, including the release of eight Toastmasters-developed educational courses available to Rotarians and Rotaractors; to date, there have been over 16,000 enrollments! The Toastmasters
alliance webpage
has been updated with new resources to help you reach out to Rotary clubs. Be sure to check it out.
Commemorate the New Year–
Join International President Margaret Page, DTM, and members around the globe in celebration of the new Toastmasters program year! Watch the video below and then
read this article
for inspiration and helpful resources for you and your club.
Spice Up Club Meetings–
Spice Up Club Meetings– If your club meetings could use a little variety, read through the handbook
"Master Your Meetings"
for some fun ideas on themes and events. Members will welcome the creativity and guests will be more likely to become your newest members!
---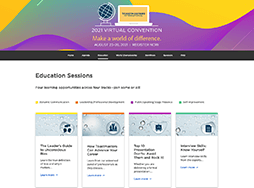 ---
---