In the past year, we've seen the global pandemic place its stranglehold on the world. Last March I was visiting Toastmasters World Headquarters in Denver while more and more countries began going into lockdown, and restrictions on social interactions began being implemented. While the other Board members and I discussed the situation, I watched as their expressions grew more concerned. There were many sleepless nights that week—and in subsequent months—as I thought about our members, our organization, and what the future might hold. At the time, I was the International President-Elect, and I can only imagine what was running through the mind of International President Deepak Menon. Throughout these uncertain times, our members have shown greater resilience, creativity, and unwavering support for one another.
I propose using the term "Zoom-setter" for members who frequently travel by Zoom to club meetings around the world.
A silver lining for me this past year has been the opportunity to visit clubs around the world online. I've been able to witness firsthand the creativity of our club meetings. At a meeting of the Szó Da Toastmasters Club in Budapest, Hungary, members conducted a PechaKucha-style Table Topics® session. PechaKucha is a PowerPoint presentation with 20 slides advancing automatically every 20 seconds. The speakers' timing needs to be perfect to ensure they are speaking to the correct slide. For the Table Topics session, each participant was presented four slides, which changed automatically every 30, not 20, seconds! A totally unique approach. Many clubs are also sharing information about their country and culture with the guests. They may even teach you a word or two in the local language. Members of the Swakopmund Toastmasters Club in Namibia taught me how to say thank you in Afrikaans … Dankie!
I have also noticed the willingness and desire of members to visit clubs around the world, not just watching but taking on roles and actively participating. I have met Eliza from Singapore, Ram from the U.K., Thaine from the U.S., and many others at online meetings. The term "jet-setter" is used to describe someone who travels frequently by plane and often to exotic locations. With the current travel restrictions, being a jet-setter may be a thing of the past. I propose using the term "Zoom-setter" for members who frequently travel by Zoom to club meetings around the world. Won't you join them?
As we continue to face the unknown, I encourage you to remain resilient, to find new and creative ways to keep your meetings fun, and to join others by becoming a Zoom-setter!
Richard E. Peck, DTM
International President
---
---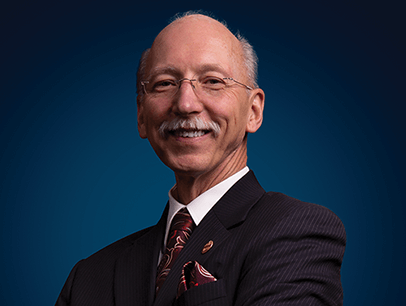 ---