Below are a few posts and comments from Facebook's Official Toastmasters International Members Group that may help clubs across the world or spark some inspiration.
Virtual Travelers
Cynthia Stott, DTM, of Heart2Heart and Leaders Worldwide clubs in San Francisco, California, posted,
"Attention world travelers! Have you virtually traveled to other Toastmasters clubs around the world? What was your experience?"
It is great to meet new people and discover how other clubs work.
Fred Eijkenboom
Rotterdam, Netherlands
I like to visit our Spanish-speaking clubs. The feedback and general evaluation sections are often incredibly detailed and top-notch. I invite everyone to visit our Spanish English club, Los Oradores of Sacramento in California, for a lovely evening of fellowship and support. We enjoy welcoming visitors from around the world who can access us because we speak both languages.
Diwata Fonte
Sacramento, California
It's incredible to meet and learn from my Toastmasters family around the world without the travel expenses. I love it!
Colette Hughes
Sterling Heights, Michigan
Absolutely amazing. It gave me a better understanding of the universal audience. I also got some interesting anecdotes about the cultural differences across the globe.
Gayatri Deshmukh
Nashik, Maharashtra, India
Yes, and you should! It's fun to see other clubs and how they do things. You can give them suggestions and invite them to your club. You can take new ideas back to your own club.
Kristy Hopper
Tucson, Arizona
We are all the same in values yet so different in styles we communicate!
Bhanu Dabadi, DTM
Thapagaun, Kathmandu, Nepal
I have visited the U.S., Canada, U.K., Sweden, Slovakia, India, Australia, and Botswana. Every one is a different experience and I've enjoyed them all!
Karen Armour, DTM
Johannesburg, South Africa
Yes, I love to travel to other Toastmaster clubs virtually and have made the most awesome connections.
Laurina Bergqvist
Hassleholm, Sweden
Winning Speech Tips
Alexis Santacruz, DTM, of Nuance Toastmasters Club of Victoria, British Columbia, Canada, asked,
"Can you give your best tip to write and deliver a winning speech?"
Come up with a great analogy for a life lesson, couple it with a personal story and anecdotes, and you've got a winner!
David Levy
Cincinnati, Ohio
Rehearse. Rehearse. Rehearse.
Glenn Ross
Austin, Texas
Fine-tune, memorize, and rehearse your open and close. Rehearse the whole speech no less than six times, using a stopwatch to ensure it is inside the time parameters. If it's not, make adjustments. Rehearse to people you trust and who can give you honest feedback. Also, rehearse any body language, tone of voice, and use of visual aids.
Chris Rigby
Auckland, New Zealand
Words should flow from your heart and not your mouth.
G M Subramanyam
Thane, Maharashtra, India
Be authentic. Even if your idea or presentation is abstract.
Demetrius Pagan
Niceville, Florida
Meaningful message delivered in an entertaining manner.
Asghar Rana
Colombo, Sri Lanka
If it's your message, you can't lose with it regardless of where you place.
Robert Bunn
Cedartown, Georgia
Join the conversation! Search for the group on Facebook or use #talkingtoastmasters to share your thoughts and tips.
---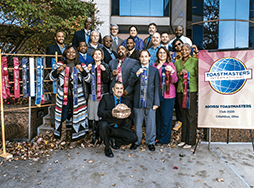 ---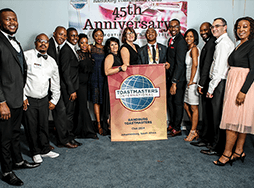 ---