March 8 is International Women's Day—a day celebrated in many countries around the world, where women are recognized for their social, economic, cultural, and political achievements.
Inspired by a post on the Official Toastmasters Facebook group, the Toastmaster asked members who their favorite female public speakers are. To commemorate International Women's Day, we've created a list of the speakers your fellow Toastmasters selected, in no particular order.
Lark Doley, DTM, PIP
Not surprisingly, Toastmasters' Immediate Past International President Lark Doley is a fan favorite among Toastmasters. She made an impact on many members in her year as International President, including Debi Sigrest of Pflugerville, Texas, who says she loves hearing Doley speak and finds her inspiring. "She always interacts with her audience and has presence. She commands the stage," Sigrest explains. "She has a servant's heart and it shows. Lark inspires me to be a better Toastmaster."
J.K. Rowling
Best known for writing the Harry Potter book series, J.K. Rowling is a British author, film and television producer, screenwriter, and philanthropist. Since her books were published, Rowling has spoken in media interviews and college commencement ceremonies, including Harvard University in 2008. This particular speech inspired Toastmaster Michael Dolan of Dublin, Ireland. He says, "Her ability to connect with the audience is what I found most striking. The personal story is so effective."
Maya Angelou
"When I think about my favorite female speakers, especially on a global scale, I am inspired by those who speak the voice of the soul," Accredited Speaker Sheryl Roush, DTM, of La Mesa, California, says. "I'm drawn to messages delivered by Maya Angelou, for her soulful poetry, depth of uncommon wisdom, and the unique cadence with which she speaks."
An American author and poet, Angelou's autobiography I Know Why the Caged Bird Sings brought her international recognition, and in 1993, she recited one of her poems at the first inauguration of Bill Clinton, president of the United States. She received dozens of awards and more than 50 honorary degrees, and was an actress, writer, director, and producer. Angelou passed away in May 2014.
Brené Brown
This researcher and author of five bestselling books has delivered TED Talks and now has her own Netflix special. Brené Brown often speaks about the power of vulnerability, shame, and leadership. Multiple Toastmasters commented on Facebook that they consider Brown to be one of their favorite female public speakers.
James Porter Ginther, a member in White Rock, British Columbia, Canada, says, "She speaks with both the authority of a scientist and the humor of a person who has been on both sides of vulnerability and has made the change. She tells the story of her learning in a way we can empathize, laugh, and see ourselves doing."
Indira Gandhi
In 1966, Indira Gandhi became the first female prime minister of India and served until 1977. She once again entered the position in 1980, and held it until her assassination in 1984, making her the second longest-serving Indian prime minister. Sudarshan Seshadri, a member in Dubai, United Arab Emirates, commented that Gandhi is one of his favorite female public speakers.
"Her speeches were very eloquent, erudite, and effective. She used to attack the nub of the issue directly without an iota of doubt on where she stood on the issue being discussed," Seshadri explains. "She was unequivocal in her speeches, and her speeches were defined by her courage, conviction, and clarity. Her voice was suited for both the microphone and just a soap box speech."
Marianna Pascal
Based in Malaysia, this Toastmaster of 11 years has given TED Talks and was a semi-finalist in the 2019 Toastmaster World Championship of Public Speaking®. Marianna Pascal is an intercultural communication expert who helps organizations establish smooth collaboration and clear communication. Australian Toastmaster Kwan Liong Ng shared Pascal's name on Facebook because of her ability to connect with her audience. He was particularly inspired by a TEDx Talk where she related learning a language to playing a video game.
"I found this speech effective as she compares two distinct concepts (video games and language) in order to create and convey an important message about developing the right attitudes toward learning a language," Ng explains. "She is one of my favorite speakers, as her witty delivery and speech topics that captivate the audience's attention from the start are the main reasons why she has won me over."
Sonia Cuff
With 20 years of information technology (IT) experience, this New Zealander currently works for Microsoft, writes blog posts, and speaks at various events. Cuff first caught the attention of Californian Toastmaster Michael Trotter when she spoke at the 2019 Microsoft Ignite Conference. Trotter was unable to attend but watched a live stream of Cuff's speech on being an introvert in the IT industry.
"I think Sonia is a good speaker because she is genuine. She is very knowledgeable on her subject, interweaving research with real life stories. She speaks in a way that connects with the audience, without being over the top," he shared.
Mel Robbins
"Mel Robbins is direct, vulnerable, and self-deprecating when discussing her discovery of the 5 Second Rule. She starts with anecdotal evidence but proceeds to back it up with credible research about why the brain works the way it does," says Toastmaster Rich Hopkins of Broomfield, Colorado.
Motivational speaker and author Robbins introduced the concept that if you have an instinct to act on something, you must move within five seconds or your brain will kill it in her book The 5 Second Rule. She has also regularly spoken on the topic. "Technique-wise, she asks questions in a direct manner, essentially having a conversation even when she's speaking to large audiences. A great example not just for female speakers, but any speaker in today's bottom-line, short attention span, prove-it world," Hopkins shares.
Sushma Swaraj
"As a speaker, one quality of Sushma Swaraj's that made her stand apart was her passion," Toastmaster Sudarshan Seshadri says. "She could deliver even the most unpalatable message in a manner which the receiver would want to accept, embrace, and enact her edict because she displayed her personal passion. Her speeches in Hindi and English both were rich in metaphors and idioms, replete with quotes from the esoteric to the banal. Most of all what she lacked in stature and voice was made up by her facial expression and choice of words."
Swaraj was an Indian politician and a Supreme Court lawyer. She also served as the Minster of External Affairs of India and was the second woman to hold the position after Indira Gandhi (mentioned above). In 1977, at the age of 25, she became the youngest cabinet minister of the Indian state of Haryana. Swaraj passed away in August 2019 and was posthumously awarded the Padma Vibhushan award in the field of Public Affairs—India's second highest civilian award.
Oprah Winfrey
"Whether delivering a commencement address, an interview, or a candid conversation, Oprah Winfrey mindfully conveys her authenticity from a heart-centered place," says Sheryl Roush, DTM, AS, who commented on Facebook that in addition to Maya Angelou, Winfrey is one of her favorite female public speakers.
"She celebrates the human spirit. Her words flow seemingly effortlessly from her soul." Winfrey is an American media executive, actress, talk show host, television producer, and philanthropist. Her talk show ran for 25 years and was the highest-rated television program of its kind. She has been ranked as one of the greatest philanthropists in American history and is considered one of the most influential women in the world. She was awarded the Presidential Medal of Freedom in 2013, holds honorary doctorate degrees from Duke University and Harvard University, and in 2008, she formed her own television network.
---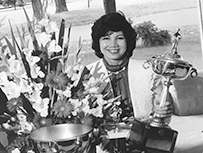 ---
---