In 2019, a new team at Toastmasters International was formed, giving the Marketing and Communications division an opportunity to enhance the company's digital initiatives.
Each member of the team has a specific set of creative skills, and together they create dynamic digital communications aimed at current and prospective members.
Gerhard Ka'aihue serves as the digital marketing manager, overseeing five team members: Video Editor Blake Carver, Marketing Project Coordinator II Stephanie Lassiter, Senior Product Marketing Specialist Trevor Lockwood, Digital Content Specialist Kathryn Sisney, and Digital Marketing Specialist Kristi Yablonski.
Carver plans, produces, and edits video content, while Lassiter manages the marketing email communications. When it comes to the Toastmasters website, Sisney builds webpages and ensures links are up to date. Lockwood manages the online store and finds vendors for new products, while Yablonski creates social media plans, posts on Toastmasters' official social pages, and serves as a liaison for her team and the Marketing department at World Headquarters.
"This team is hungry to do something new," Ka'aihue says. "My job is to make sure we are successful." The team collaborates with departments across the company, most recently with the Information Technology department. Keep an eye out for new initiatives from digital marketing in 2020.
One project members might recognize from the digital marketing team is the "12 Days of Deals" featured on social media throughout the month of December. In addition, many videos that you see on the Toastmasters International website and on social media were born from the ideas of this team, with more to come.
The digital marketing team takes an empathetic marketing approach by putting themselves in members' shoes. They brainstorm ideas on what would encourage members to comment or share on social media, or what emails might be opened and viewed. "Content is king," Ka'aihue explains. Digital marketing's goal is to figure out exactly what content Toastmasters want to see in their inboxes and social media feeds, and on the Toastmasters website. They also aim to build brand awareness to engage new members and support current members.
So what are the team's goals for the future? "An improved website experience is a top priority," Ka'aihue says. "We want to create campaigns that will resonate with those uninitiated with Toastmasters, and of course, we will develop content with an international flavor."
Stay connected with Toastmasters International and see what the digital marketing team is creating by following the official social media pages!
---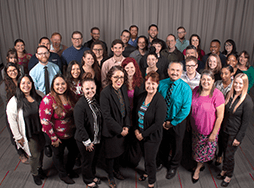 ---
---