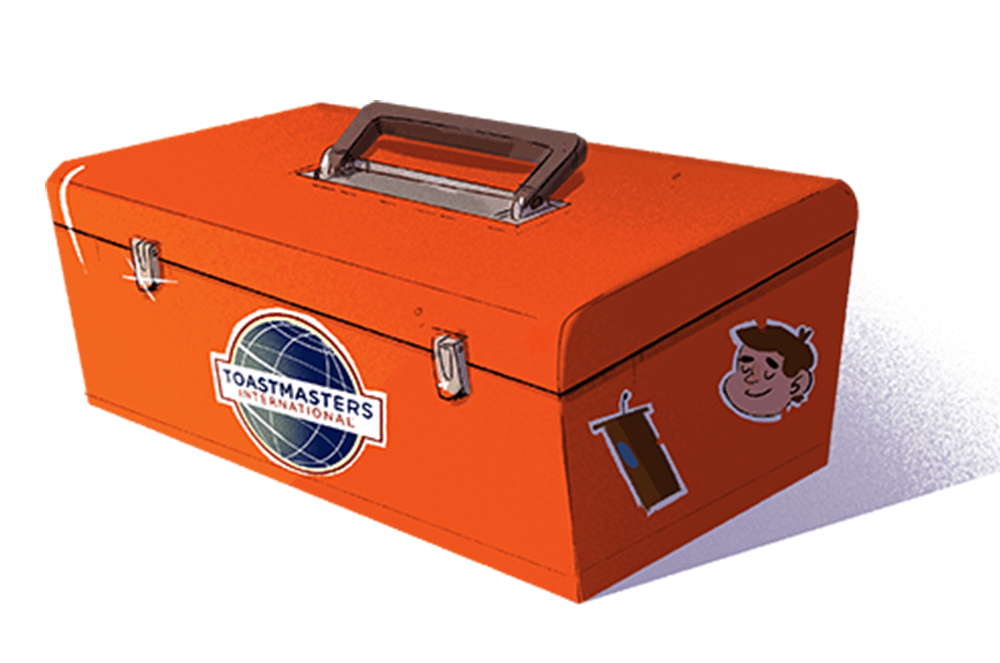 Click play to hear additional pointers on humor from author Bill Brown, DTM.
There is a saying among professional speakers: Do you need humor in your presentation? Only if you want to make money.
Humor is not only important for the pros, it is important in any speech. If nothing else, it keeps people's attention. The problem is, where do you find it, especially if being funny doesn't come naturally to you?
I am not a stand-up comedian. I am a speaker. I have had my share of laughs and my share of quiet rooms. If you sometimes struggle with humor, maybe my approach can help.
I have found that it is important to understand what you are going for. Too many times I, and many others, have settled for "you-had-to-be-there" humor.
I remember a speech a Toastmaster gave about a time when he was watering the hanging plants on his patio. When the water hit one plant, a bird flew out. After he told the story, he was surprised that we didn't laugh. After all, he had. There is a reason we didn't laugh—it wasn't funny to us. He said it best, "I guess you just had to be there."
Instead of settling for this, look for what I call general humor, humor that most people will find funny regardless of their experiences. Once you have general humor, you then look to have laugh-out-loud humor as opposed to mild-chuckle humor.
How do you strive to make your line very funny? Try it out and see what reaction you get. Then tweak it until you get the response you want.
Now, how do you find the humor in your speech as a whole? The important point to remember is this: Find the humor in the speech. Don't go out of your way to add a joke. And don't set up the punch line. Let the comedic impact flow naturally from your script.
My primary style of humor is what I call "the alternative meaning." Open any dictionary and you will find that many words have multiple meanings. I like to take one of those alternative meanings, obviously not the one intended, and act like it applies.
Find the humor in the speech. Don't go out of your way to add a joke.
I live in Las Vegas. If I am asked if I am a vegan, I respond, "No, but I am a Las Vegan." Alternative meanings can also be found in similar-sounding words, like "pique," "peak," and "peek." Since the words have different meanings, opportunities for humor abound.
Sometimes the situation itself gives you an opportunity for humor. I once gave a contest speech centered around an event that happened at my university back in the 1800s. When I first mentioned the incident, the audience started laughing and I realized that they took my comment to mean that I had been at the event. I quipped, "I know what you're thinking. But, no, I wasn't there that day. [Pause.] I was out of town."
In another speech, I used a little misdirection. I brought in an illustration involving Walt Disney. I told of his early life where he saw no success, then one day he developed a character that really took off. I then said, "And you know who that was, don't you? Of course, Oswald the Lucky Rabbit. [Pause.] What? You were expecting someone else?" Rather than just say the character's name, I toyed with the audience and let them have some fun in the process.
That is how I approach humor, based on my own style. If you have your own style, figure out how you can easily weave it into your presentations.
If you are not a particularly funny person, experiment. I suggest that you start with puns. That is where I started, and it gave me a feel for finding the alternative meaning in a statement. The Las Vegan quip, for example. Or you talk with a friend who does have a funny bone and ask them for their input. Figure out why their line is funny and how you could have found the humor.
There is much more that we could say about humor, and so I will. Listen to my audio segment in this month's online magazine for a few additional pointers.
If you struggle with finding humor in your speech, take heart. It's there for the finding. Or, at least, that's what I've found.
---