Club President Julie was reviewing the club dashboard on the Toastmasters International website and was not thrilled with what she found. It was April and the Toastmasters year was rapidly coming to a close.
Julie realized the club was not on schedule to reach some of its annual goals. She called an emergency meeting of the executive committee to discuss the situation and the measures needed to get the club back on track.
The leadership team pored over its Club Success Plan, which they had created nine months earlier, comparing it with the progress reflected on the dashboard. Within a few hours they had revised several plan tactics.
Julie and her team are not alone in reviewing goals, comparing them with achievements, and re-strategizing for successful outcomes. In the Toastmasters world, members, clubs, Districts, and even the Board of Directors often review their performance to determine if they have reached the milestones that were planned. If not, course correction is the need of the hour.
Are your club goals big enough, exciting enough, scary enough?
When I was a District officer, I was glued to the dashboard. The daily updates provided me with an ongoing measure of my District's health and helped me determine if our members were receiving the service they deserved. If members were achieving their educational goals, it was clear to me that clubs were providing a high-quality learning environment. I did not rest until we had surpassed the goals we had set for ourselves.
What about you? Do you have goals for yourself, your club, or your District? Bob Proctor, a Canadian motivational coach and author, advises setting a goal "to achieve something so big, so exhilarating that it excites you and scares you at the same time." Is your goal big enough, exciting enough, scary enough?
Are you monitoring progress toward your goals? "Review your goals twice every day in order to be focused on achieving them," suggests American motivational speaker Les Brown, a past recipient of the Toastmasters Golden Gavel award. April is not too late to review what you have achieved, what is left to achieve, and what needs to be done to reach the finish line successfully.
President Julie and her team got cracking on their re-strategized plan. They set up a meeting with club members to enthuse and inspire them. They are certain they will achieve their goals this Toastmasters year.
America's third president, Thomas Jefferson, said, "Nothing can stop the man with the right mental attitude from achieving his goal; nothing can help the man with the wrong mental attitude."
Deepak Menon, DTM
International President
---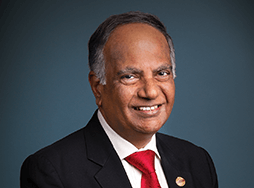 ---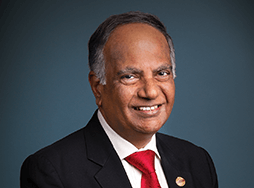 ---