Basundhara, then a member of the Toastmasters Club of New Delhi, was waiting at a metro station for the train to arrive. Lost in her thoughts, she did not notice another young lady carefully observing her. Moments later the young lady tapped on Basundhara's shoulder and said, "Excuse me, my name is Sowmya. I like the pin you are wearing on your shirt. Can you tell me about it?" Basundhara proudly announced, "I am a Toastmaster, and this pin is a symbol of my membership." Sowmya attended the very next meeting as a guest and went on to become a member and a club officer.
When Vinay of JPKU Toastmasters in New Delhi boarded his flight, he was a little vexed to find he was seated between two passengers. Sighing, he settled into his seat and took out the latest issue of the Toastmaster magazine.
Yet destiny had something else in store for him! He had barely finished reading the inspiring column by then-International President Lark Doley, DTM, when he noticed the passenger on his left peering into the magazine. Vinay looked at him, smiled, and asked, "Have you heard of Toastmasters?" Vinay spent the rest of the flight chatting about our organization with his fellow passenger.
Each day provides us an opportunity to meet and talk to people about Toastmasters.
Do you remember who first spoke to you about Toastmasters or invited you to a meeting? If that hadn't happened, would you ever have become a Toastmaster? Wouldn't you have missed a golden opportunity—one that enhanced your skills and changed your life?
Each day provides us an opportunity to meet and talk to people about Toastmasters. We are roving ambassadors and brand builders, and we can help grow our club membership like no one else can.
Use every opportunity you find to talk about Toastmasters. Wear or carry a symbol of your membership wherever you go. It could be a Toastmasters pin, a cap, a pen, a pad, a luggage tag, or the Toastmaster magazine. The Toastmasters store offers plenty of ideas! These silent symbols will act as icebreakers and attract the attention of people around you.
What do you tell people when they ask you about Toastmasters? Give them the big picture. Tell them about our mission, membership, and international network of clubs. Then tell them your story. Tell them how Toastmasters changed your life, introduced you to new friends, and helped you build an invaluable network. And then close the deal. Invite them to experience Toastmasters at a club meeting!
So, Toastmasters ambassador, what are you waiting for? Pick up your favorite Toastmasters-branded item and venture out today. The whole world is waiting, ready to join you in Toastmasters!
Deepak Menon, DTM
International President
Share the member testimonial video below to help others recognize the benefits of joining Toastmasters.
---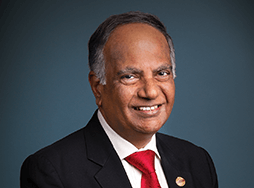 ---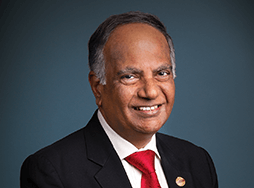 ---