Inspired by the 5-Second Rule
I very much liked Dave Zielinski's article "Reframe Your Life in 5 Seconds" [March 2019], especially the reference to Mel Robbins' 5-second rule about taking action. While I do routinely follow many of the practices described in the article, the concept of counting 5-4-3-2-1 and then immediately taking action has tremendous power. It certainly worked in inspiring me to write this letter and I will follow the concept with my future decision-making. Thank you for the idea.
Steve Howard, DTM
Stage Time! Toastmasters
Sydney, Australia
Public Speaking and Yoga Insight
Christine Clapp's article, "Yoga and Public Speaking" [March 2019], was interesting and encouraging. I appreciate the connections she made between yoga and public speaking, especially the last highlighted topic of acceptance. Overall, I was grateful to read this practical application of how meditative practices can positively affect our speaking habits and daily lives.
Anna Scrimenti
Wiley Tomastermasters Club
Washington, D.C., U.S.
Public Relations Success
I enjoyed "In Public Relations, Persistence Pays" by Tess Iandiorio [April 2019]. In particular, the advice to vice presidents public relations (VPPR) about sticking with Toastmasters branding and making sure you aren't wasting time on things that don't get results; these could be game changers for VPPRs who feel the need to take on too much and be too creative.
I had the opportunity to work directly with Michelle Hanchey last year as the president of my home club, Sugar Hill Toastmasters. Her PR tips and watching her on social media helped me craft a better PR program for our club. As a result, we went from 12 members to 20 and finished President's Distinguished for the first time in club history.
Not everyone has the luxury of working side by side with superstar PRMs like the five in this article, so thank you for sharing.
Stephen Box
Sugar Hill Toastmasters
Sugar Hill, Georgia
"I no longer shy away from the microphone or speaking extemporaneously."
—Suzy Aku Puplampu
My Turn on My Stage
I read about electrical engineers Mey Ling and Kalyan Sen in Member Moment [January 2019] and I could not help but identify with their conclusion—"If you are not comfortable speaking in front of people, then get up and start speaking." I did that by volunteering for Table Topics as a guest at my first meeting. I joined Toastmasters at the next meeting and built my confidence by taking on roles such as timer, grammarian, General Evaluator and, finally, Toastmaster before I delivered my first speech. It was necessary for me to build confidence before mounting the Toastmasters stage. I no longer shy away from the microphone or speaking extemporaneously. Rising up into leadership is easy for me now, as I swiftly avail myself for any leadership role requested of me. Now it's my turn to take charge of my stage.
Suzy Aku Puplampu
Joe Lartey Toastmasters Club
Accra, Ghana
Do you have something to say? Write it in 200 words or fewer. Email letters@toastmasters.org with your name, member number and home club. Please note: Letters are subject to editing for length and clarity, and may be published in both the print and electronic editions.
---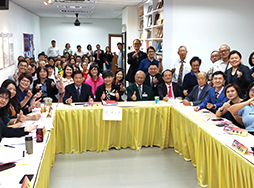 ---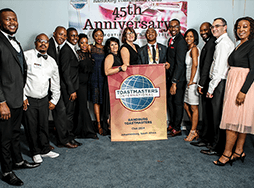 ---