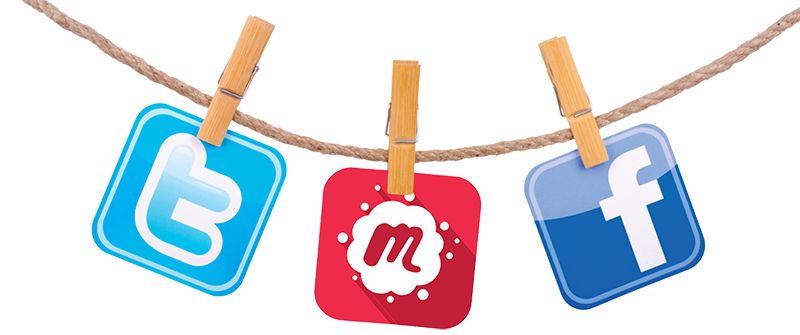 You may think that maintaining an active social media presence is easier said than done. With a new platform popping up every other day claiming to be the next big thing, it is tempting to give up rather than navigate the tangled web of the internet.
The good news is that it is not necessary, nor even appropriate, to be on every social media site in existence. Snapchat may be big with the kids, but posting a photo with cartoon dog ears added to the image does not exactly say "professional organization." And it certainly does not exude the air of respectability that Toastmasters deserves. Instead of tracking down every social media site, focus on cultivating an audience for your club on Meetup, Facebook and Twitter.
Meetup is a great starting point because it is the easiest and most effective way to find new members for your club. The site is the digital equivalent of a library's community events board. My club, Freehold Phrasers, finds it indispensable. Our Meetup group has a captive audience of about 300 members who are reminded of every club meeting and can let other members know they are attending. Many members who never thought they would join an organization dedicated to public speaking checked out Toastmasters because they noticed others participating
Facebook works best when used to show potential members your club's personality and keep members informed of upcoming and past events by posting photos, videos and status updates, or tagging them in relevant posts. Keep in mind, unless your club pays to advertise on Facebook, your page's reach will be limited and your visitors will most likely be people who know the title of your club or the extended network of your active followers (those who react, comment, share or otherwise interact with your posts). The good news: advertising can work with a variety of budgets and you can decide how often you want to run an ad campaign and for how long. Facebook should be used in conjunction with Meetup.
Twitter has a thriving Toastmasters community. It gives your club the opportunity to reach out to other members all over the world and seek inspiration from them. Through active participation, club members can make friends from Nebraska to New Zealand to Ireland and beyond. Who knows? Members may even get the chance to meet some of their new friends at the Toastmasters International Speech Contest, or they may come to your town and visit your club.
Once you establish your club's Meetup, Facebook and Twitter accounts, it is important to keep your sites updated with useful information. Doing this doesn't have to be time-consuming.
Meetup allows you to schedule a standing appointment, so you do not have to enter each meeting one at a time from now to eternity. As for Facebook and Twitter, both sites allow you to use Hootsuite or Buffer, which are websites in which you can "set it and forget it." The free versions of Hootsuite and Buffer limit the number of posts that you can schedule at one time. For Buffer, the limit is 10, so save the 10 a month charge and take a half hour each week to schedule the next week's posts. And be creative with your posts; they can include articles and videos. And be sure to log in to your club's pages a few times a week (especially Twitter), to keep up with the latest news in the Toastmasters world.
But remember, Hootsuite and Buffer are tools. They will make your life easier, but they are not a substitute for conversation and should not be abused. Scheduling posts ahead of time is easy, but so is mindlessly sharing or retweeting someone else's posts. Your followers will not appreciate excessive sharing that adds no value. Even if your club does not post frequently, someone is bound to stumble upon your social media pages. However, inactivity does not make your club look attractive to potential members. Old posts may even cause people to turn away because they think the club has disbanded.
Meetup, Facebook and Twitter are platforms with the biggest Toastmasters presence, but regardless of how you approach social media, experiment to find out which networks work for you and what types of posts are right for your club.
---
Allison Lips, CC
is a member of the Freehold Phrasers and Talk of Monmouth Toastmasters clubs in New Jersey.
---