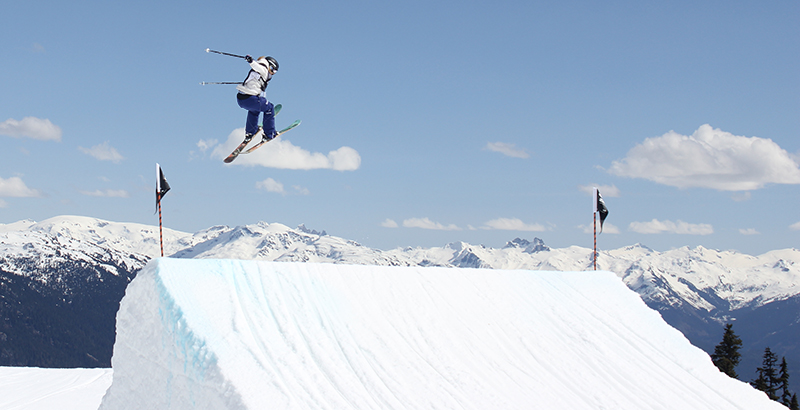 Olympic medal winner Lauryn Williams isn't the only Toastmaster who has flourished in the athletic arena. A number of other Toastmasters have achieved success in sports, including Jamie Crane-Mauzy, a former professional skier, and Eléa Faucheron, a competitor on a popular sports-oriented television program called
Spartan: Ultimate Team Challenge
.
Both women have been driven by goals, and their stories are inspirational examples of skill, ambition and perseverance.


Jamie Crane-Mauzy
For this 24-year-old, becoming a professional athlete was more than just a childhood dream. It was a goal she worked hard to accomplish. She achieved it in 2008, when she was recruited at age 16 to join the United States Ski Team's Elite Aerial Development Program.
Crane-Mauzy learned to ski when she was only a year old and spent years striving to master her sport even after she started competing in slopestyle and halfpipe competitions all over the world. "As a professional skier, life is always about setting goals," she says. "Every day you want to push the boundaries a little bit, try a new grab, clean up your spin, do another 180."
Fittingly, Crane-Mauzy is a member of a Toastmasters club in one of the skiing capitals of the world: Park City, Utah.
When it comes to a goal-setting strategy, Crane-Mauzy believes in breaking large goals into smaller ones. "If you take baby steps in the direction of your dream, you can accomplish whatever you want," she says. This mentality helped her achieve some impressive feats: In 2010, she became the first female freeski slopestyle world champion at the Junior Snowboard & Freestyle World Championships in New Zealand. Three years later, she became the first female freeskier to land a double backflip in competition as well as the first female skier to flip off a rail in competition.
Crane-Mauzy constantly pushed herself to perform bigger and better tricks. On April 11, 2015, though, her skiing career ended abruptly when she crashed during an international competition in Canada while attempting to become the first woman to complete an off-axis double backflip. The accident left her with a traumatic brain injury that caused paralysis in the right side of her body. She was in a coma for eight days after being airlifted to the hospital. Doctors weren't sure whether she would survive, she says.


Traumatic Time
It took a long time for Crane-Mauzy to heal. Her brain injury caused her to have severe memory loss for nearly two months after the crash. While eventually her memory returned, she had to relearn how to do everything, including walking and talking.
To stay motivated during her recovery, Crane-Mauzy tried to focus on the present moment and take small steps to rebuild her life. "I didn't worry too much about the future or compare myself to the past," she says. "I just set short-term goals that I knew I could accomplish."
"If you take baby steps in the direction of your dream, you can accomplish whatever you want."
— JAMIE CRANE-MAUZY
This approach has served Crane-Mauzy well during her transition from professional skier to full-time college student and blossoming motivational speaker. She joined the Park City Toastmasters in February 2016 to improve her presentation skills. Since then, she's given speeches during televised media events, at conferences and at Rotary Club and ski club meetings.
"Toastmasters definitely helps me use less filler words, like uh and um and like. It helps me be more concise and to the point in my speaking," she says.
Crane-Mauzy says the Toastmasters training also helps her slow down and pause at important points of a presentation. Just like in skiing, she loves the chance to improve. "With the group of people in my Toastmasters club and the environment to practice in, I can create my speech to be perfect."
Jude Robinson, ACB, CL, vice president public relations of the Park City Toastmasters, says Crane-Mauzy has become a valuable member of the club and an inspiration. "She has an amazing story to tell," Robinson says.


Eléa Faucheron
When Eléa Faucheron, CC, CL, and her husband were invited to join a four-person team and apply to compete on
Spartan: Ultimate Team Challenge
in 2015, they decided to go for it. Their team, the Charleston Warriors, was selected to compete against 35 other teams of elite athletes for the 250,000 grand prize. The American show aired over the summer on the NBC network.
Spartan Races are timed obstacle events where competitors must climb ropes, scale walls, leap over fire and perform other daunting feats. One of the most brutal activities is called a "bucket carry." It involves carrying a bucket of approximately 50 pounds of gravel for about 250 yards up and down a hilly area—sometimes while also trudging through a pool of water.
As difficult as these various tasks are, Faucheron says Spartan racing also makes her feel like a kid again. "I grew up in the mountains and entertained myself by playing outside," she says. "I climbed trees, stomped through creeks and dirt, and scaled rocks. For me, this brings back a childlike resilience that many of us have long lost in adulthood."
A member of the Pleasant Speakers Toastmasters club in Mount Pleasant, South Carolina, Faucheron says succeeding in such races gives her a thrilling sense of accomplishment. "Conquering physical obstacles feels liberating, empowering, and adventurously exhilarating," says the 40-year-old. "It supports my confidence in handling obstacles that appear in my daily life."
The avid kiteboarder says she started competing in Spartan Races because she needed a change in her life. The former co-owner of a kiteboard, surf, skate and paddleboard store as well as a company that designed, manufactured and sold paddleboards, Faucheron was experiencing burnout. "I was working so much and got so stressed that I became physically ill," she says.
As part of her recovery plan, she became a Certified Professional Co-Active Coach through the Coaches Training Institute (CTI). She founded her life-coaching business, Move Think Smile, in 2014, the same year she and her business partner sold their store and paddleboard company.
She encourages her clients to use her Move Think Smile technique to reach their goals. The Move part has two definitions, she says: moving your body and moving forward in your life. "When you're moving toward a goal, a lot of times you have to make a bold move," she says. "Combining exercise with that can help you go farther because after a workout you're feeling really good, really confident, and that primes you for making that big change in your life."
The Think part of Faucheron's technique involves changing the way you think about goals. "Being willing to look at your end goal from a different perspective can help you catapult yourself forward," she says. The Smile part represents the result. "When you're making progress toward your goal or reaching your goal, the outcome is being happy and fulfilled."


A New Challenge
As brave as Faucheron is when it comes to leaping fire or climbing over walls, she says the idea of speaking in public terrified her. Joining the Pleasant Speakers Toastmasters in 2013 was a challenge given to her during her coach training. "We had to talk about things we were afraid of, and I realized through that process how affected I was by public speaking. Physically I would have all sorts of anxiety reactions—sweaty palms, racing heart, dizziness, my mind going blank."
By confronting her fear, Faucheron says, she was able to overcome it. She currently serves as the president of her club. Her Toastmasters training, especially with Table Topics, came in handy during the filming of on-camera interviews for Spartan: Ultimate Team Challenge, she says.
The experience has helped in many areas of her life, says Faucheron, from having a tough conversation with a client to speaking to an audience at a local gym.
"Toastmasters keeps the focus on appreciating what is working well within ourselves and others, while asking us to improve our A game," she notes. "This is a great recipe for getting over very tall and muddy Spartan walls, or managing staff meetings, or interacting with your kids. If we can remember to practice the tools we learn in Toastmasters, everything becomes easier!"
---
Missy Sheehan
is a freelance writer, copy editor and proofreader. For more information, visit her website.
---