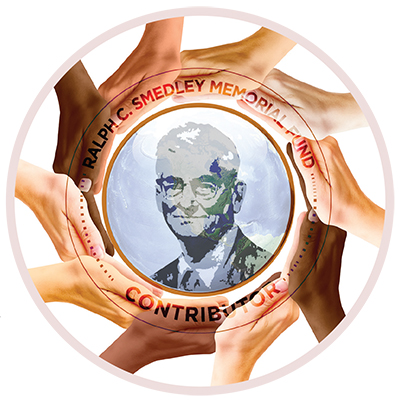 "Here we are, with tremendous opportunity before us. I challenge you to get to work to bring us up to a higher level of service. Let us share with others the benefits we have gained for ourselves."
— RALPH C. SMEDLEY, FOUNDER OF TOASTMASTERS INTERNATIONAL
Since its start in 1924, the Toastmasters program has benefited millions of people worldwide. With renewed skill and confidence, members have conquered fears, found their voices and become leaders in their communities. Like many of the organization's current volunteer leaders, Ralph Smedley was motivated by the idea of helping others. He knew that as people become better speakers, they gain confidence and skill in other areas as well. He said, "As we gain speech facility, we gain in our thinking and in our listening powers. We extend our horizons and enlarge our interests. We become better neighbors. We help in the cause of human progress."
Smedley eventually assigned all rights to the organization he founded to Toastmasters International. "I would rather be rich in friendship than in money," he said. "It is a privilege to make a contribution to the welfare of my fellow man."
After Smedley died on September 11, 1965, the Ralph C. Smedley Memorial Fund was established in his memory, for the purpose of advancing the mission of Toastmasters International through the research, development and distribution of educational programs and materials relating to communication and leadership in a wide range of cultural, social and economic situations. On November 20, 1965, the Toastmasters Board of Directors unanimously voted that the Smedley Fund may never be comingled with general funds or used for operating or capital expenditures of Toastmasters International.
Over the years, money has been raised through the generosity of individuals, clubs and corporations in the form of honorary and memorial contributions, bequests, life insurance, grants and matching gifts. The Smedley Fund has supported educational programming such as a youth market research project, market research on the awareness of Toastmasters International programs, and most recently the development of the Toastmasters Pathways learning experience.
Research and Development
The Ralph C. Smedley Memorial Fund is an opportunity for members to participate in keeping Smedley's vision alive. Member contributions (which are tax deductible in the United States) support research and development and guide the creation of future programs that empower individuals to become more confident communicators and leaders.
As the organization grows, Toastmasters International must evolve to meet members' changing needs and remain innovative to stay relevant in the marketplace. Smedley Fund contributions will support areas of greatest need.
Based on member feedback on a benchmark survey, the Smedley Fund can be used to explore opportunities like the following:
Educational Materials
Smedley Fund contributions can enhance and expand education to meet the specific needs of more individuals in culturally diverse environments. Examples include advancing educational technology, increasing the offering of translated materials, creating materials for young adults in colleges and universities, and modifying materials for the disabled.
"The most fulfilling part of our work is the expectation that it will help make the Toastmasters journey easier for many."
BUNZO SUZUKI, ACG, CL, VOLUNTEER CHIEF REVIEWER,
CHIEF AMBASSADOR • JAPAN
Geographic Initiatives
Although Toastmasters serves approximately 345,000 members in 142 countries, it is essential to invest in new and developing markets in order to make the program accessible to more people. Smedley Fund contributions will provide greater access to the Toastmasters learning experience by helping build and grow clubs in territories where Toastmasters does not have a presence or is experiencing growth challenges.
"Some challenges of developing markets include language barriers, distribution of marketing materials, legalities, and the cultural concept of understanding a nonprofit such as Toastmasters. However, as leaders, we grow and learn. And with this knowledge we will continue to grow Toastmasters in Brazil."
BILL MCCROSSEN, ALB • BRAZIL
Youth Outreach
Today's youth do not have enough opportunities to practice public speaking and leadership. Smedley Fund contributions can build the confidence of tomorrow's leaders by offsetting the costs of programs and materials, such as the Youth Leadership Program, for those younger than age 18.
"It's inspirational to watch students grow their confidence and leadership skills that will help them throughout their life!"
SARAH ROLLINS, YOUTH LEADERSHIP
PROGRAM COORDINATOR • UNITED STATES
"All civilization, all progress, depends on the communication of ideas."
— RALPH C. SMEDLEY
Hardship Assistance
Individuals in hardship situations need encouragement and hope for the future. Smedley Fund contributions can give these people a helping hand by covering membership costs for those in homeless shelters, transitional living, rehabilitation or correctional facilities and working to make a positive change in their life.
"Everything about the Mission Impossible Toastmasters club runs counter to the perception of what a homeless person is. You just have to give them the chance to reveal the gem hidden side."
TERESA LOOMIS, CC, CL, CLUB PRESIDENT, MISSION IMPOSSIBLE
TOASTMASTERS CLUB • UNITED STATES
Emergency Relief
Economic challenges, natural and man-made disasters are a reality to many. Contributions can provide relief to those suffering losses due to extreme economic hardship or disasters by covering the costs of their Toastmasters dues. This can include individuals who wish to obtain or retain their membership, but do not have the means to do so.
"During one of the worst natural disasters in modern history, Hurricane Katrina, many Toastmasters members were affected. They experienced a disruption of services and club meetings. Dues were waived and any lost materials were replaced without charge."
JON GREINER, DTM, PAST INTERNATIONAL PRESIDENT (2004-2005)
UNITED STATES
You Can Make a Difference
How has Toastmasters changed your life? The Ralph C. Smedley Memorial Fund is an opportunity for you to pay it forward and help change the lives of others around the world.
As a nonprofit organization, Toastmasters International relies on the support of volunteers, members and contributors. Your contribution will help people to reach their greatest potential and become confident communicators and leaders.
"Toastmasters International has opened doors of opportunity in my life, and I have seen it do the same for countless others around the globe. I am proud to embrace and extend our founder's vision and give back liberally to the Ralph Smedley C. Memorial Fund.
"Quality educational products highlight the success of our worldwide brand, and the Smedley Fund enables the development of superior educational resources. Each gift leaves a legacy of excellence that delivers dynamic, high value programs to our worldwide membership. This investment pays big dividends in personal and professional growth. Will you be a part of it? I challenge you to give generously and support the Ralph C. Smedley Memorial Fund."
MICHAEL NOTARO, DTM, PAST INTERNATIONAL PRESIDENT (2011-2012)
UNITED STATES
Learn more about the Ralph C. Smedley Memorial Fund here.