When Mike Storkey joined Toastmasters 25 years ago, his goal wasn't to become a better speaker or leader. He simply wanted to enjoy a social event with his wife, Lesley.
But it wasn't long before Storkey was learning new skills, competing in speech contests and tackling one leadership role after another, including serving on the Board of Directors from 2010 to 2012.
And now, he is the 2016–2017 Toastmasters International President. Storkey belongs to three clubs in Queensland, Australia, including the Leaders by Design club, in which his wife, Lesley, DTM, is also a member. He says of Lesley, "She is my life partner, mentor, best friend and constant source of support." Married for more than 30 years, they have five adult children and 13 grandchildren.
Storkey worked in the real estate business for many years, becoming a highly successful salesman. In 2005 he co-founded Storkeys' Team, a facilitation and leadership organization that provides communication training. A coach and trainer (as well as a certified auctioneer), he runs the business with his wife.
Tell us about Storkeys' Team.
In providing communication and leadership training for our clients, we focus on time management, change management, delegation, teambuilding, conflict resolution, customer service and goal-setting. Our clientele is predominately local government organizations such as local councils and small-to-medium businesses in Queensland.
As International President, you will travel to many countries. Any part of the world that interests you in particular?
Both Lesley and I caught the travel bug as children. We both had parents in military service and spent three years in Singapore—but at different times. My father was part of the supply-support arm of the British armed services. He was stationed in Singapore when I was 7 to 10 years old. Lesley's father was in the British Royal Navy and he too was stationed in Singapore from the time Lesley was 7 to 10. Lesley likes to remind people that she and I were the same age when we were in Singapore—however, being older, I was there earlier!
My family returned to England for a short period, and then I lived in Germany where I attended boarding school for two and a half years before returning to England and immigrating with my parents to Australia. Lesley immigrated to Australia with her parents some years later.
This experience of living in, and visiting, different countries has instilled in both of us a love of travel. Therefore, I feel confident in speaking for both of us when I say everywhere interests us, and the experience of meeting people and experiencing different cultures is something we embrace with a passion. Thanks to Toastmasters, the opportunity to indulge our passion and make new friends continues.
Tell us about your hobbies and interests outside of Toastmasters.
I am an avid model railroader. However, I seldom have the time to devote to the hobby. I love all types of music, especially classical. I am also an enthusiastic collector, much to Lesley's dismay! I collect matches (though they are getting hard to find these days and I have not smoked for many, many years), lapel badges (collar pins) and peaked caps (a type of hat often worn by those in the armed forces, law enforcement agencies or fire departments) from around the world.
Lesley and I share a love of theater and actually met through amateur theater, when we were cast in an Australian production that called on me to play the role of her lover. It's a role that has continued for over 30 years. In addition, I have been a Rotarian for 12 years and remain active in the organization when time permits. I'm also extremely interested in politics and history, and I can honestly say there is seldom a dull moment.
When and why did you join Toastmasters?
Lesley and I first joined the Whitsunday Toastmasters club in Cannonvale to do something socially together. In the town where we lived, there was plenty to do during the day, like swimming, scuba diving, sailing and fishing; however, when the sun went down social life consisted of nightclubs and bars. Toastmasters offered the opportunity to mix socially with a diverse group. We didn't join to improve our communication skills or to become leaders—but see what can happen if you participate fully in your club activities?
What motivated you to stay in Toastmasters?
The opportunities for growth as a speaker and leader encouraged me to explore both roles. Being competitive by nature, I entered our club's Table Topics competition and I won two district speech contests: Table Topics and Evaluation.
Once my competitive nature had been satisfied, I became an area governor (now called area director); a leadership role I still claim is the most rewarding in the organization. The connection with members gave me the impetus to serve and represent their interests to the best of my ability: a challenge that still motivates me today.
How has Toastmasters helped you in your personal and/or professional life?
My confidence over the past 25 years when dealing with all sections of the community has grown as a direct result of what I have learned and practiced regularly in my club, as well as from the evaluations I have received.
One major skill Toastmasters has taught me is to be an effective listener. I learned to ask for clarification rather than assume I had heard correctly and jump to conclusions. We should all remember that Toastmasters is not here to make us better Toastmasters but to make us better people, who can use the skills we hone in our clubs in our family, business and community lives.
Have you had any Toastmasters mentors through the years?
Without mentors I would not be where I am now. My early club mentors encouraged me to step outside my comfort zone and start my Toastmasters journey in earnest. They pushed me to step up and seize an opportunity—sometimes suggesting I do it, sometimes urging me to do it and other times pushing me to do it. Other mentors later encouraged me to tackle the doubts and misgivings I had about taking on higher leadership roles.
Finally, Clare Murphy, DTM, PID, fed up with me bemoaning what I perceived as a lack of direction in the organization, challenged me to get up off my you know what and run for international director if I was so concerned.
Currently, I have four mentors, one of whom is a past international director in Texas and two who are in my home district. My fourth mentor is my life partner. Without these people I probably would no longer be a Toastmaster.
What advice would you give to someone seeking a leadership position for the first time?
Just do it—you never know where it will lead. Whether you love the journey or want to get off at the next stop, it is an experience everyone should have. You will never know until you try, and to miss the opportunity will leave you wondering for the rest of your life, What if?
What is a favorite public speaking memory of yours?
Receiving my first standing ovation, which came after I gave a keynote—"Step Up, Step Out and Seize the Opportunity"—at a district conference, and then having members personally thank me for my presentation. Very humbling.
What motivated you to run for the office of International President?
I don't believe that anyone joins the organization to become the International President. I know that I didn't. It was a series of events, opportunities and discussions that led me to the confrontation with my mentor over the dinner table that motivated me to run for the position of the last international director from Districts Not Assigned to Regions (DNAR) in 2009. I lost but ran unopposed the next year for the position of first international director from Region 12 (Australia and New Zealand). It is funny how things turn out!
What aspect of Toastmasters do you like best?
Mentoring is the reason I will continue to stay a Toastmaster after my term on the Board concludes. The opportunity to help another person realize their potential is not to be missed. I believe that everyone is a mentor even though many never realize it. For me, mentoring stands for: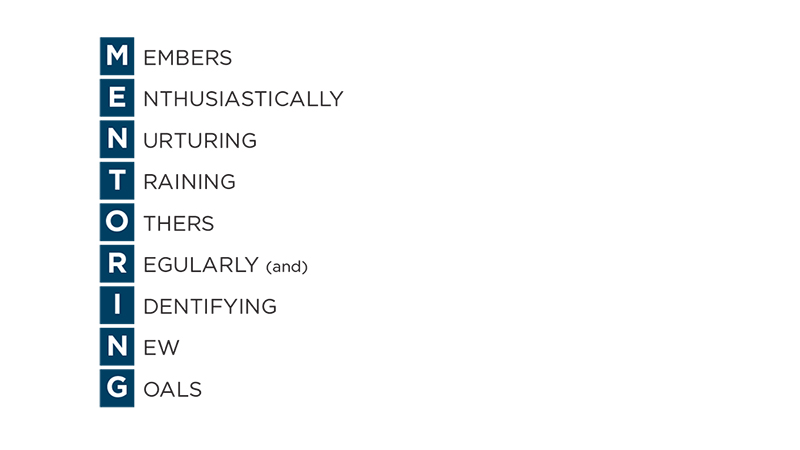 I also believe that all DTMs should think of the acronym as standing for Dedicated to Mentoring. Our organization's future depends on our current members mentoring the speakers and leaders of the future.
The Toastmasters Pathways learning experience is scheduled to launch during your term. What will this new program mean to members?
Toastmasters Pathways is the first major change in our organization's education program in many years, and as such, is a key event in the life of every member. The Ambassadors and Learning Masters, who are among the volunteers contributing to Pathways, have done a sterling job!
Members are going to be excited about Pathways once they experience it and discover the many benefits: the opportunity to work online and use interactive tools; the learning that's tailored to individual goals, and all the wide-ranging, relevant skills they can develop. This updated education program provides a learning experience that will help members flourish in all areas of their lives.
So much work has gone into building this program; I'm thrilled to see it being implemented.
What are your goals for your year in office?
A couple of areas I hope to see addressed in the coming year are those of membership retention and youth participation. While membership growth is an important goal, I believe our organization's first responsibility is to those members we already have. Therefore, a greater emphasis on meeting our current members' needs is essential. I'm convinced the Pathways learning experience will address many of those needs and current members will be eager to try it out!
I look forward to working with you all in the year ahead.