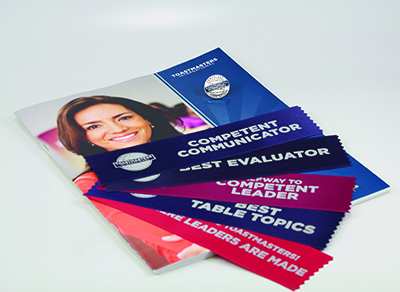 It is a common experience in any club, and you probably have experienced it firsthand. Members are excited, motivated and appear to be committed at the time of joining. But after attending a few meetings and delivering a few speeches, they disappear.
I have seen this happen with many friends and club members. We are all busy and life consistently poses challenges; I am no exception. I battle with an extremely demanding job, a two-income family structure, two school-age kids and a variety of other distractions.
Despite this, I was able to complete my Competent Communicator (CC) in less than six months from the time I joined. I hope to motivate other Toastmasters and accelerate their journeys in the program. To that end, I have compiled the following six pillars to help you achieve your goals. The golden guiding principle, in my opinion, is: If you fail to prepare, prepare to fail.
Confidence, conviction and discipline:
Like other goals in life, a goal in Toastmasters requires confidence, conviction to conceive and meet your targets, discipline to practice and progress, and the application of new skills to refine your strategies.
Focus on the journey, not just the goal:
I believe that the journey is more significant than reaching the goal itself. The path to earning your CC, your first designation, is a beautiful journey. It's no wonder many Competent Communicators come back and do another track; they learned so much—and enjoyed it.
A research paper on the successful pursuit of goals by the University of Toronto recommends avoiding tunnel vision—or a focus on reaching the goal rather than acquiring the needed skills. With a focus on learning, you avoid shortcuts and consider achieving the goal as a byproduct of the main goal—to acquire knowledge and practice skills to make them become second nature. In other words, you don't want to look good, you want to be good. Understanding what is needed to succeed with each Toastmasters speech project is of paramount importance. The questions you need to ask yourself include: Did I understand the purpose of this speech? Can I apply what I learned to my future speeches?
The following exercise gives me several clues for improvement: First, I create an audio recording of my speech and then refine it, often consulting one or two friends. Next, when it reaches a satisfactory level, I video record and review it, multiple times, each time critiquing myself as an outsider.
Believe in yourself and envision yourself as the best speaker:
You may have joined Toastmasters because your primary goal is to overcome the fear factor. You should envision yourself as a glib and fluent speaker and be confident that you are naturally good; you only need to overcome a few hurdles to reach your potential. In Toastmasters you can remove anything that blocks your progress and let your real self shine. If you have the right spirit and expectations, your confidence can drive you forward. The first and best way to develop vision and confidence is to observe other speakers and develop a style of your own.
Read the Competent ­Communication manual, multiple times if necessary, from beginning to end—preferably in one sitting. Next, form a plan of approach. You know best your strengths and weaknesses, and availability. In the beginning stages, I recommend that you seek a mentor, especially for the first three to four speeches, even if you do not feel the need. Plan to work with the mentor to refine the speech before you deliver it in your club.
However, please do not let the mentor choose the topic of the speech for you. You need to own that part. Wade through the woods! Keep looking at topics—you will develop an eye for them. I used several resources to identify the topics of my first five speeches. Newspapers, magazines, Ted Talks, keynote speeches and conference sessions are a few to consider. It took me longer to identify and develop topics for my first four speeches, and then I got used to it.
Consistency and commitment to implement the plan:
Take a different perspective. Promise yourself that you will do this despite other priorities in your life. Remember, it is easy to put your goal on the backburner. It can happen without your knowledge. Consistency can be attained through regular attendance, which keeps your spirit up and unscathed, and by your continuous pursuit of improvement.
You may agree that there is no substitute for hard work. Choose a suitable target date to achieve a Competent Communicator award and put it on a calendar. Traverse in the reverse direction to design intermediate milestones. Schedule as many speeches as possible on the club calendar. Cancel them if you cannot prepare to your satisfaction. I noticed that a few members have all the intention but want to "do it later." That "later" never comes for some.
No matter how old you are or what you do for living, you have joined Toastmasters for a reason—to become a better communicator and leader. You have taken the first step in that direction. This gives you an opportunity to demonstrate to yourself and to your club what you are capable of.
As they say, the real character of a person is demonstrated by what one does when nobody is watching. What are you waiting for? Nobody is watching! Don't lose the steam! Now is the right time to practice, refine and achieve, and become a Competent Communicator! Yes, you can do it. Good luck!