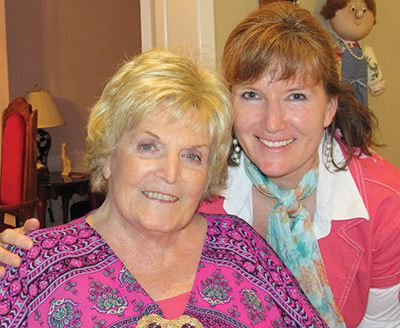 If you visit the West End Toastmasters club in Kanata, Ontario, Canada, chances are you'll be greeted warmly by mentor Giselle Braeuel. A member since 2003, Giselle welcomes everyone and ensures that they "know the ropes."
Originally from the small town of Volmarstein, Germany, Giselle immigrated to Canada in 1954. Now working on her seventh Competent Communication manual, she also enjoys ­photography—her former occupation—and participates in a creative writing workshop. She has self-published five books of poetry and a book of short stories.
Pamela MacDonald-Wolk, finance director for the National Golf Course Owners Association Canada, knew about Toastmasters more than 20 years ago. She didn't get the chance to join until 2010, when she spotted an open house sign in front of her local library. She joined the West End club, and that's when she met Giselle.
What drew you to Giselle?
Giselle reached out to me when I joined and showed me how things worked. After a while, we got to know one another, and I asked her to be my mentor.
What makes Giselle an exceptional mentor?
Giselle is highly regarded at West End as a master storyteller and entertainer who expertly weaves her sense of humor into real-life stories. She leads by example—attending every meeting, committing to roles and preparing speeches regularly. She has served several terms as vice president membership and is arguably West End's unofficial "über-mentor." Often stepping up as a speech contest participant herself, she encourages others to challenge themselves as well. In this way, she inspires everyone, and I see positive results when I push myself to do the same. Because of her, I am comfortable delivering formal speeches and stepping into any role.
What is your favorite thing about Giselle?
She is genuinely interested in everything and everyone, and people of all ages are drawn to her. Giselle has the unique gift of instantly connecting with people. She is truly an inspiration to all our club members.
---
NOMINATE YOUR MARVELOUS MENTOR!
Do you know an exceptional mentor who has positively influenced you? Send us a 200-word description and photo (1MB or larger) of you and your mentor.
---