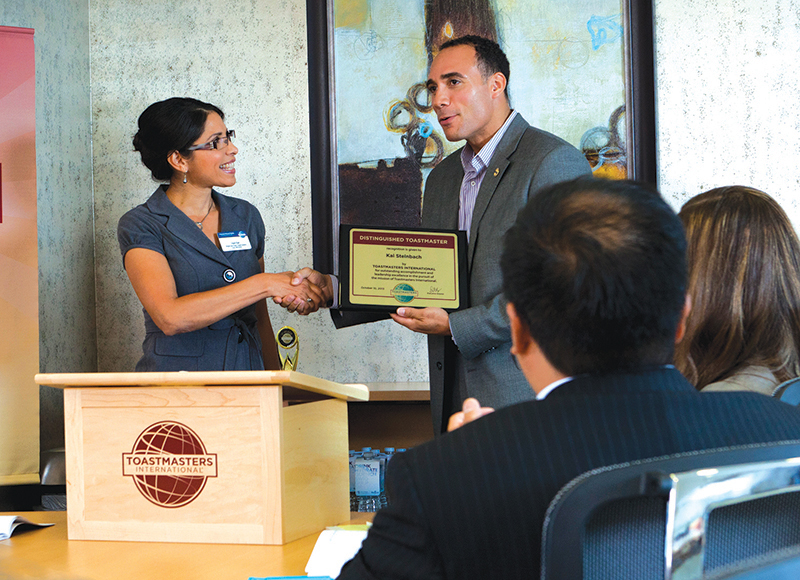 Being gracious requires thought and preparation, whether you're accepting a Toastmasters award or community recognition. Practice, practice, practice and rehearse your acceptance speech. Time yourself, memorize key people to thank, allow for the unexpected and follow these tips:
When the award presenter announces your name, come forward promptly—don't rush or leisurely stroll to the stage. If you are already on stage, step toward the award presenter.
Stand near the presenter but avoid blocking the award. Don't stare at the award or reach for it before the presenter extends it to you. When accepting your award, stand slightly sideways toward the audience, then reach for and take it with the hand nearest the presenter. This way you avoid reaching in front of yourself or turning your body away from the audience.
After receiving the award, hold it in full view of the audience. If it is too large or heavy to hold, place it on the lectern, step to one side, and begin your acceptance speech. When you have finished speaking, carry the award as you leave the stage.
Three ingredients that every acceptance speech should include are:
Be modest. Thank the one or two people who played a major role in your achievement. Your acceptance speech should be heartfelt but not self-congratulatory.
Show your appreciation and be gracious. Recognize the organization giving the award. Tell about its work and its importance to others and to you. Acknowledge the good work done by your competitors and thank the organization that selected you for the award.
Show your personality. Your acceptance speech should come from the heart. The best thanks an audience or organization can receive is an honest and unexaggerated expression of gratitude.
Learn more about acceptance speeches by exploring the Special Occasion Speeches handbook in the Toastmasters Inter­national Advanced Communication Series.