English - Select a category below to view resources in English.
Français - pour voir les ressources disponibles, sélectionner Français dans "Category" et appuyer sur la loupe de recherche.
Deutsch - Um die Ressourcen anzuzeigen, ändern Sie 'Category' (Kategorie) in 'Deutsch' und drücken Sie die Such-Schaltfläche.
Español - Para ver los recursos, cambie "Category" (Categoría) a español y presione el botón de búsqueda.
தமிழ் - வளங்களைக் காண, 'Category' யைக் ('வகை') தமிழாக மாற்றி தேடல் பொத்தானை அழுத்தவும்.
繁體中文 - 要查看資源,更改 'Category'(「類別」)為繁體中文並點按搜尋鍵。
Italiano - Per visualizzare le risorse tradotte, cambia la 'Category (Categoria)' in italiano e premi il pulsante di ricerca.
മലയാളം - മലയാളത്തിലേക്ക് തർജ്ജമ ചെയ്ത വിഭവസ്രോതസ് കാണുവാൻ "Category"യിൽ (ഇനം) "മലയാളം" തെരഞ്ഞെടുത്തിട്ട് സെർച്ച് ബട്ടൺ അമർത്തുക.
日本語 - リソースを見るには、Categoryを日本語に変え、検索ボタンを押してください
한국어 - 자료를 보려면 'Category'를 한국어로 바꾸고 검색 버튼을 누르세요.
Português - Para visionar os recursos, mude 'Category' (Categoria) para Português e pressione o botão de pesquisa.
Română – Pentru a vizualiza materialele traduse, schimbă 'Category' (Categorie) în Română și apasă butonul de căutare.
简体中文 - 欲查看资源,请将"Category"更改为简体中文,然后按搜索按钮。
.إلى العربية واضغط على زر البحث "Category" (الفئة) العربية - لعرض الموارد، قم بتغيير
हिंदी - हिन्दी मेंअनुवादित संसाधनों केअवलोकन के लिए, 'Category' 'श्रेणी' को हिन्दी में बदलें और खोज बटन दबाएँ
Polski - w celu skorzystania z przetłumaczonych materiałów zmień 'Category' (Kategorię) na Polski, a następnie kliknij przycik wyszukiwania.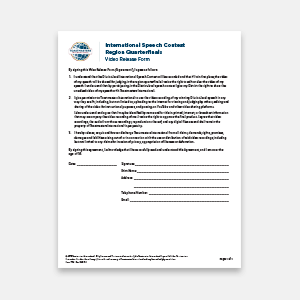 Speech Contest Region Quarterfinals Video Release Form
Video release form allowing participation in region quarterfinals. All contestants in the district International Speech Contestants must complete this form prior to competing.
View form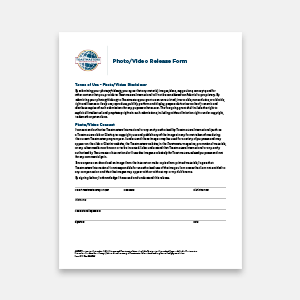 Video Release Form
If you have photos, videos or recordings of people and plan to publish them in print or online, you need to obtain permission from all people depicted in those photos via this signed release form.
View form