English - Select a category below to view resources in English.
Français - pour voir les ressources disponibles, sélectionner Français dans "Category" et appuyer sur la loupe de recherche.
Deutsch - Um die Ressourcen anzuzeigen, ändern Sie 'Category' (Kategorie) in 'Deutsch' und drücken Sie die Such-Schaltfläche.
Español - Para ver los recursos, cambie "Category" (Categoría) a español y presione el botón de búsqueda.
தமிழ் - வளங்களைக் காண, 'Category' யைக் ('வகை') தமிழாக மாற்றி தேடல் பொத்தானை அழுத்தவும்.
繁體中文 - 要查看資源,更改 'Category'(「類別」)為繁體中文並點按搜尋鍵。
Italiano - Per visualizzare le risorse tradotte, cambia la 'Category (Categoria)' in italiano e premi il pulsante di ricerca.
മലയാളം - മലയാളത്തിലേക്ക് തർജ്ജമ ചെയ്ത വിഭവസ്രോതസ് കാണുവാൻ "Category"യിൽ (ഇനം) "മലയാളം" തെരഞ്ഞെടുത്തിട്ട് സെർച്ച് ബട്ടൺ അമർത്തുക.
日本語 - リソースを見るには、Categoryを日本語に変え、検索ボタンを押してください
한국어 - 자료를 보려면 'Category'를 한국어로 바꾸고 검색 버튼을 누르세요.
Português - Para visionar os recursos, mude 'Category' (Categoria) para Português e pressione o botão de pesquisa.
Română – Pentru a vizualiza materialele traduse, schimbă 'Category' (Categorie) în Română și apasă butonul de căutare.
简体中文 - 欲查看资源,请将"Category"更改为简体中文,然后按搜索按钮。
.إلى العربية واضغط على زر البحث "Category" (الفئة) العربية - لعرض الموارد، قم بتغيير
हिंदी - हिन्दी मेंअनुवादित संसाधनों केअवलोकन के लिए, 'Category' 'श्रेणी' को हिन्दी में बदलें और खोज बटन दबाएँ
Polski - w celu skorzystania z przetłumaczonych materiałów zmień 'Category' (Kategorię) na Polski, a następnie kliknij przycik wyszukiwania.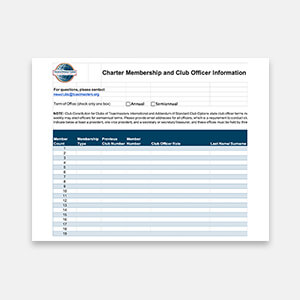 Charter Membership and Club Officer Information
This Excel spreadsheet can be submitted to World Headquarters in place of Form 3 Charter Membership Application and Form 4 Charter Club Officer Information. Some columns have options built into the dropdowns for club use. Clubs are still required to have a signed charter application on file.
This version updated 04/2021
View file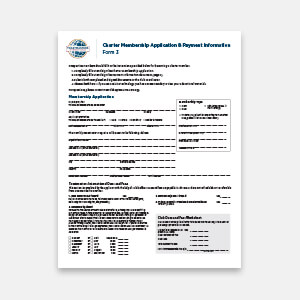 Form 3 Charter Membership Application
Form three of seven required to charter a Toastmasters club. Fill out at least 20 forms from prospective members and submit it to World Headquarters.
View file