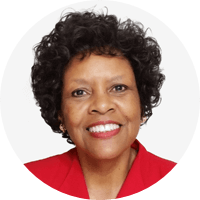 Ford helps people successfully communicate, balance their personal and professional lives, teaches strategies on diversity and more.
High Point, North Carolina, United States • Valda@ValdaFord.com
Valda Ford is a professional speaker from High Point, North Carolina. Her subject area expertise includes:
Balancing your personal and professional life
Communication
Developing a fully-functioning and high-performing team
Global diversity strategies
Healthy business and healthy life
Ford delivers keynotes and workshops to Fortune 500 companies, non-profit and philanthropic agencies, universities and associations.
She has 20 years of professional speaking experience, which has allowed her to work in 57 countries on six continents. Her ability as a mediator and her expertise in cultural diversity helped her develop sustainable programs in refugee camps in Ghana, with tribal chiefs in Sierra Leone, recruiting Afghani teachers and more. Ford maintains her license as a registered nurse and is an entrepreneur, having opened four successful businesses in the United States and Caribbean. She has provided numerous programs on diversity and inclusion to organizations around the globe.
An Accredited Speaker since 2018, Ford has graduate degrees from the University of North Carolina at Chapel Hill and Creighton University.
On top of being an Accredited Speaker, Ford is a Distinguished Toastmaster, the highest level of educational achievement in Toastmasters. The Triad Business Journal named her one of the outstanding women in business in 2016 and Unite for Sight honored her with the philanthropist of the year in 2006 and volunteer of the year in 2005. She has received numerous local, national and international awards for her work with vulnerable populations.
For more information, please visit her website.
---