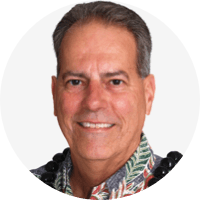 Cravalho's expertise is in the fields of executive leadership, administrative communication and conflict management.
Honolulu, Hawaii, United States • Info@RobertCravalho.com
Robert Cravalho is a professional speaker from Honolulu, Hawaii. His subject area expertise includes:
Administrative communication
Conflict management
Executive leadership
Cravalho delivers workshops on conflict management, workplace violence and on the leadership tool box. He is also available for keynote addresses. His past clients include government agencies, including the United States Army and the State of Hawaii, corporate organizations, including Kaiser Permanente and McDonald's of Hawaii, and charity groups.
After over 30 years of service, Cravalho retired from his job with the Honolulu Police Department, where he served as a hostage negotiator. He shares the verbal techniques used by law enforcement during negotiations, believing that these tactics can be used in everyday situations. Cravalho studied leadership and communication in law enforcements at the FBI National Academy.
An Accredited Speaker since 2017, Cravalho graduated with a master's degree in public administration from the University of Hawaii at Manoa. He is an adjunct professor at Hawaii Pacific University, where he teaches criminal justice and communication courses.
On top of being an Accredited Speaker, Cravalho is a Distinguished Toastmaster, the highest level of educational achievement in Toastmasters. He earned the Lieutenant of the Year award with the Honolulu Police Department in 2011 and was awarded the FBI Certificate of Merit in 2002.
For more information, please visit his website.
---