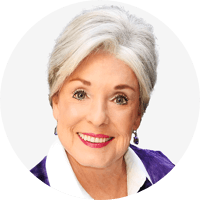 Barab spreads wisdom in the fields of leadership, teamwork, and communication.
Dallas, Texas, United States • Anne@AnneBarab.com
Anne Barab is a professional speaker, author and coach from Dallas, Texas. Her subject area expertise includes:
Wisdom leadership
Presentation charisma
Life mastery
Barab collaborates with corporations and associations to craft inspirational keynotes and high-content master workshops. Her messages are universal, timeless, and gluten-free.
Barab's leadership experience as a recovering politician includes serving three terms (9 years) as an elected official. Professionally, she rose through the ranks to become chief operating officer of a 1.5B USD bank. She has owned her own consulting, speaking, and coaching business since 1987.
Barab has authored two books: The Sooner You Laugh the Faster You Heal, a humorous look at how to rebound from life's setbacks and 7 Secrets to Speaking So People Will Listen, an insightful communication guide applicable whether you are talking to one person or 1,000 professionals.
An Accredited Speaker since 2002, Barab holds a bachelor's degree of arts in English from Texas Christian University. Additionally, she is a Distinguished Toastmaster, the highest level of educational achievement in Toastmasters. She's been a member of the National Speakers Association for many years and is a certified virtual presenter.
Outside of the speaking industry, Barab has contributed over 20,000 hours of community service. She also holds a Master Trustee designation in public education.
For more information, please visit her website.
---