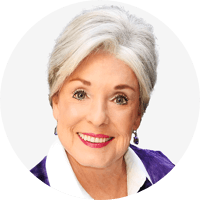 Barab spreads wisdom in the fields of leadership, teamwork, and communication.
Dallas, Texas, United States • Anne@AnneBarab.com
Anne Barab is a professional speaker from Dallas, Texas. Her subject area expertise includes:
Wisdom communication
Wisdom leadership
Wisdom teamwork
Barab delivers keynotes and workshops for businesses, associations, and educators.
In her career, Barab has served as the chief operating officer for a 1.5B USD bank. She served three terms as an elected official.
An Accredited Speaker since 2002, Barab graduated from Texas Christian University. She holds a bachelor's degree of arts in English.
On top of being an Accredited Speaker, Barab is a Distinguished Toastmaster, the highest level of educational achievement in Toastmasters. She also is a master trustee of public education.
For more information, please visit her website.
---