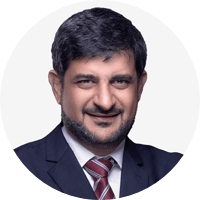 Shukri speaks on safety, training, facilitation, public speaking, and more.
Manama, Kingdom of Bahrain • MAShukri10@gmail.com
Mohamed Ali Shukri is a professional speaker from Manama, Kingdom of Bahrain. His subject matter expertise includes:
Occupational health and safety
Safety management systems
Building and sustaining a positive safety culture
Safety leadership
Behavioral safety
Effective training and facilitation skills
Training of trainers
The art of public speaking
He has an extensive professional background, working as a combined-cycle power generation operator; a health, safety, and environment superintendent; a corporate trainer and consultant; a business development manager; and founder and CEO of his own company. With this deep and diverse background, he is able to confidently inspire audiences.
An Accredited Speaker since 2020, Shukri graduated from the University of Bahrain with an associate diploma in electrical engineering. Currently, he is pursuing a master's degree in transformational leadership.
Shukri was a finalist in the World Championship of Public Speaking® in 2006 and a semifinalist in 2007.
For more information, please visit his website.
---