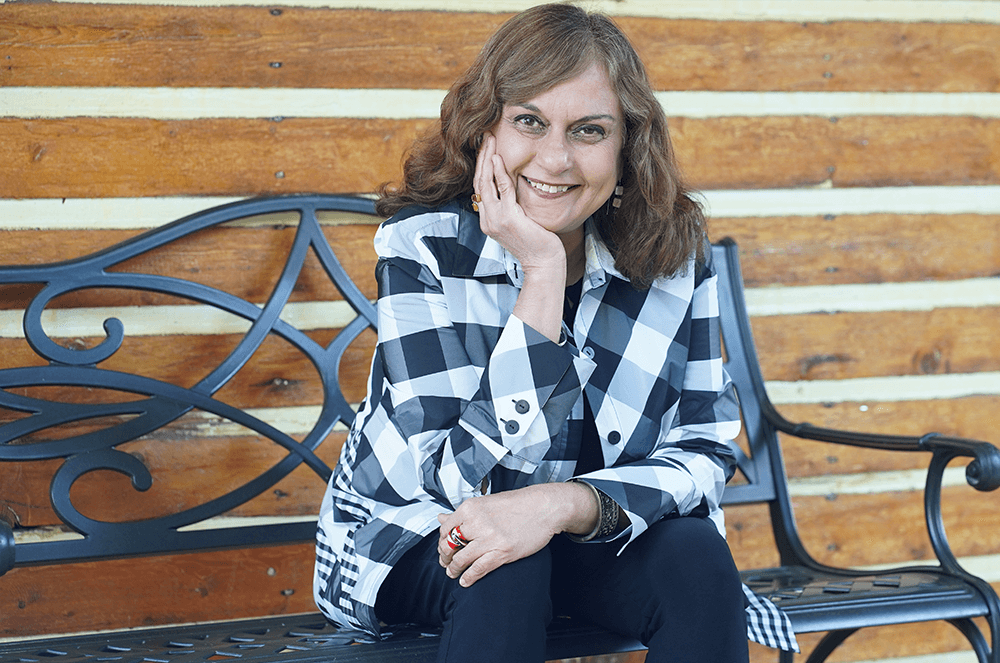 Kelly Kaur admits she's been "hooked" on Toastmasters speech contests since she joined her first club more than 15 years ago. She was even a semifinalist in the International Speech Contest and competed in Vancouver, British Columbia, in 2017. Yet of all her experiences onstage, she considers finding her own voice perhaps the most powerful gift of all.
"It's not about winning or losing," she says. "It is about being in that glorious moment when your inner voice rises to meet the outer world, and stories and lives intersect in the most beautiful ways imaginable."
Kaur began to discover her voice as a young woman in Singapore. She wanted to study overseas rather than follow the wishes of her traditional father: an arranged marriage, children, and a household to manage. Kaur dreamed of a different path. And so, she gathered the courage to use the power of one little word: "No." (Which she later turned into a notable District 42 speech.)
"I whispered no to social expectations and to my traditional and conservative family and father," Kaur says.
Her dream of studying internationally came true—she earned a bachelor's and master's degree in English from the University of Calgary in Alberta, Canada. It was an achievement her father later both supported and funded, and it set Kaur on the path to discover who she was, and what mattered to her.
"My degrees have given me the independence, financial possibilities, courage, strength, and a chance to redefine the role of a traditional Indian woman," she says.
Today, Kaur teaches English at Mount Royal University in Calgary. She's a published author and poet and is currently curating an anthology of African art and writing for the International Human Rights Art Festival in New York City. Some of her works are on the Lunar Codex (time capsule) project, which will be going to the moon this month and in November 2024. And as of this writing, she is a nominee for the Top 25 Canadian Immigrant Awards, given by Canadian Immigrant magazine.
Yet in the beginning, the move from Singapore to Calgary for school was a culture shock, Kaur remembers. "There were moments of utter loneliness and confusion. I was apprehensive about my voice, my accent, of being different."
A friend cajoled her to attend a Toastmasters meeting as a guest. Kaur joined, yet still felt insecure.
"I started as someone who had no clue about Toastmasters, or the confidence to stand up on a stage. I was an immigrant woman with a different accent and strange stories. I worried that I did not fit in."
Unsurprisingly, her fellow Toastmasters didn't feel that way at all. So Kaur stayed on, came to love speaking contests, and finally found her authentic voice and purpose in speeches that celebrated human diversity.
"Toastmasters is a bold, big, beautiful bridge for me; it gave me the literal, symbolic, and metaphorical voice to be heard."
—Kelly Kaur
Kaur won District 42's Evaluation Contest, and later captured the District Table Topics® Contest title four times. Later, her speech about the power of the word "no" earned her third place in the District's International Speech Contest.
Then in 2017, to her "utter shock and delight," she won the District's International Speech Contest and competed at the International Convention in Vancouver.
"When I stood on the international stage, I felt like I was in a dream. It was such a long track for a young girl from Singapore. To hear my voice on the world stage with a large international audience sharing my message about human connections—it was the beginning of the power of possibilities for me," she says.
Kaur credits Toastmasters for building her speaking prowess, confidence, and ability to connect with audiences. Her speeches led her to realize another of her dreams—to be a fiction writer. Her first novel, Letters to Singapore, was published in May 2022, and her children's book, Howdy, I'm Harnam Singh Hari, about the first Sikh pioneer in Calgary, will be published in spring 2024.
"Toastmasters is a bold, big, beautiful bridge for me; it gave me the literal, symbolic, and metaphorical voice to be heard," Kaur says. While she was once apprehensive about seeming different, Toastmasters led her to celebrate differences.
"Toastmasters is the perfect path for those who walk on precarious bridges of difference and diversity because Toastmasters builds confidence and encourages unique voices for any and every speaker in the world," she explains.
"Every time a Toastmaster stands up and gives a speech, they carve a notch on their wall of life."
---
Stephanie Darling
is a former senior editor of and frequent contributor to the
Toastmaster
magazine.
---
---